New Seiko 5 Sports GMT Series (2022): an instant travel classic

This year's Seiko Sports 5 GMT collection shows that the old dog can indeed give us some new tricks.
Don't forget to pack this one before that summer trip to Europe.
2022 Seiko Sports 5 GMT Series: what is it?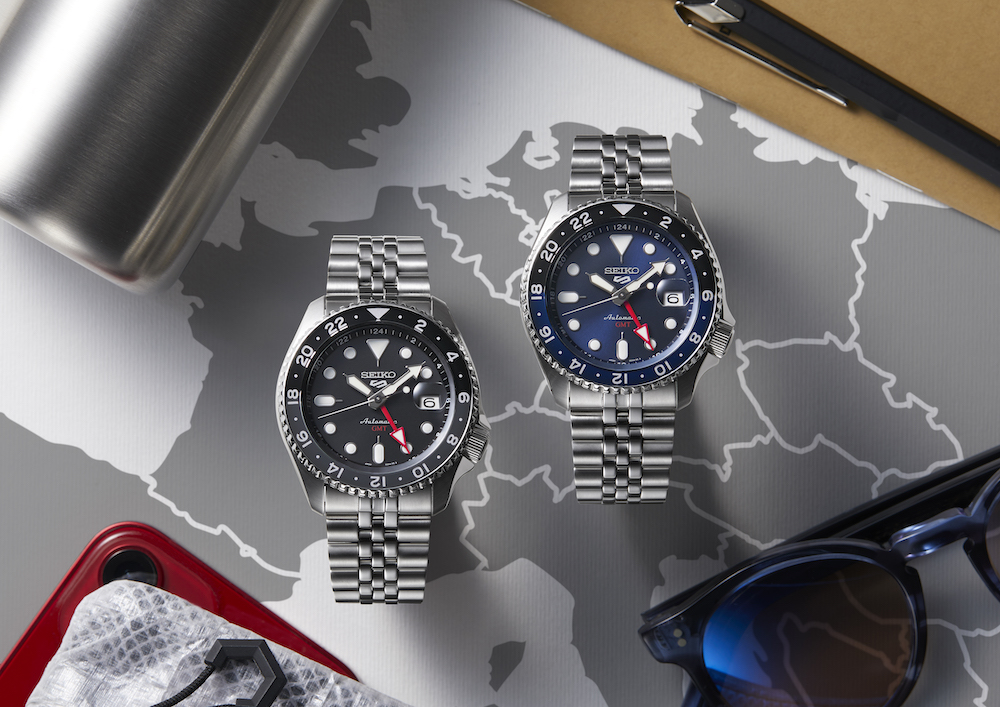 Mechanical watches from the Seiko 5 Sports collection have been synonymous with reliability and durability since 1968. With the 2019 relaunch, the collection got a youthful, active vibe. 
Now we get a new collection for 2022, which is as ready to travel as you are.
Seiko has added a GMT hand so you can tell the time across multiple time-zones at a glance. And it has done it by paying homage to an old Seiko favourite.
All three watches have different dial colors: black, blue, and orange.
For the black and blue dials, the GMT hands are bright red, and for the orange dial version, they're black. Lumibrite is used on the GMT hand too, just like the time of day hands and indexes. The watches also have a two-color rotating bezel to tell the time at a glance, as well as the international convenience of the GMT function.
Inspired by the Seiko SKX series, the case and dial look great. The five-row bracelet is a new design also inspired by the original SKX series in which the middle rows are polished to create a contrast with the solid feel of the rows that bind them.
And the new GMT functionality doesn't make it uncomfortable on the wrist, either: it's only 1mm thicker than its 2019 predecessor.
Retailing in July for $875 from your local Seiko specialists or online, this one is sure to quickly garner fans.
A brief history of the Seiko 5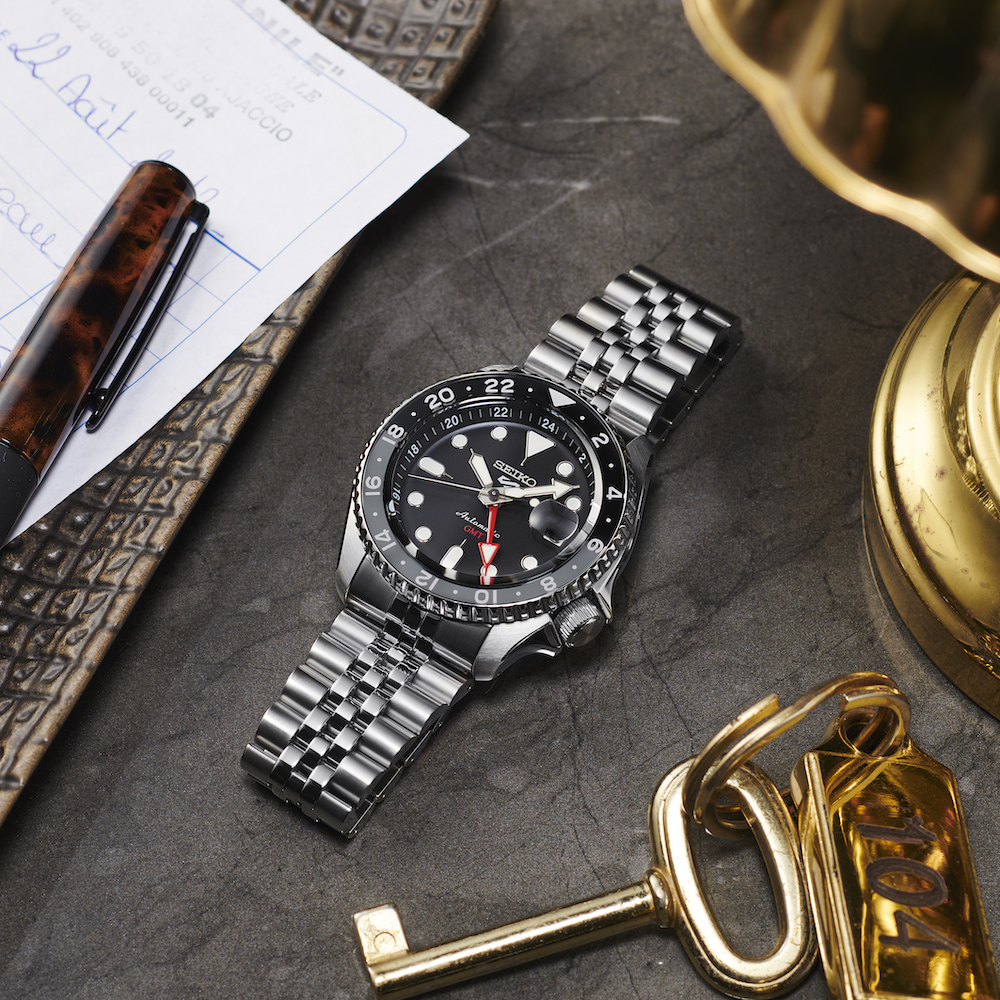 Seiko is one of the oldest watch manufacturers in the world, and has been producing timepieces for over 150 years. Their first watch was produced in 1881, and since then they've become known as a leader in innovative design.
The Seiko 5 is one of the most beloved sport watches in the world, and it's been around for decades. But what exactly is a Seiko 5, and how did it become such an iconic watch?
Seiko 5 was first introduced in 1963 as part of a line of affordable automatic watches with day-date calendars. The name "5" comes from the fact that it was designed to last at least five years without needing repair or service, which would be considered a reasonable amount of time for a watch to go without needing any kind of maintenance.
To accomplish this feat, Seiko used parts made from steel and stainless steel instead of precious metals like gold or silver; this makes them more durable and less expensive to manufacture, which keeps prices down for consumers. 
The first models were released with different colored dials—red, white, black—to indicate day-night cycles in Japan's time zone system (which has since changed).
The design stayed relatively unchanged until 1977.
When Seiko first introduced the 5, they didn't intend to create an icon. They created a watch that was durable enough to withstand the rigors of daily life and affordable enough for anyone who wanted one. But it wasn't long before people started noticing something else about the 5: It looked great in any condition, from brand new to well-worn and everything in between.
What is a GMT watch?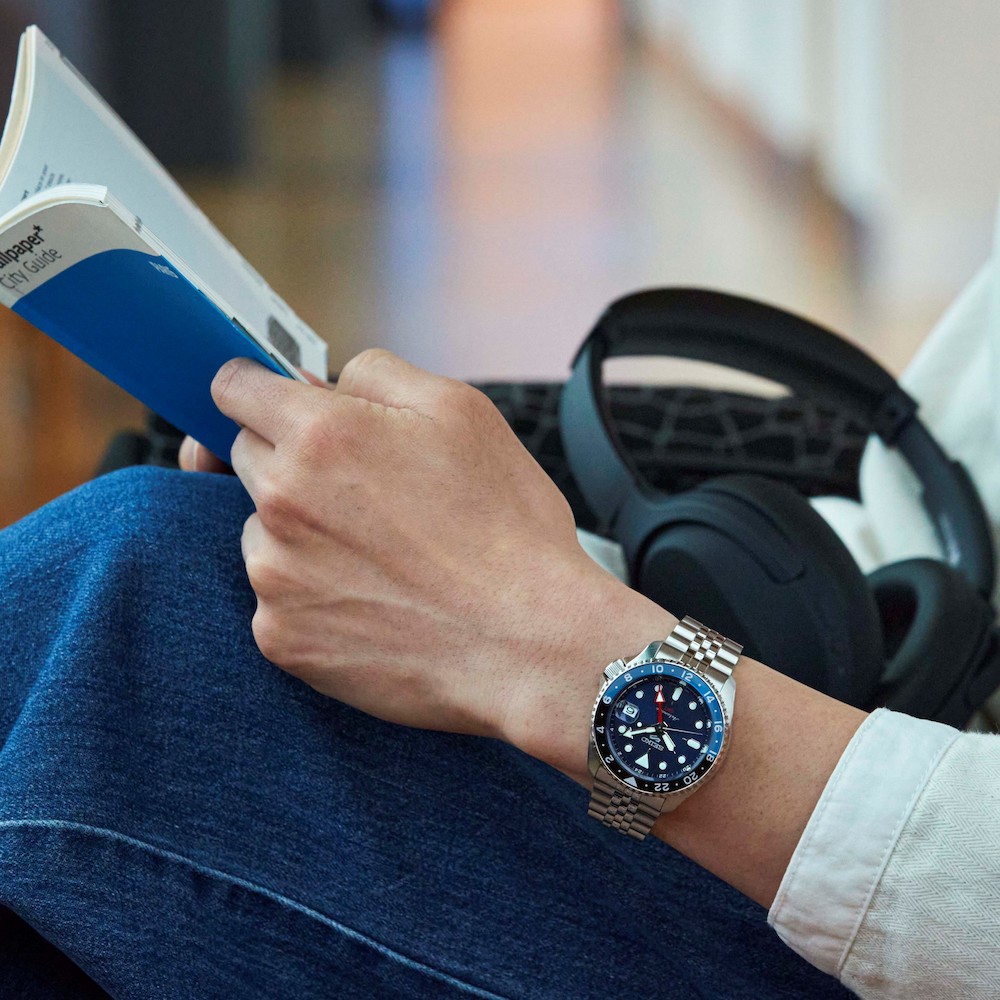 A GMT watch is a watch that has two time zones on it.
A normal watch only shows the time of your current location, but a GMT watch allows you to see both your local time and the time in another city.
This is useful for people who frequently travel between time zones: pilots, flight attendants, and other frequent fliers can easily keep track of their local times in addition to their destination times by checking the second hand on their watches.
Read more
The Seiko 5 GMT is actually a great dupe watch if you're looking for luxury hype without the price tag. Check out our other best watch dupes.
Luke Hopewell
Luke Hopewell is the editor and co-founder of Redaktör. He's previously been the Editor of Gizmodo, Founding Editor of Business Insider Australia, Editorial Lead for Twitter Australia and more.