New Tudor Black Bay 2022 models: everything you need to know

Tudor isn't messing around in 2022. If you're a fan of the Black Bay range, you've got a lot more to love. Here's everything you need to know about Tudor's new range of Black Bay models for 2022.
Tudor: what's new in 2022?
Tudor is more than a force to be reckoned with in the watch world these days. It's also more than just a baby brother standing in the shadow of Rolex. Tudor has climbed the mountain once again and carved out its very own new-school legacy.
This year's releases echo what makes Rolex great. Epic, go-anywhere tool watches. Sporty racing numbers. And a version of the classic Black Bay for literally everyone.
All of this at prices that you might actually be able to get your hands on.
Let's get into it.
Tudor Black Bay Pro GMT: the ultimate tool watch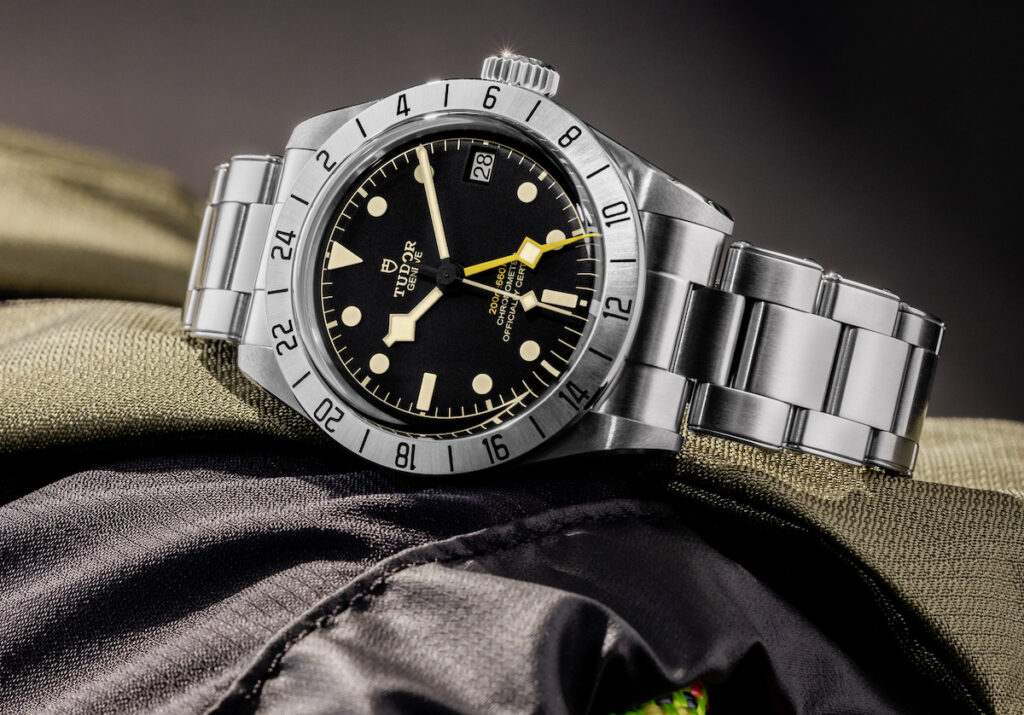 This is it. The big one.
Many considered the Black Bay Pro GMT to be a showstopper at Watches and Wonders this year in Geneva.
Battle-tested in the Arctic, it's a go-anywhere tool watch that means business.  If a GoPro wore a watch, it would wear the Black Bay Pro GMT.
It's a 39mm model in stainless steel. The dial is set off by the bezel featuring a graduated 24-hour scale. And the face is contrasted by grained matt black base with mono block luminous ceramic posts.
The brand's signature snowflake hands sweep around the dial. All four of them.
The Pro is part of Tudor's GMT range, which allows you to track two time zones at once.
The new Black Bay Pro GMT a good alternative to those who were left a little disappointed by the slight update the new Rolex Explorer range got in 2021.
While it only comes in one colour and finish (316L stainless steel on the black dial), you do get a choice of three straps. There's the steel bracelet, leather strap or the Jacquard-woven fabric to pick from. 
It's another great outing for Jacquard on this model. It's reminiscent of the partnership between Tudor and the French weavers that has been going for over a decade now.
Tudor Black Bay Pro GMT: price and release date
Despite its elegant design and wherewithal, it's surprisingly accessible.
The new Tudor Black Bay Pro GMT is available in-store and on Tudor's website right now.
And it starts from a hair over $5000 for the leather or fabric strap. The riveted steel bracelet won't set you back much more, adding only $430 to the RRP for a total of $5430.
This one will have people lining up around the block, I'm sure.
Tudor Black Bay GMT S&G: thinking man's GMT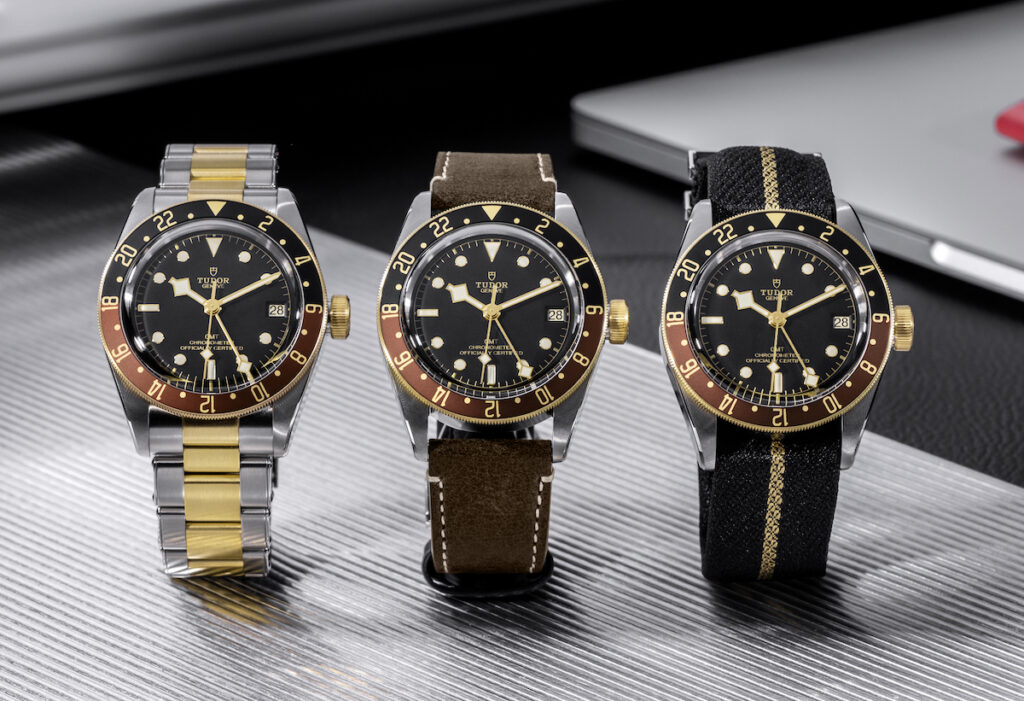 If you're less of an arctic explorer and more of a frequent flyer, Tudor still has your best interests at heart.
The Black Bay GMT range grew by one at this year's Watches and Wonders, with the addition of the Black Bay GMT S&G. We think it's the "thinking man's" GMT.
The S&G in the name stands for "steel and gold". It's a two-tone model featuring 316L stainless steel and yellow gold on both the dial and the bracelet.
Adding to the drama is the bidirectional bezel in black and brown with in-set gold numbers in a 24-hour scale configuration. Affectionately known as the "root beer" on its Rolex Submariner and GMT-Master companions, it's a welcome addition to the Tudor stable.
Like the GMT Pro, the GMT S&G root beer also features the fourth hand for tracking a second timezone. That makes it the watch of choice for those on the go.
It's a little larger at 41mm, and features a domed sapphire crystal over the dial. It's waterproof to 200m and should give you around 70 hours of power reserve thanks to the Calibre MT5652 COSC-certified movement. 
Gold accents are everywhere on this model. There's gold around the ceramic luminescent posts. T
A date window in the 3 o'clock position completes the GMT S&G.
Tudor Black Bay GMT S&G: price and release date
You get a choice of three straps for this one as well. There's the riveted satin steel and yellow gold bracelet, a leather strap and a Jacquard fabric strap.
On a leather or Jacquard strap, you'll be looking at $5850. Upgrade to a steel and yellow gold bracelet and you're looking at $7560.
All three models are available in-store and online at Tudor right now.
Tudor Black Bay Chrono S&G: sportier than ever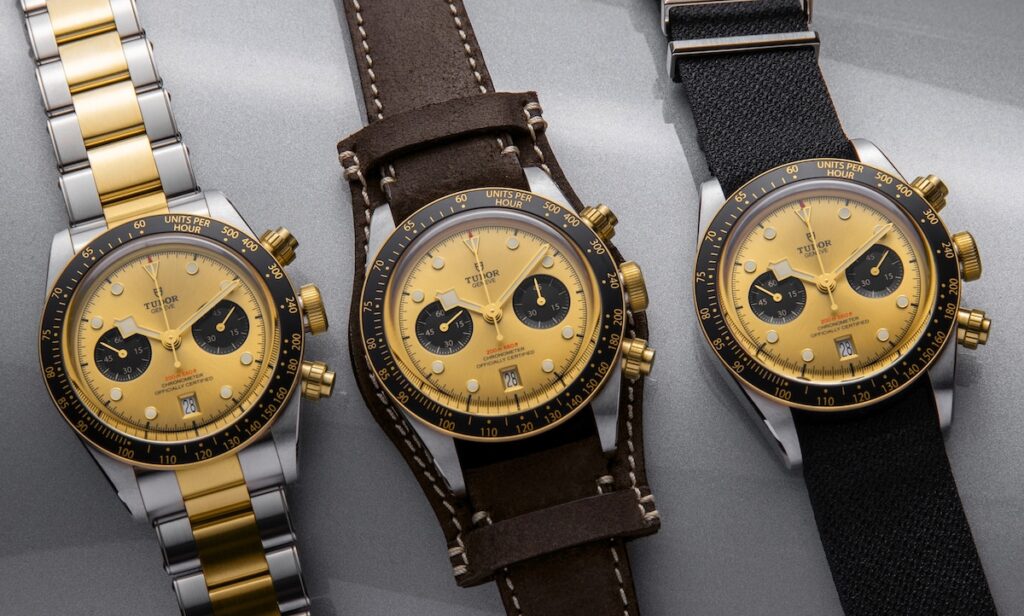 It's the watch that will take you from the racetrack to the paddock club. The new Black Bay Chrono S&G features a champagne sunray dial with inset black dials at the 9 o'clock and 3 o'clock positions. The two are split by a date window at the 6 o'clock position for a sense of balance. 
A fixed black dial with gold tachymetric scale sits atop a 316L steel case. And buyers are met with three choices: the steel and gold bracelet, leather bracelet or a handsome black Jacquard bracelet.
The Jacquard will be a particular favourite here. From afar, it looks reminiscent of the Oysterflex rubber strap you see on newer Rolex models. Even when you get closer, you'd be forgiven for thinking it looks at home in an F1 garage on race day.
Tudor Black Bay Chrono S&G: price and release date
Available now both online and in-store, the Tudor Black Bay Chrono S&G will set you back $8150 for a Jacquard or leather strap. Upgrade to the bracelet and you're looking at a smidge under $10k: $9860.
Tudor Black Bay Black Bay 31/36/39/41 S&G: gold for all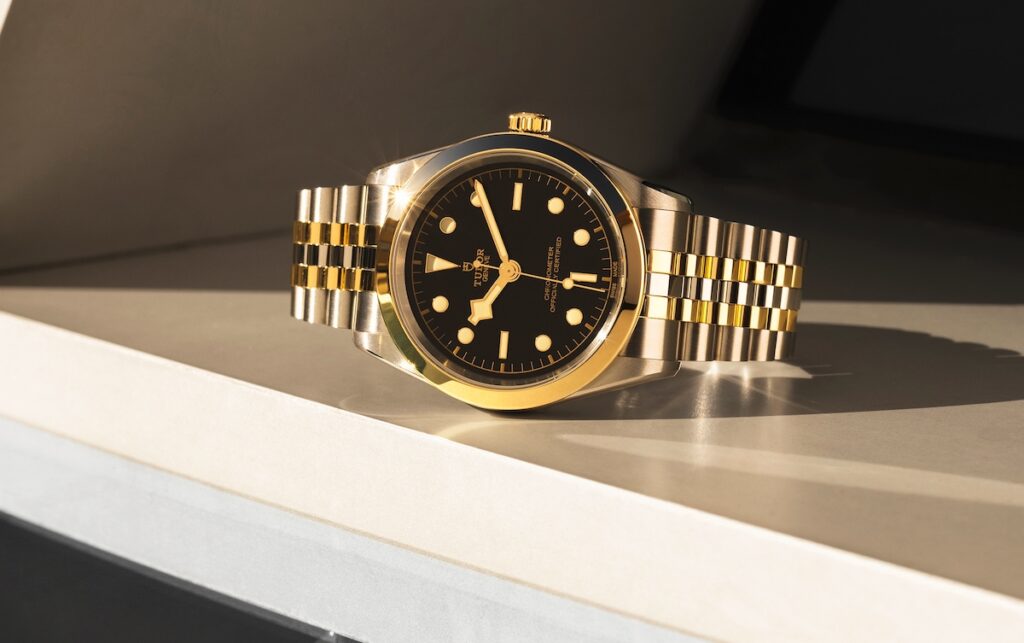 Finally, if the above models don't do it for you, there's a much wider selection on offer.
Tudor is nothing if not magnanimous, so it's making watches for everyone's taste.
It's introducing new Black Bay models in sizes 31mm, 36mm, 39mm and 41mm. All of them are the steel and gold we've come to love about this year's new models.
As a reminder, that's yellow gold and 316L steel. And it's on the closest thing you'll get to a Rolex President's bracelet at this price point.
The bezels are fixed, smooth and domed. However, for a price, you can option your bezel to contain diamonds for extra sparkle.
Tudor Black Bay 31/36/39/41 S&G: price and release date
As above, the new Black Bay models are available online and in-stores right now.
The new models start at $6720 for the 31mm, right up to $9310 for the 39mm with diamond in-set bezel.
Read more
This year's Watches and Wonders also saw new releases from Tudor's big brother: Rolex. If you want the step up, you can check out everything you need to know about new 2022 Rolex models.
Luke Hopewell
Luke Hopewell is the editor and co-founder of Redaktör. He's previously been the Editor of Gizmodo, Founding Editor of Business Insider Australia, Editorial Lead for Twitter Australia and more.