Apple Watch Ultra: everything you need to know about the ultimate adventure watch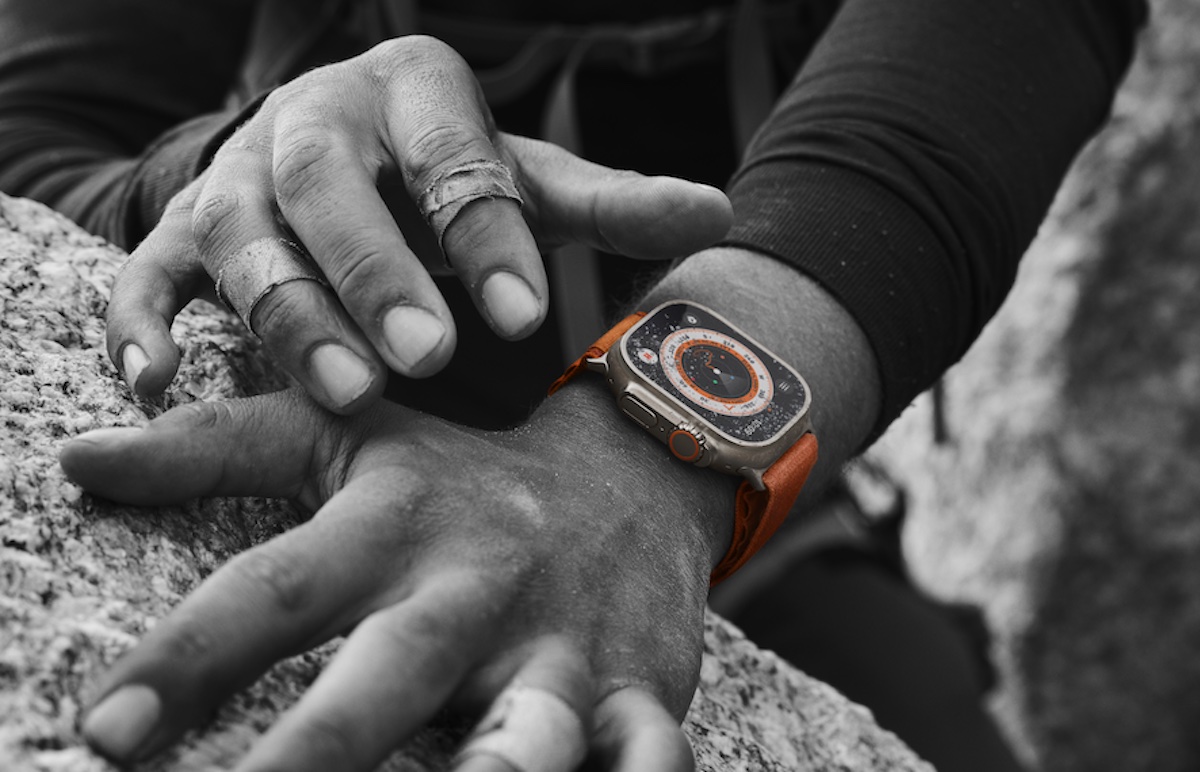 From the highest mountains to the lowest ocean trenches, Apple has a new Watch that can take you there. But is it better than a conventional tool watch?
The Apple Watch Ultra isn't so much designed to replace a mechanical tool watch. It's designed to replace most of the adventure tools in your bag.
Pretty handy if you're hiking Everest, that's for sure.
What is it?
The Apple Watch Ultra is a hardcore adventure smart watch. It takes all the fitness features of the Apple Watch and folds them into a massive wrist computer that is designed to replace most of the survival tools an adventurer could fit in their travel backpack.
It features a larger design with a 49mm case. Said same case is made from titanium instead of the traditional aluminium or stainless steel of regular Apple Watches. The glass frontage is also flat, rather than curved to keep it from catching. It is, however, still made from sapphire crystal for hardiness. Much like the sapphire glass you find on watches like the Omega Speedmaster.
It features a redesigned set of buttons, as well as an additional one on the left-hand side of the case for added practicality. The Digital Crown Apple made famous has larger teeth for easier access while wearing gloves. And the original action button is now kept on a raised platform off the Watch.
Roll that Digital Crown upwards and you'll enter an ultraviolet night mode, which reduces blue light from the display to show you the essentials you need when the Sun vanishes from the sky.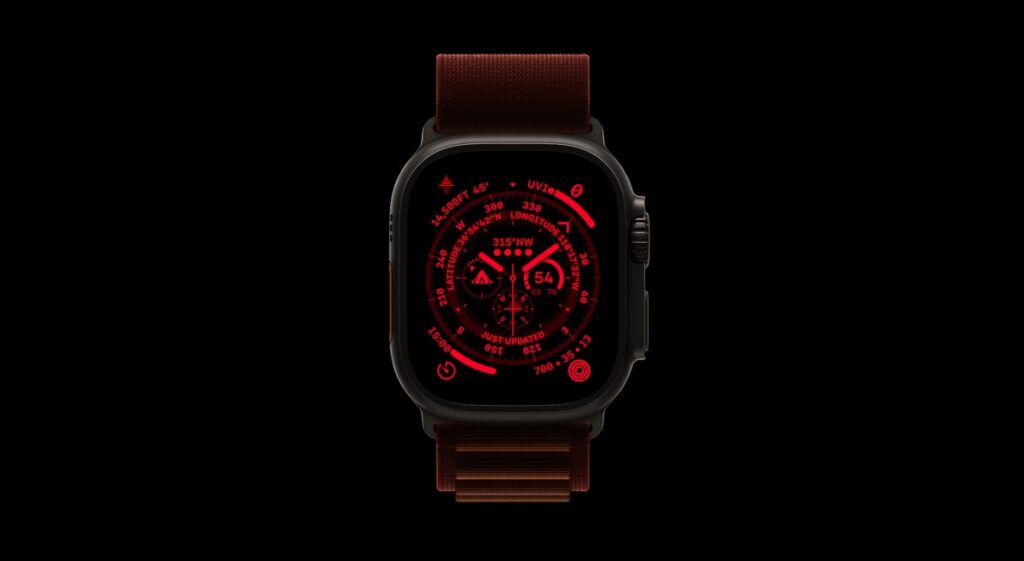 The additional activity button can be programmed for a number of different tasks. Track race segments, operate your dive computer or figure out your position, and how to get out of it.
It's made to withstand tough climates. It will operate in temps below zero or above 50 degrees C. It's also twice as water resistant, down to 100 metres without breaking a sweat.
The battery lasts twice as long as a regular Apple Watch at around 36 hours from a full charge. 
The screen is also twice as bright at 2000 nits. It's both for attracting visual attention, and pairs with the new speaker which can emit a siren that attracts additional attention from a range of 180 metres.
It features redesigned way finding tools, a new compass and a dual-frequency GPS for absolute accuracy when you're out an about. The additional button also allows you to track your route via waypoints. That way you can head back if confronted by inclement weather or other adversities. 
Apple Watch Ultra vs mechanical tool watches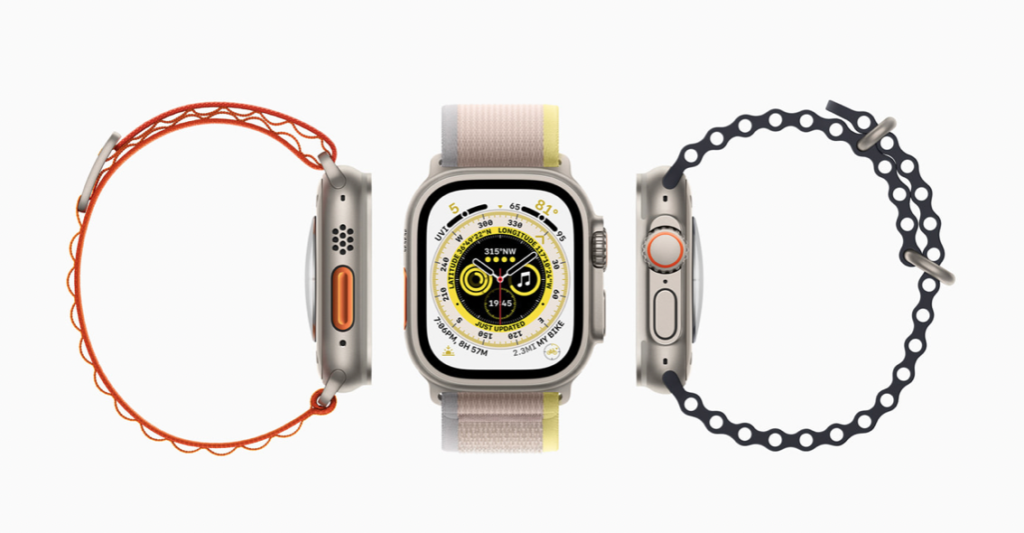 Apple Watch Ultra isn't just designed to replace a traditional tool watch. It's designed to replace most of the gear you take with you. From your compass to your altimeter and everything in-between. It even doubles as a full-on dive computer. 
The case measures 49mm on the wrist. That makes it significantly larger than even the new generation of Apple Watch Series 7 and 8, which measure up at 44mm at their largest. The smallest Apple Watch is just 38mm (Series 6 and below). It seriously dwarfs these older models.
The case is also thicker than it used to be so it wears higher on the wrist. It measures 11.4mm compared to the 10.7mm of the Apple Watch Series 8. 
It also wears heavier. The Apple Watch Series 8 (aluminium) weighs 38.8 grams. The (titanium) Apple Watch Ultra is almost twice the weight at 61.3 grams.
While more weighty and cumbersome than a traditional Apple Watch, it's still lighter than just about any other mechanical tool watch.
Take the Rolex Explorer II (Reference 216570), for example. The Apple Watch Ultra is lighter by over 20 grams than the Rolex Explorer II, and thinner by about 1mm
The new design isn't meant to be cumbersome. Instead, it's meant for ultra-practicality. It's meant to keep you
Pros and Cons
Here's how it stacks up against other models.
Pros
It's better than a regular Apple Watch in just about every conceivable way
It's more rugged, literally certified to US military standards
The screen is twice as bright as any other Apple Watch at 2000 nits
It's more water resistant than any other smartwatch, up to 100 metres deep
It has an audible alarm for attracting attention that you can hear around 180 metres away
The battery gives twice as much uptime as a regular Apple Watch at 36 hours
The GPS is pinpoint precise, just in case you get in trouble
The screen is no longer curved, it's flat
Night mode (seriously, ultraviolet night mode)
It looks fucking incredible
Cons
It's about twice as expensive as a regular Apple Watch. It does way more stuff, but the price is right up there;
It's huge: 49mm would make even Hublot fans raise their eyebrows. And that's just the measurement of the screen, not the case;
The case only comes in one colour
While the case only comes in a single colour, the Watch Ultra is distinguished by its three different straps. They're all tuned for hardcore adventurers.
New Watch Ultra straps
There are three strap variants, each designed for different adventures. The Watch body is the same across all three variants. The changes come in how you plan on heading out into the wild with your Watch Ultra.
Trail Loop

If you're an endurance athlete, this one is for you.
Looking very similar to the Sport Loop band from the previous version of Apple Watch, the Trail Loop is for the running crowd.
Apple says it's the lightest and stretchiest band it has ever made. That makes it more comfortable to wear as you sweat out on your run through the unknown.
Additionally, it has a sort of quick-release system (looking at you, Pelagos) for making quick adjustments to the strap as you move about.
It comes in three colours: a blue/grey; a black/grey and a yellow/beige. 
Ocean Band
For those heading into the deep, you're going to want the Ocean Band. 
This one looks less like a band and more like a skeletonised strap you'd see on a Leatherman Tread bracelet. Except instead of being metal, this one is rubber.
The rubber is designed to be stretchy. Really stretchy. It's meant to go over a wetsuit, even. The band has longer length to accomodate such oceanic outerwear, and that's awesome. 
I've worn an Apple Watch Series 7 with my wetsuit and it's actually really nice to see Apple thinking about what you wear with the Watch in the ocean. 
Typically with an Apple Watch you wear it under a wetsuit, meaning you have to pull your sleeve up to see your vital measurements, timers and other data. 
The Apple Watch Ultra with the Ocean Band is designed to be as easy and capable as an oxygen meter on your scuba tank.
Plus, the band is secured with  two titanium buckles that clip into the tubular design, so it won't slip off your wrist while thrashing around underwater, or even surfing.
It comes in three colours: black, white and yellow.
Alpine Loop

For those who prefer heights to the depths, this is for you. And I have to say, it's also my favourite.
Designed for outdoor adventurers like extreme hikers and climbers, the Alpine Loop is designed to be extremely comfortable yet rugged.
I would liken its material design to that of hiking cord or guide ropes. It's designed to take a beating and survive. Much like yourself, rugged adventurer.
My favourite touch is how it secures. The Alpine Loop uses a G-Hook clip to secure the Watch Ultra to your wrist, which will really inspire the free soloing crowd.
It's absolutely gorgeous and I love it.
It comes in three colours: green, orange and Apple's gold/silver hybrid known as Starlight.
Apple Watch Ultra: pricing and release date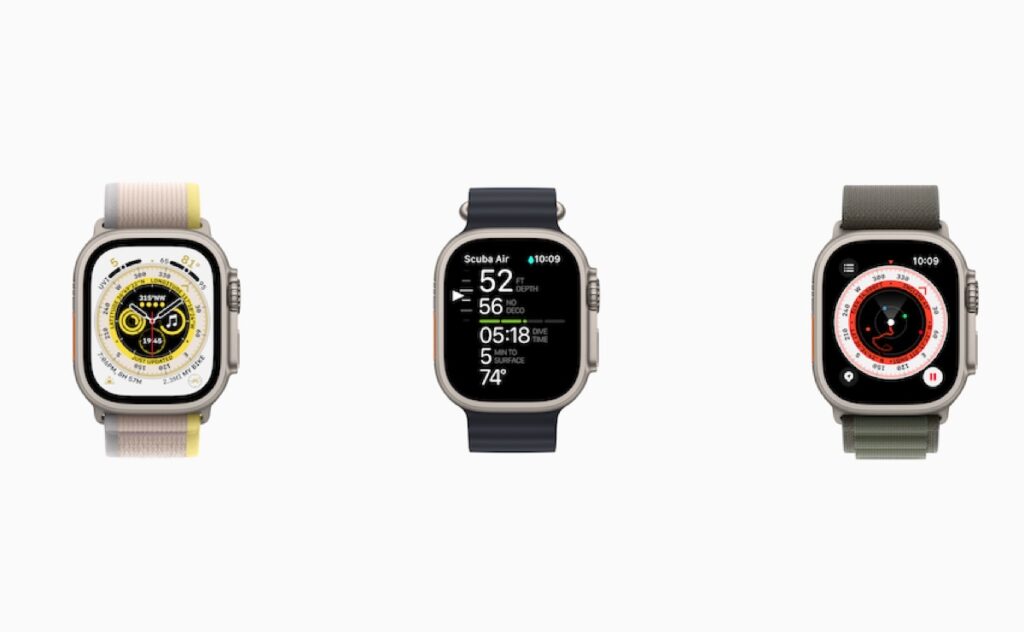 Like all things, the price is all about perspective. 
Compared to a mechanical tool watch like a Rolex Explorer II; Breitling Superocean, or Panerai Luminor, the price of the Apple Watch Ultra is a drop in the ocean. Compared to a regular Apple Watch, it's a steep hike.
You'll be looking to pay just shy of $1300 for the Apple Watch Ultra. It's exceptionally capable, and that price is a bargain for adventurers looking to do more with their hardware.
It's almost double what an Apple Watch Series 8 will cost you. And almost three times what an Apple Watch SE will cost you.
It does twice as much as both of those models, so you know you're getting your money's worth.
Read more
Of course, you might just prefer your adventure watch to tell the time, rather than anything of the bells and whistles. For that, we recommend either the new Tudor Pelagos 39 for divers, or the Montblanc 1858 Geosphere Chrono 0 Oxygen. 
Luke Hopewell
Luke Hopewell is the editor and co-founder of Redaktör. He's previously been the Editor of Gizmodo, Founding Editor of Business Insider Australia, Editorial Lead for Twitter Australia and more.