The allure of Byron Bay is not easy to describe. But the white sand and healthy lifestyle lures thousands from all over the world.
If you're heading on a trip to this coastal oasis, know that Byron is not a place to pack your schedule with sightseeing. Although there are a few things to see and do, the appeal of Byron Bay is its chilled out, beachy vibe.
It's a place to switch off and relax – not a place to see old churches or museums.
When we visited, a typical day would involve hunting for a fabulous brunch spot; a stroll around the shops; an afternoon by the water, followed by dinner. 
With this in mind, here are the best things to see and do in Byron Bay. Chill out, and join us.
The Lighthouse Walk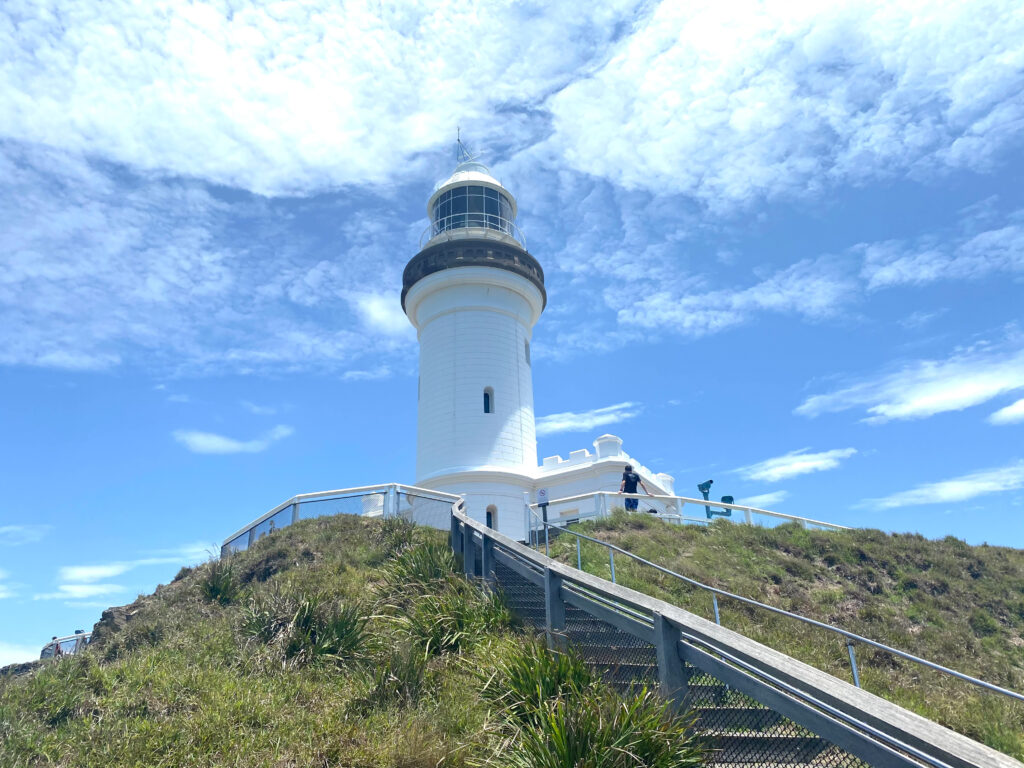 If you love views, hikes, exercise or just ticking things off your bucket list, add the Lighthouse Walk to your itinerary. 
Along the way you'll get some seriously spectacular views, so remember to build in about 20-30 minutes for photos.
You'll get a great view of Cape Byron, the most Easterly point of Australia. And if you go between May and November, you'll probably get to see a whale or two as you reach the top. I've even seen sea turtles and rays in the water along the walk.
You can start in a few different spots but I like to start at The Pass Beach. There's plenty of street parking here, too – a hot commodity around these pristine shores.
There's a lot of uphill in this walk and plenty of stairs. All fitness levels can do this one (although it's recommended for the upwardly mobile), just dress accordingly and wear proper shoes.
If you are otherwise-abled, there is driving access to the lighthouse and an accessible area around it so you can take in the views.
Visit the beaches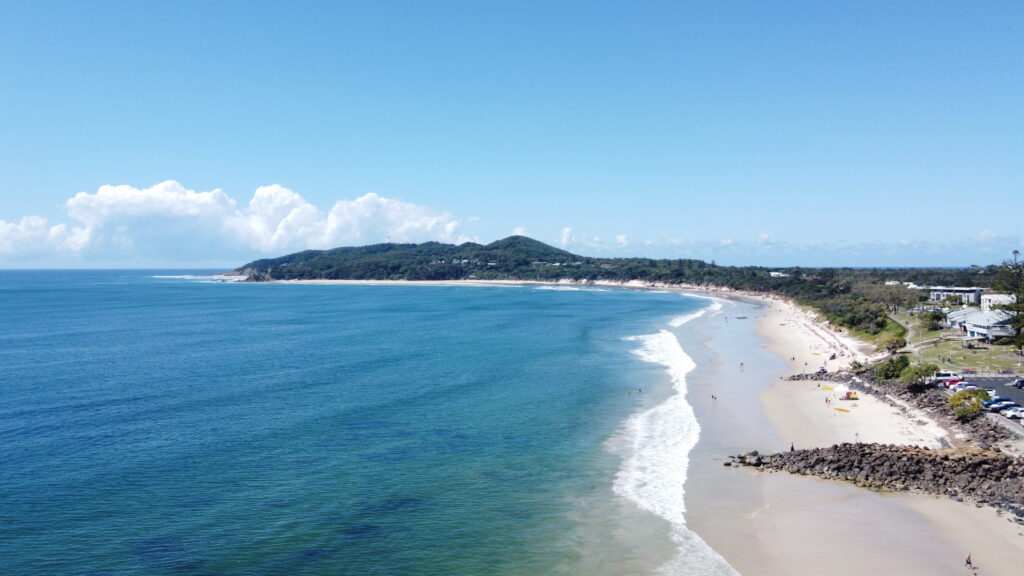 You can't go to Byron without paying a visit to one of the area's spectacular beaches.
The aptly-named Main Beach is in the Byron town centre. It's expansive and great for swimming. To the left is a dog-friendly section and to the right is the lifeguard-patrolled section with swimming flags and plenty of space to lounge.
The Pass is at the far end, on the same strip of sand as Main Beach. It's a popular spot for surfers and often has a very shallow sand bank, making it great for swimming. Especially for those less confident in the water.
Wategos Beach is beyond The Pass to the right. Wategos is heralded as one of the most stunning beaches in Australia, and for good reason. The water is clear, the sand is powdery and the views are spectacular. 
The beach is framed by picturesque trees and flanked multi-million dollar properties. Think Sydney had the most expensive property in Australia? Well, I'm here to tell you that the median house price in Byron is $1.5 million – in Sydney it's a paltry $1 million. When you get to Wategos Beach, you'll understand why. This beach is home to the famous Raes Hotel and Restaurant.
Tallows Beach is on the other side of town outside of the arced bay Byron is named for. It's longer, a little more secluded and great if you want more privacy and fewer crowds.
Try the food – especially the brunch spots!
I'm not really someone who puts food experiences on a travel itinerary, but once you get to Byron, you'll realise that this really is a big part of the experience.
You won't find Michelin-starre restaurants here, but you will find plenty of delicious food that speaks to Byron's relaxed, cultured and healthy identity.
Some of my favourite spots include The Mez Club, Folk and Byron Bay Fresh. I was not a green smoothie person before my first trip to Byron, but I certainly am now.
Shopping, the town centre and Arts & Industries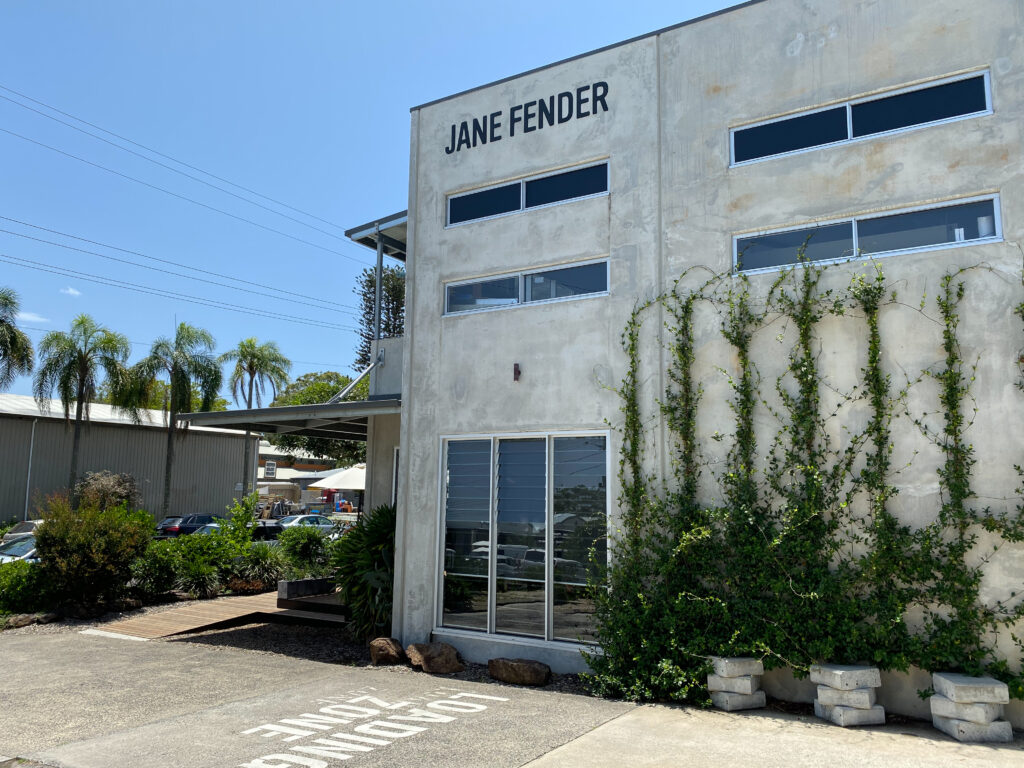 Calling fashion and homewares fans, you're about to have a field day. One thing Byron has plenty of is designers. There are two main areas for shopping: the main town centre and the Arts and Industries estate.
The main town is littered with cute shops, and is definitely worth doing a full walk around. The Arts and Industries Estate is about five minutes out of town by car or 10 minutes by bicycle. And it's in these 'hoods you'll find the recipe that classic Byron look.
The Byron aesthetic is an enviable one. Boho dresses, white linen clothing to match the crisp white architecture with exotic accents. And it comes courtesy of the creators and curators in this area. 
Some of my personal favourite Byron Bay fashion designers include Arnhem, Rowie, Auguste, Kivari, St Agni and of course Spell and the Gypsy Collective. In fact, the Spell store will get its own mention on this list. 
Then of course there's the home and furniture stores like Tigmi Trading and Bodhi Living. 
Killen Falls
About 30 minutes from Byron by car is Killen Falls. It's a stunning waterfall at the conclusion of an easy walking trail. There are a few excellent viewing platforms along the walk down to the bottom. 
Once you reach the bottom of the hill, you'll be greeted with a magical little pool of water which you can swim in. But just know, it's home to some cute little turtles, so be mindful not to disturb them too much. 
If you're lucky, they'll swim up to you.
The Farm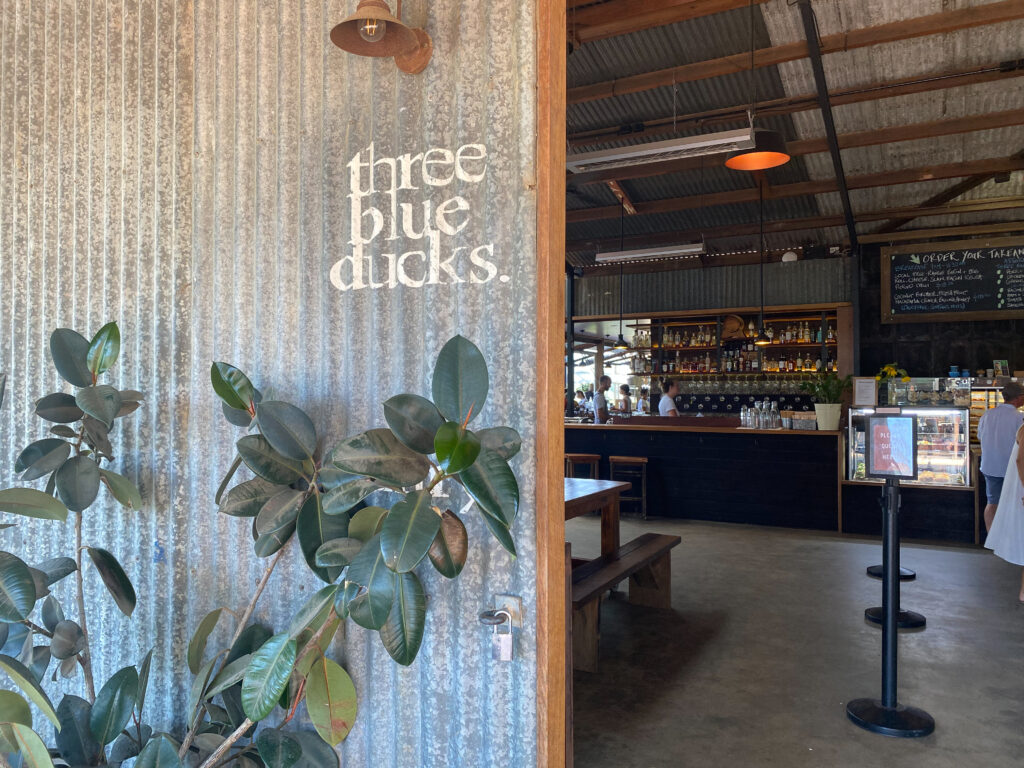 Just outside of the town centre, about 10-15 minutes by car is The Farm. It's an expansive piece of land with animals, crops and nut trees, designed for visitors to experience farm life. The onsite restaurant, Three Blue Ducks is definitely a foodie's must-visit. 
It's a great place to take kids for the educational value. They offer a lot of information on sustainability, farm-to-table approaches and even advice on how to grow your own food. And if you don't have kids, go anyway, I loved it. It's a really cool spot.
The Markets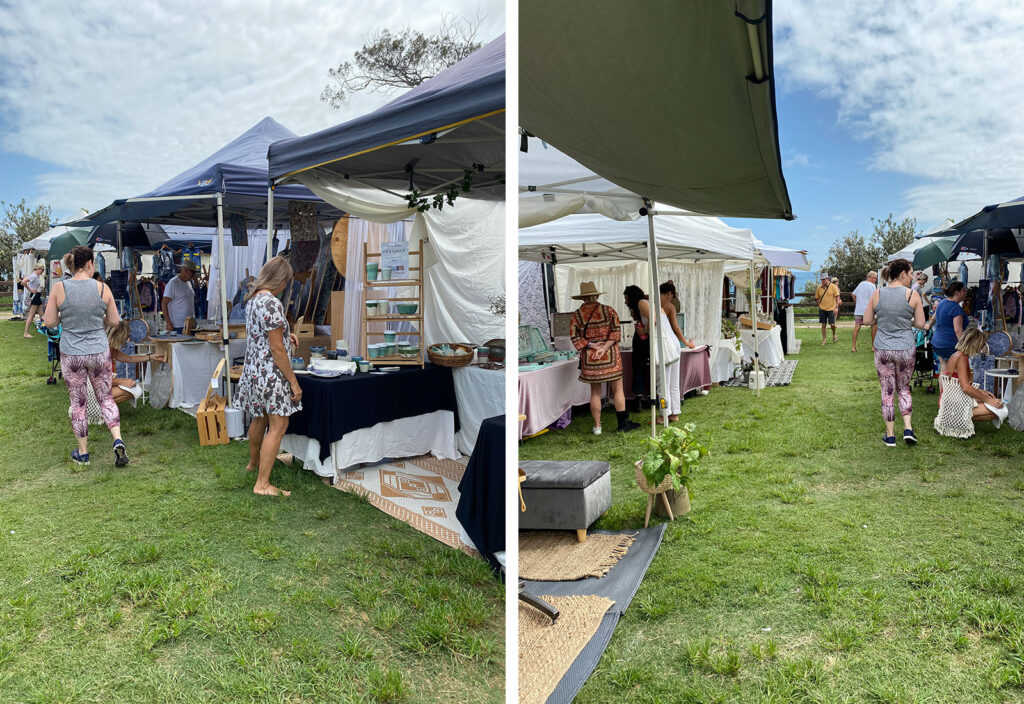 Byron has a tonne of markets throughout the year. There are beach markets, Saturday/Sunday markets, night markets and more. The sellers are usually local artisans so you can find some really cool stuff. 
I've bought some utterly delightful candles and even a cedarwood bath mat at Byron markets in the past.
The Spell concept store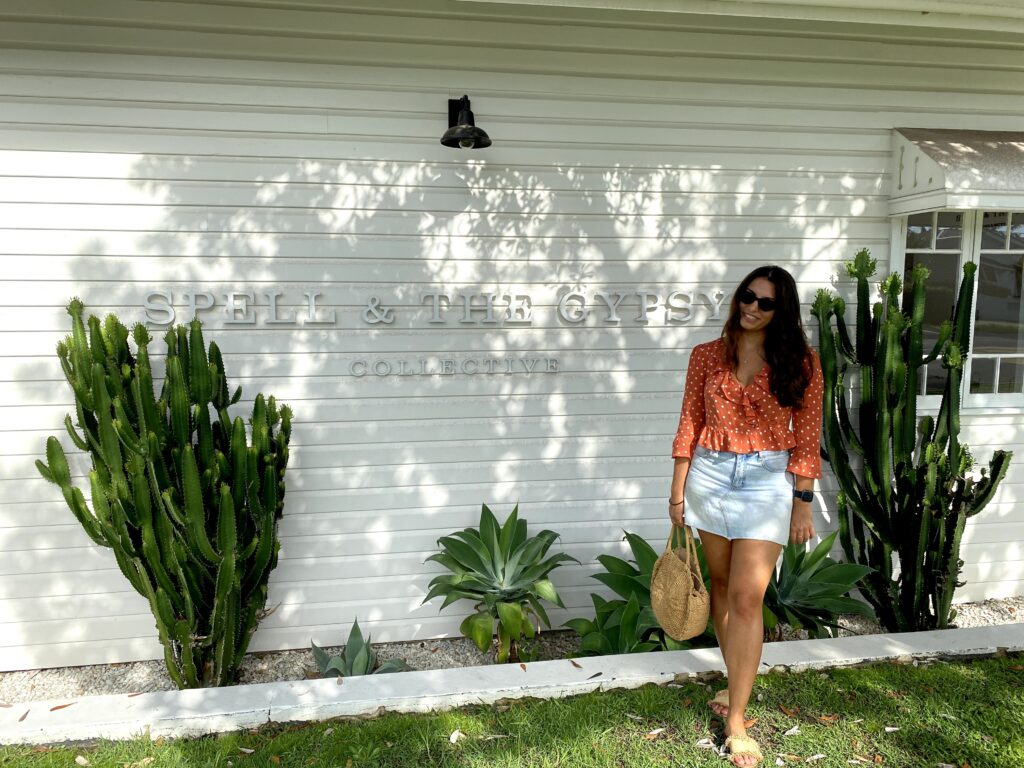 This store merits its own mention because of it's wonderful design. 
A five-minute walk just outside the town centre, you won't miss this building. Bright white, with black accents and decorated with candelabra cacti, it's a Californian-desert dream. 
Take photos.
Raes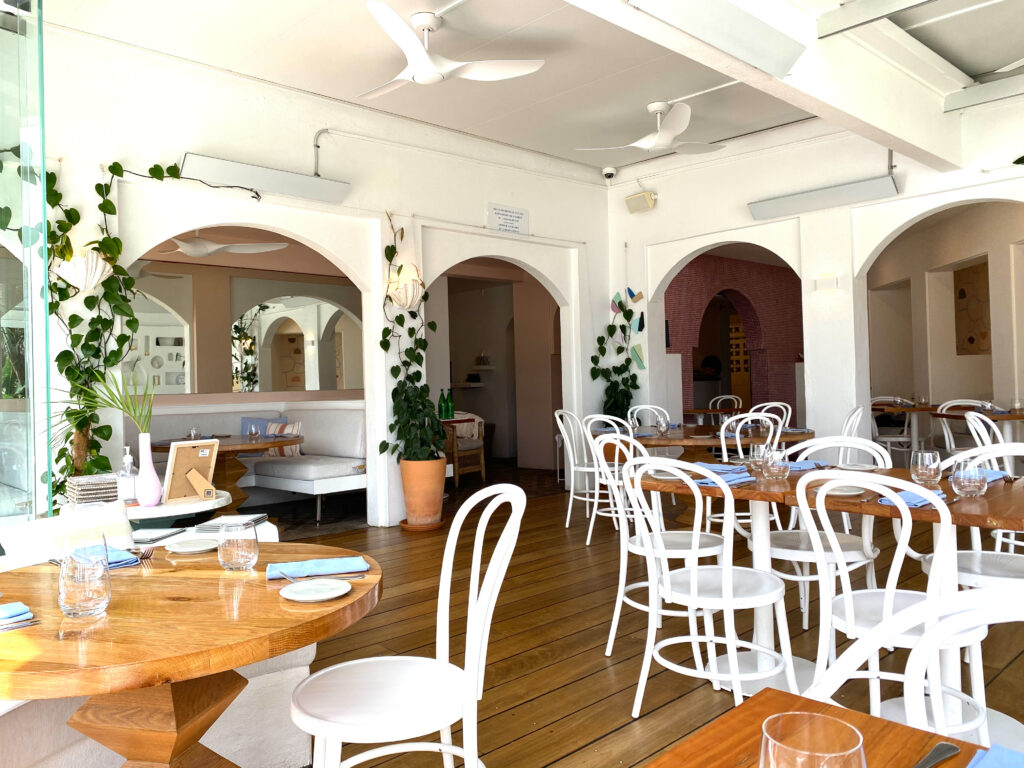 While not all of us have the cash to stay in this $1,000-per-night hotel, you can still visit the restaurant or even the Cellar Bar.
The restaurant has views across Wategos Beach and has some seriously good food. The menus are seasonal, so remember to double check before you book if you have allergies or are a picky eater.
The Cellar Bar is the perfect spot for a drink and a snack. But the seats are limited so make a booking if you can.
The Crystal Castle & Shambhla Gardens
A short trip by car into the Byron Hinterland and you'll arrive at the Shambhla Gardens. 
This is a beautiful little rainforest sanctuary, a great place to explore for a few hours. Within the gardens is the Crystal Castle, two giant amethyst crystals that you've likely seen all over Instagram. 
They're quite stunning in real life. It's the perfect outdoorsy activity, a peaceful and scene way to spend an afternoon.
Get in touch with your inner hippy via some reiki
Before the Byron Bay became such a tourist hot spot, it was a haven for hippies. A place to connect with your spirituality. And really, it still is in a way, it just looks a little different now. If you want to really vibe with the Byron, why not experience some crystal healing, aka reiki? 
Even if you don't believe in it, it's incredibly relaxing.
Spa treatments
There are certainly a few spas and salons you should put on your list – if that's you're thing.
I recommend Commas and the Raes Spa. It's the perfect way to really unwind and lean into the relaxed vibe that Byron has to offer.
Drive around and look at property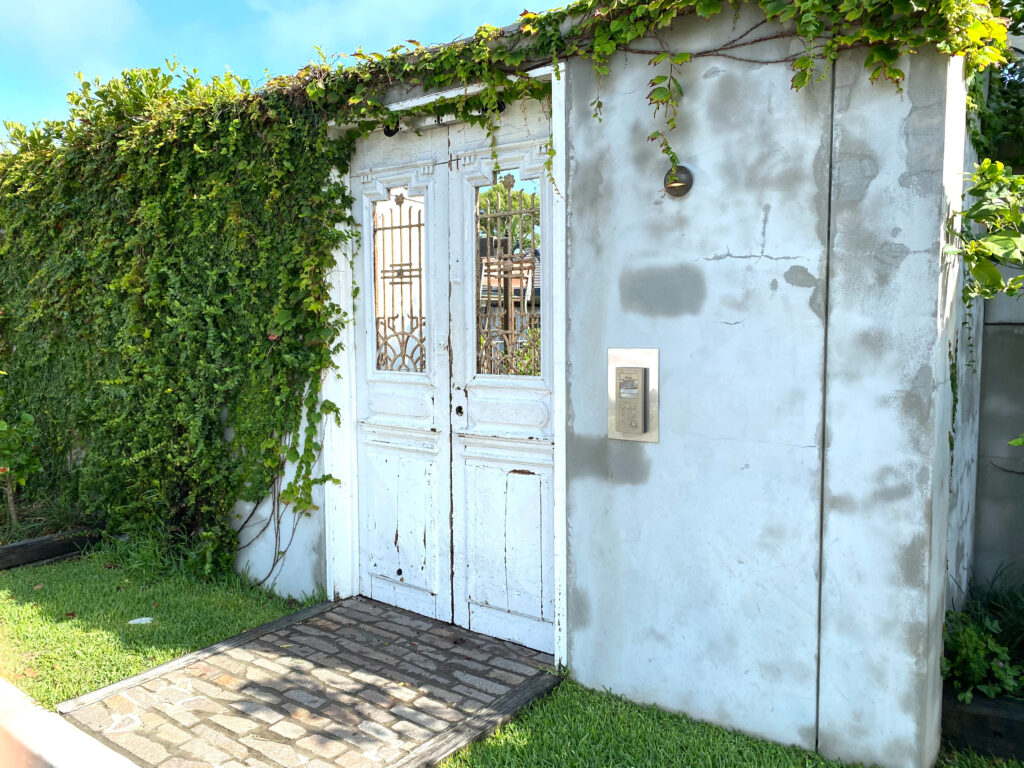 So this one won't appeal to everyone, but if you love real estate, Byron is the place for you. I highly recommend renting a car for your trip, but a bicycle will do too. Most hotels offer free bicycles for you to borrow.
Take a drive around Tallows Beach, explore the Wategos area, drive into the Hinterland. There is some truly stunning property in these areas. And a lot of it is very unique. One of my favourite homes in the area is a Hamptons-style weatherboard with Victorian accents like stained-glass windows and wrought iron balconies. It sounds weird, but it totally works.
Explore the nearby towns: Bangalow, Newrybar and Nimbin
Nimbin is a place well-worth a visit. It's famous for its cannabis-friendly culture and looks like a time capsule from the '70s.
Bangalow is another adorable town. It's full of fashionable little boutiques and quaint cafes.
Newrybar is small but picturesque. The kind of place to find artisanal ceramics and jams. It's also home to Harvest, one of the best restaurants in the Byron area.
Read more
If you want to break up your drive to Byron Bay, perhaps a stay at Bannisters is on the cards? Check out our Bannisters Port Stephens review.