The Anchorage Hotel Port Stephens review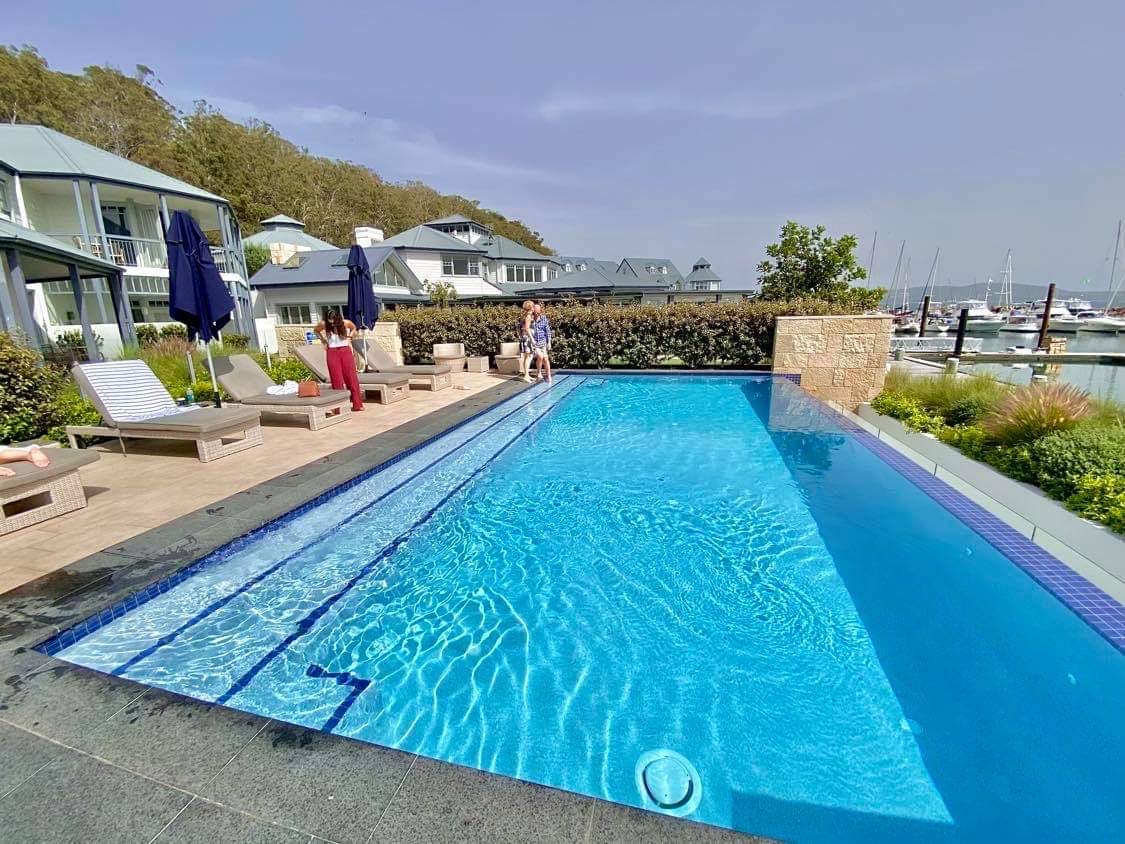 Tucked away in a quiet corner of Corlette in the Port Stephens area is The Anchorage. 
With a TripAdvisor rating of 4.0 (as of 11 July 2021), it's a gorgeous gem nestled on the shores of Port Stephens.
Mia Steiber is a travel, lifestyle and fashion guru. With over a decade of experience sampling and reviewing the finer side of life, she loves nothing more than a good hotel bar.
Got a question for the author? Send us an email.
We stayed here in 2019 when we were unable to get a booking at nearby Bannisters. We were disappointed at the time, but it ended up being extremely fortuitous. The Anchorage is a relaxing haven that gave us the exact holiday we needed at the time.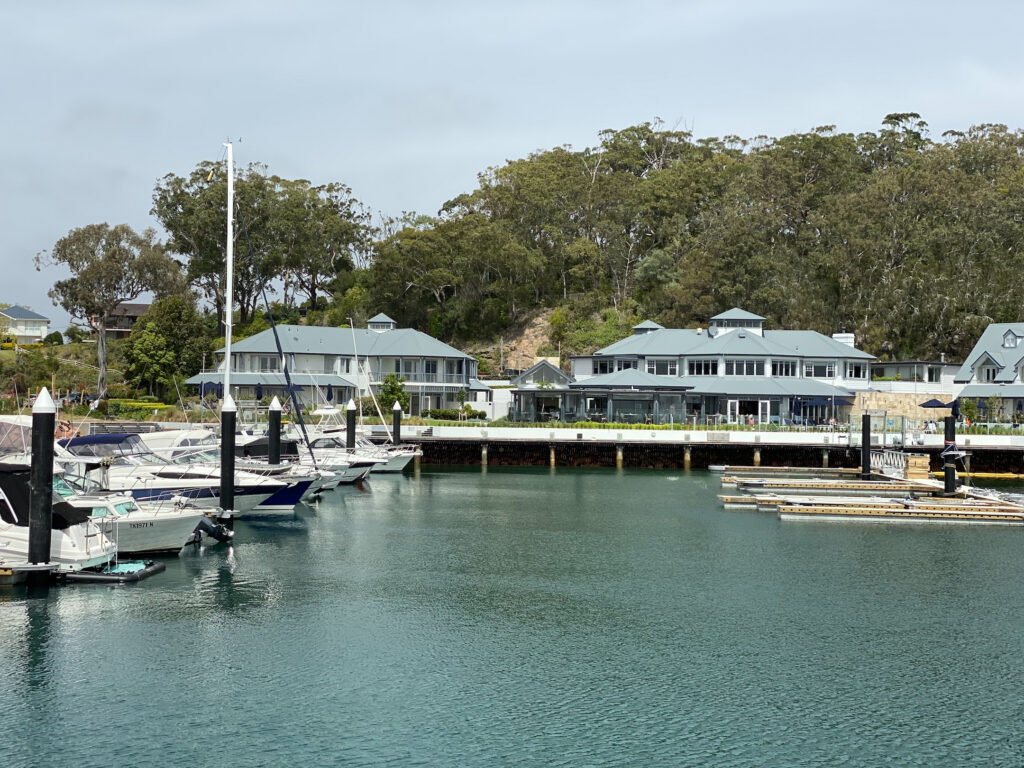 From the moment you step in, it is a luxurious experience. We were offered champagne on arrival and invited to sit in the lounge by a roaring fire. It was perfect for the unseasonably-cold October weather.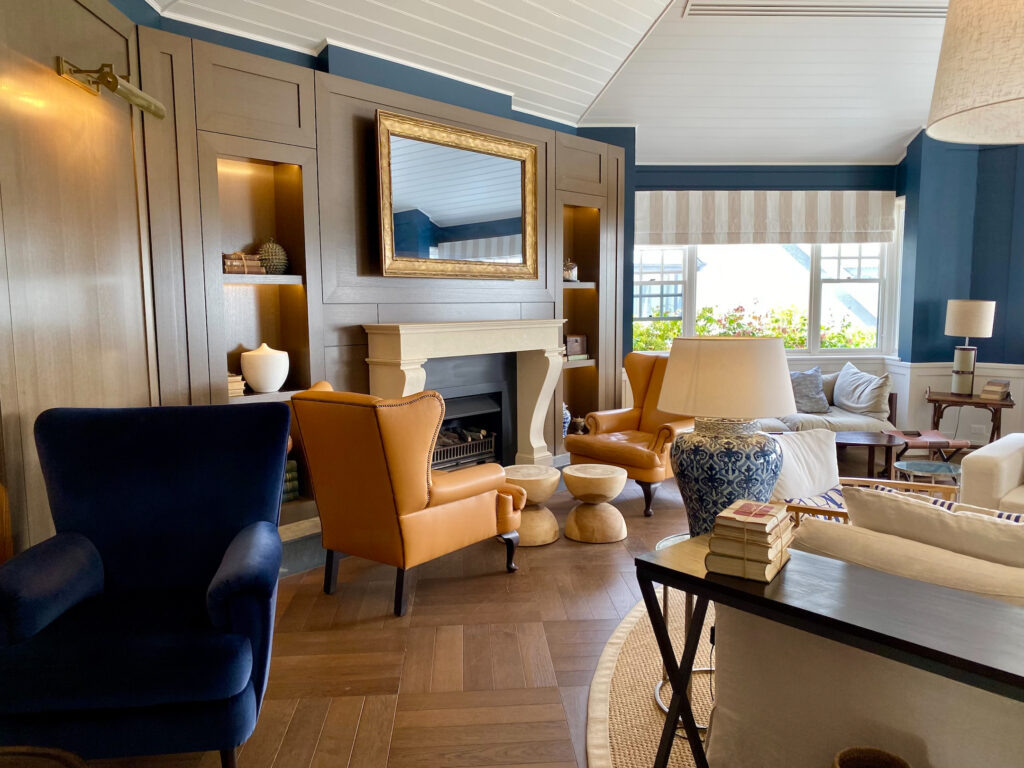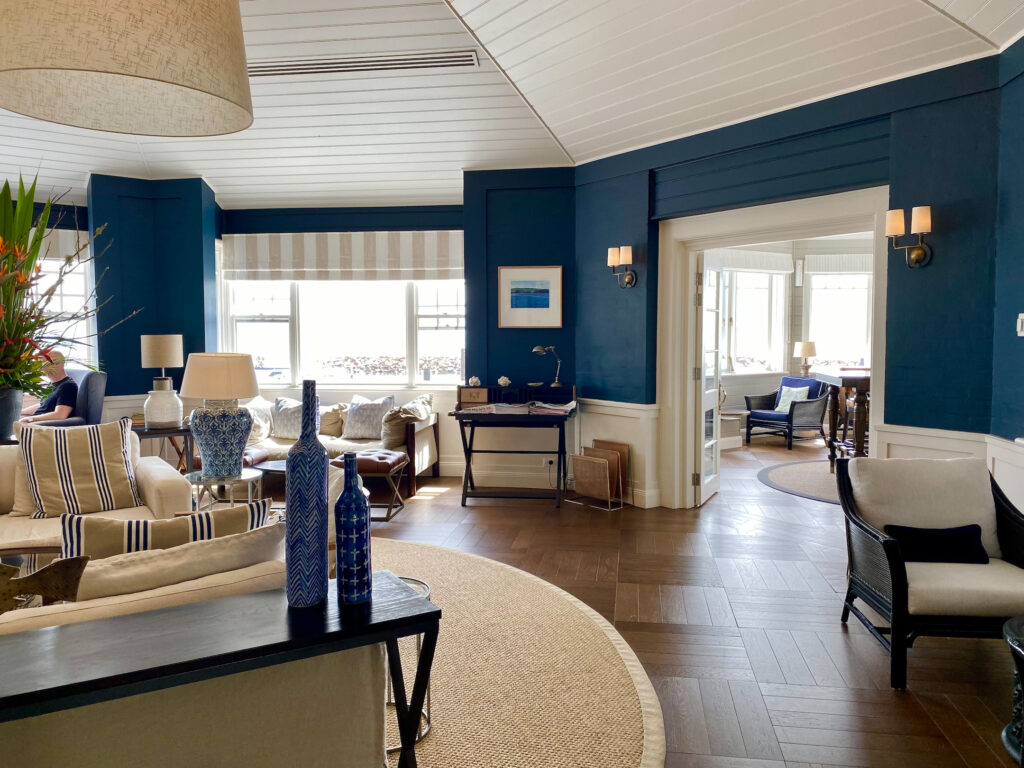 The decor is an up-market appropriation of the Hamptons-style that is so popular in Australia. Mismatched wooden pieces sit alongside buttery-brown leather lounges and royal blue soft furnishings. Its enviable interior stylings are evident on the The Anchorage Hotel Instagram account if you need inspiration for your space.
The reception staff were attentive and helpful. They made us feel extremely welcome and helped us get a last-minute reservation at one of the on-site restaurants, The Galley Kitchen.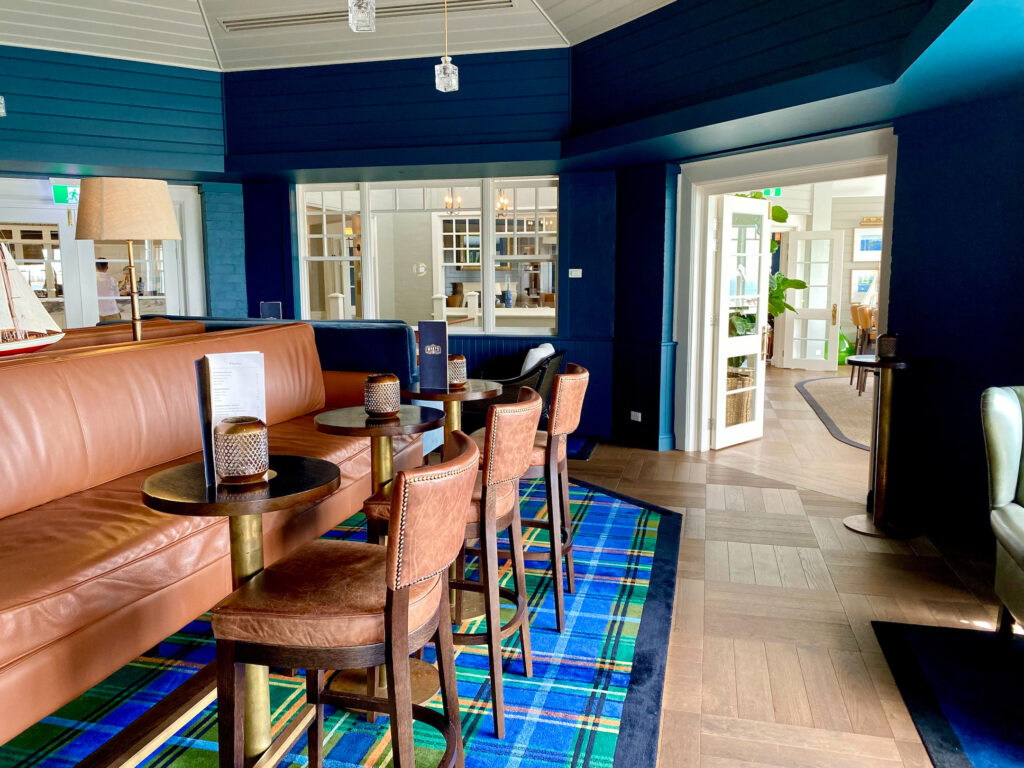 The Anchorage is a hotel set up to be luxurious in both warm and cold weather. Even though it was raining and cold when we stayed, we were able to enjoy all aspects of the hotel (except perhaps the pool). Sitting in the lounge near the fire with views of the rainstorm over the marina was incredibly cosy. It's not something that can be said about the other hotels in the area which are primarily set up to be enjoyed in warm weather only.
The Anchorage: the rooms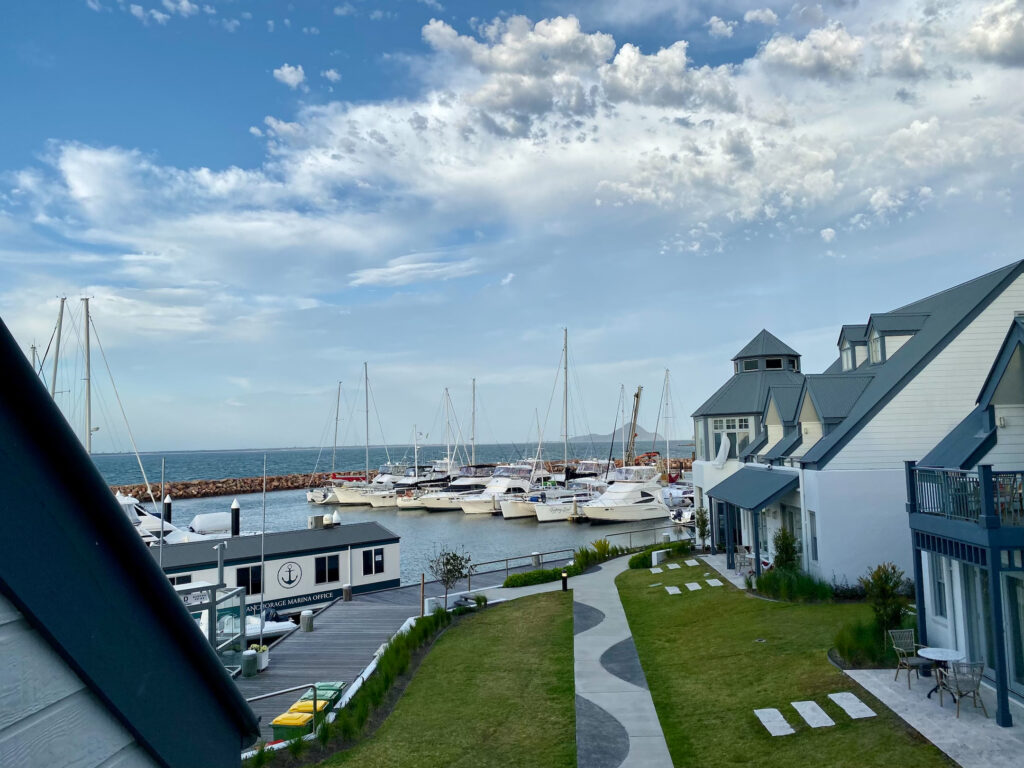 We stayed in a Loft room at The Anchorage. It was impressively large with a downstairs living area with a balcony that enjoyed views over the marina. The upstairs area had a bedroom, bathroom and shuttered windows. The room had ducted aircon, robes, slippers and high-quality bathroom amenities throughout.
For anyone that doesn't want to splash out for a Loft, there are plenty of more affordable room types that are equally nice. Almost of all of them have views of the marina too, unless you choose a Garden Room. 
There are also a few that are far more lavish than the Loft, going all the way up to a private Luxe Villa. Really, there is a type of room for everyone, couples, families, groups, the money-savvy and the ones that want to splurge.
All the rooms are furnished with the same Hamptons-style aesthetic, with plenty of space. Not all of them have bathtubs, so you'll want to double-check this against your room type if a bath is a deal breaker for you.
The Anchorage: the location
Located in Corlette, Port Stephens, it's a quiet, mostly residential area of the region. This means there's not much in the way of shops, bars or restaurants. But it also means there's plenty of peace and quiet, with very little noise except for the undisturbed lapping of the water against the jetties. But if you are looking to get out and about, you will need a car.
Since this area is a little quieter than the other areas of the Port Stephens bay, you'll get a better chance of seeing the marine life Port Stephens is so famed for. As we were taking a stroll around the marina to explore, we saw a dolphin jump through the water maybe two metres from where we were standing on the pier. It was an experience I won't forget.
The Anchorage: facilities 
This hotel is very well equipped: two restaurants, a bar, a spa, two pools and lounge.
All of which are as luxurious as you would expect.
The Anchorage: pools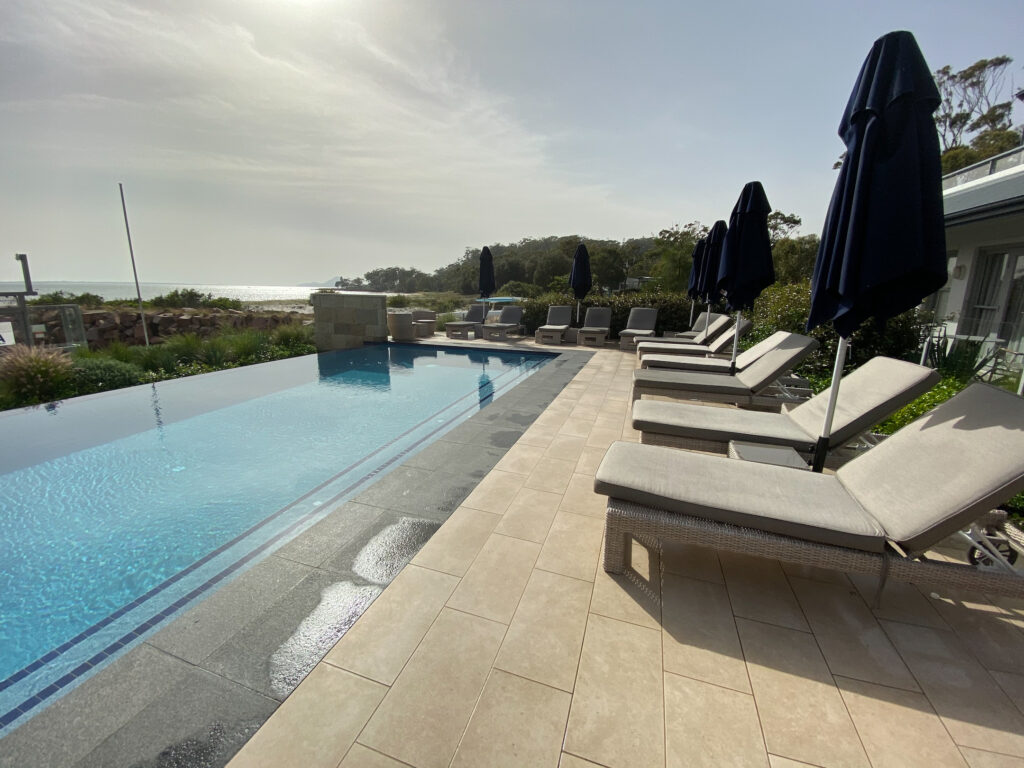 The pools are both lovely. And it is a real plus to have one as an adults-only. Personally, nothing bothers me more than screaming and splashing when I'm trying to relax. I really appreciated that the hotel accommodates for a space away from noise.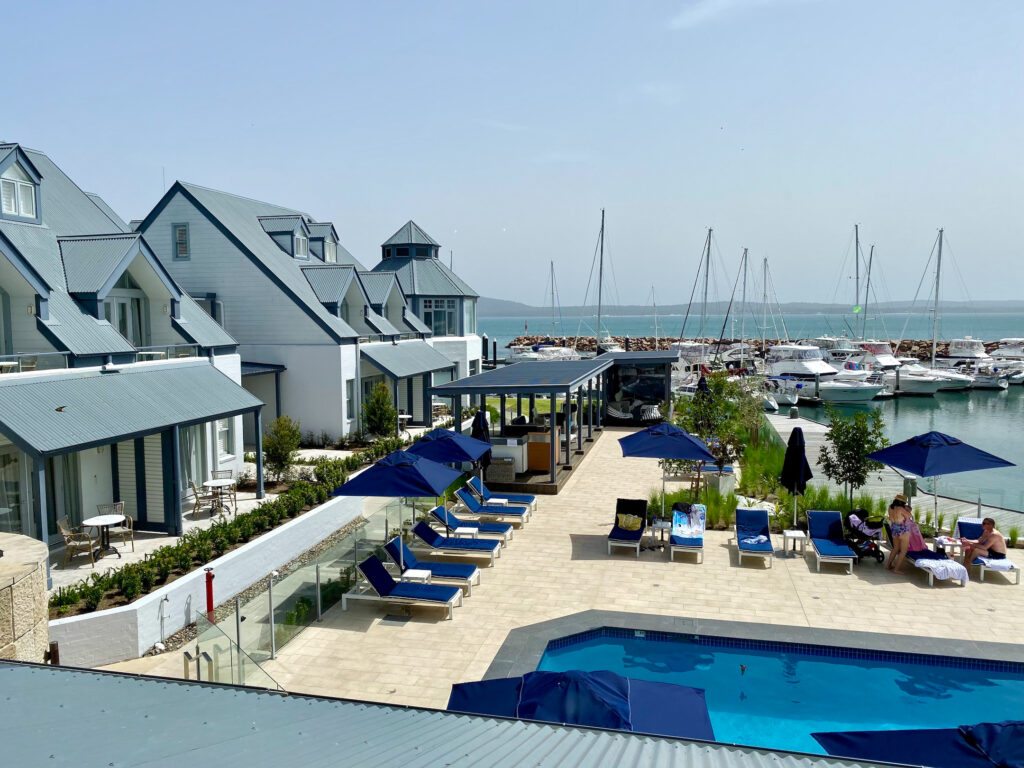 The family-friendly pool is larger, with deck chairs and an aspect overlooking the marina. The adults-only pool is a smaller infinity pool with roughly six deck chairs over the over side of the property, but also with views of the marina.
The Anchorage: Spa Lucca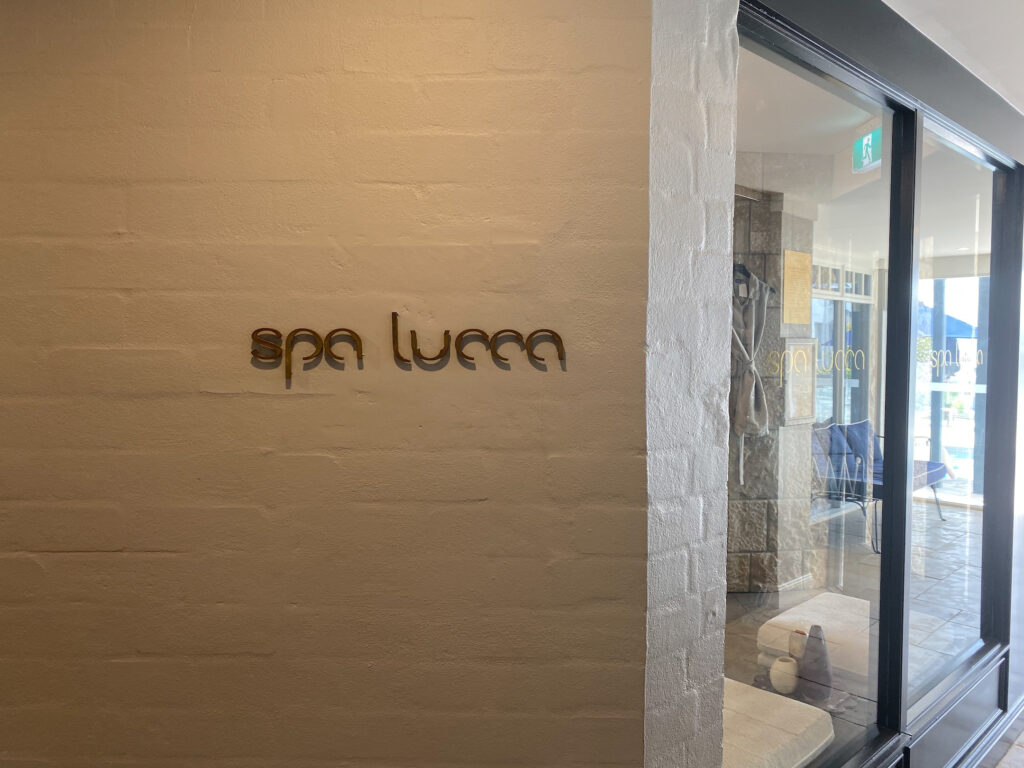 Spa Lucca is a destination frequented by customers beyond hotel guests owing to its both relaxing and efficacious treatment menu. 
I didn't have the chance to visit as the spa was fully booked a month or two in advance – I did go on a long weekend so it was peak times. 
I imagine you won't always need to book months ahead, but definitely book a few weeks out. It's extremely popular. I had my name down for cancellations but no such luck.
The food: The Galley Kitchen, The Wild Herring, Moby's Bar
The Anchorage boasts two onsite restaurants, starting from the top with The Wild Herring. This is the property's fine dining location. It has multiple awards, but only opens from Wednesday – Saturday – so book in advance.
The Galley Kitchen is the other option, and still very nice but with a more accessible menu. I'm not someone that likes to sample kingfish tagines and garlic foams, so I preferred the simpler options (although still fancy, just not as experimental) at the Galley Kitchen which include steak, chicken and vegetarian options as well as fish.
The Galley Kitchen is also the setting for lunch and also the included breakfast. Breakfast for me was a highlight. In Pre-COVID times, there was a lavish buffet with just about everything you could ever want – including some rather lovely champagne in case you fancied a mimosa. 
The barista coffee was also included but given the hotel was fully booked, the wait was up to 45 minutes for a coffee. It was no fault of the staff who were run off their feet, including the manager. They were working as fast and they physically could. I'm hoping since then, they've maybe bought a second machine (or staff member) to ease demand.
It's also worth noting that the restaurants do accommodate room service if you prefer to eat in.
Our take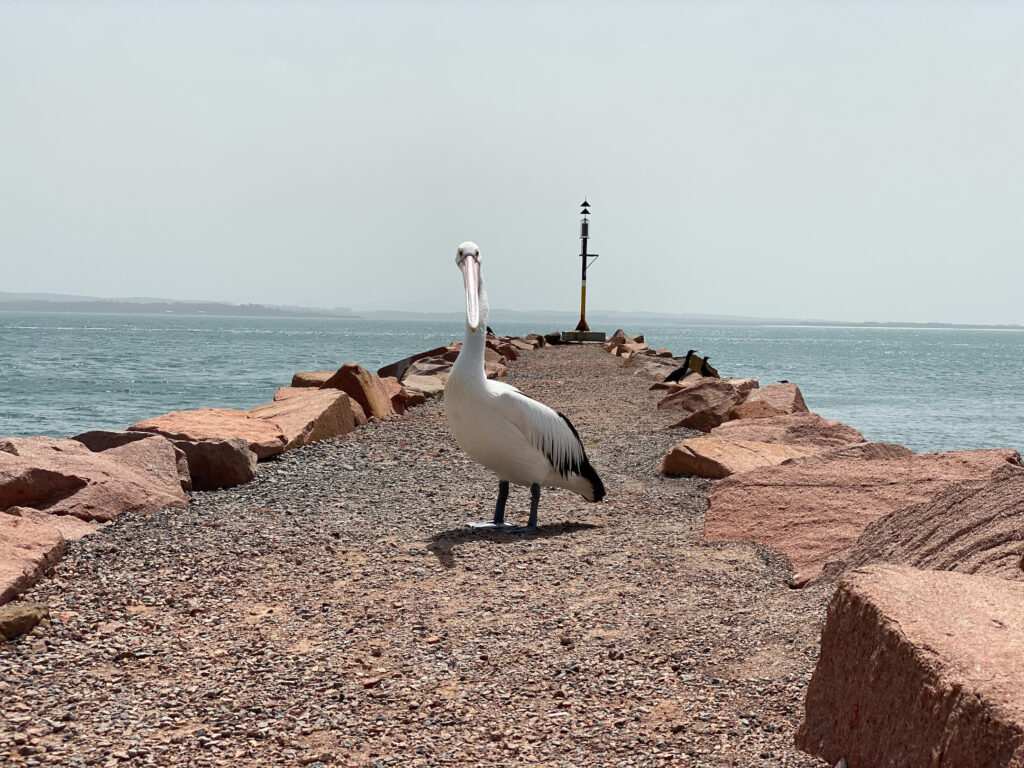 My partner and I enjoyed every single moment of our stay. And if we'd stayed anywhere else, we wouldn't have had nearly as good a time. 
This hotel turned a rainy weekend into a wonderfully luxurious and relaxing experience.
We particularly loved just hanging out in our bathrobes and drinking wine on our private balcony overlooking the marina. The sunsets are awesome.
It's a wonderfully relaxing slice of heaven. We will definitely be going back.
Read more
If you prefer to stay in something less Hamptons-style and more retro, you can always try Bannisters. Check out our review of Bannisters Hotel Port Stephens, just around the corner from The Anchorage.
Mia Steiber
Mia Steiber is an editor, journalist, strategist and SEO whizz. She's been a beauty writer, fashion journalist and finance writer for over a decade. In the past, she has written for brands like POPSUGAR, Cosmopolitan Australia, Gizmodo, Mamamia, The Daily Telegraph and Finder. You may recognise her face from her appearances on Sunrise and Channel 7 News where she's talked about all things fashion and beauty. She has a Bachelor's degree in journalism and certification in travel writing. A slashie through and through, Mia is currently the Digital Strategy Director at RUSSH Magazine and the Editor-in-Chief at finance site RateCity. She started Redaktör with her partner Luke so she could have her own space to share her years of expertise in beauty, fashion, travel and money - reviewing the best in luxury products and experiences. In her spare time, Mia is a collector of cats, a lover of skincare, a world traveller and a passionate gardener.