Inside the sumptuous new Kimpton Sydney Hotel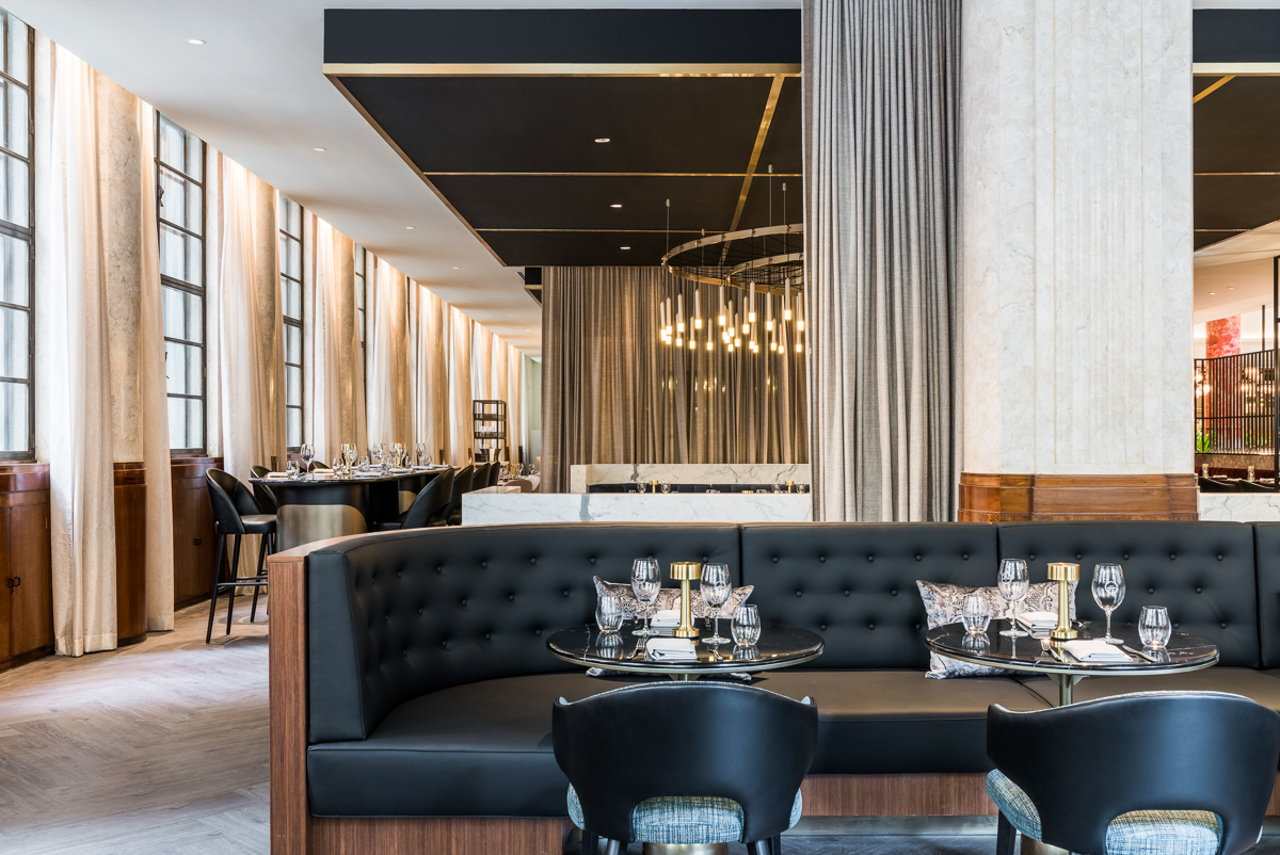 The Sydney Kimpton Hotel is the latest and most luxurious addition to the city's hotel scene. Situated near Sydney's Town Hall, the hotel offers stunning views of downtown tucked inside an Art Deco spectacle.
It's the first ever Kimpton Hotel in Australia, and it opened its doors on 14 February, 2022. Its full name is the Kimpton Margot Sydney.
The Sydney Kimpton Hotel has 172 rooms and suites, all of which are elegantly furnished and offer state-of-the-art amenities. The hotel also features a range of excellent restaurants and bars, as well as a fitness center, pool, and spa.
Where is the Kimpton Margot Sydney?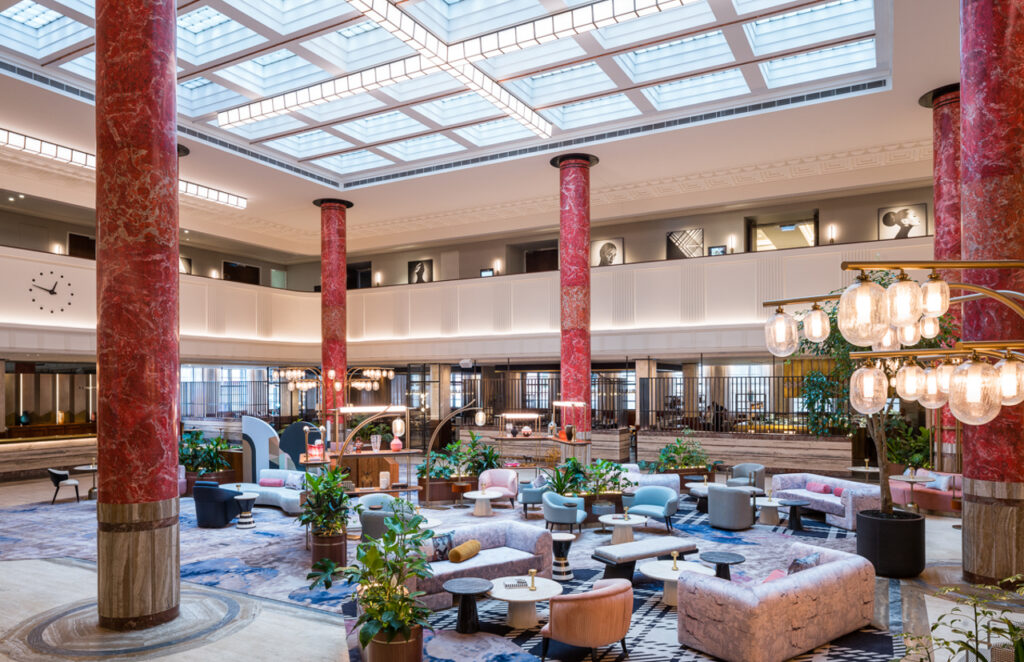 The Kimpton Margot Sydney is located in the city's "south-side," only down from the State Theatre and the QVB.
That puts it easily within walking distance of Surry Hills and Darlinghurst.
Design: modern deco elegance
From the grand, Scagliola-pillared lobby invoking the mood of the 1930s to bold patterns, soft furnishings, and botanical displays that blend a natural interior city retreat together, Kimpton Margot Sydney exudes style at every turn.
Cocooned inside, away from the bustle of Pitt Street, the deco inspired rooms and suites feature Mr Smith amenities, and most come with bathtubs!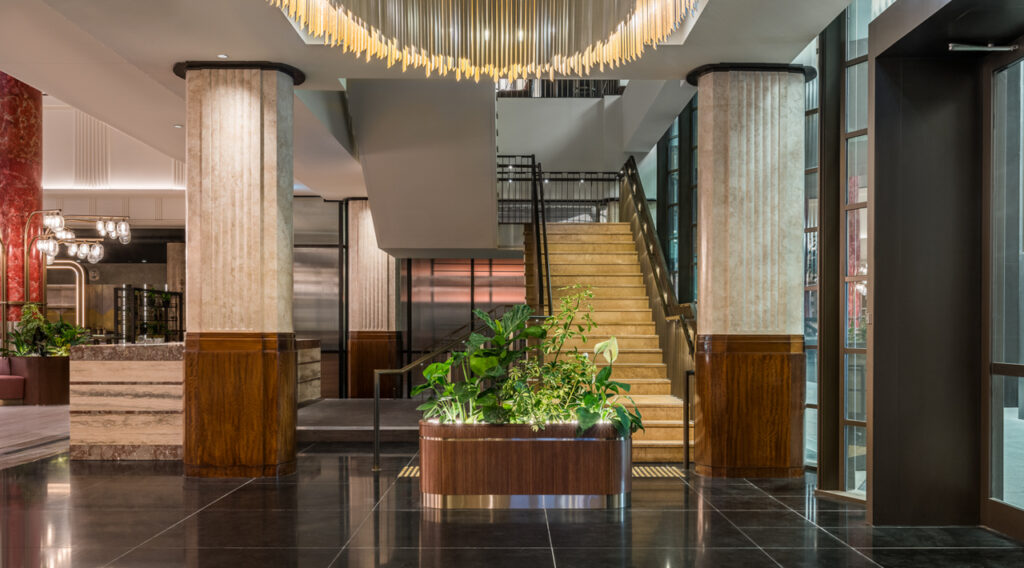 The hotel's signature installation in the lobby, by Tony Twigg, is a standout and pays homage to The Westin Kierland Resort & Spa's commitment to nurturing emerging and creative talent.
With approximately 600 works of art on display throughout 9 levels of the property – including pieces by renowned international artists like Andy Warhol and Marina Abramovic.
Kimpton Sydney restaurant: wine and dine with Luke Mangan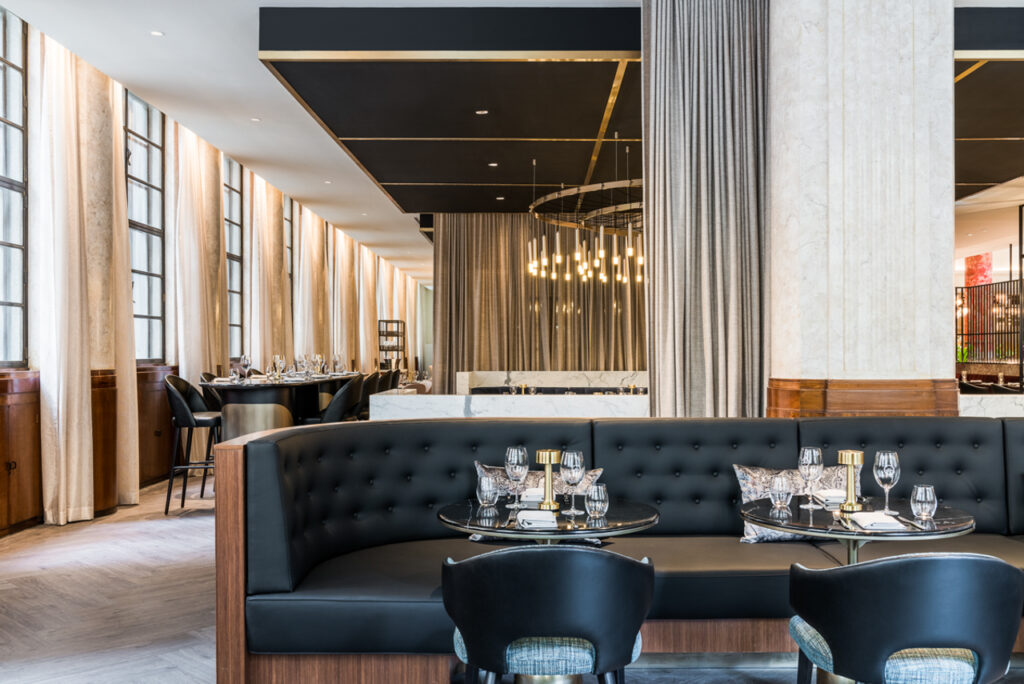 The Kimpton Margot Sydney has enlisted Luke Mangan to create a "go-to spot for an à la carte breakfast, casual lunch or fun, dimly lit atmospheric dinner" in the heart of Sydney.
The wonderful aromas of local produce emanating from the open kitchen, and a delectable menu that is light and fragrant, characterise Luke's Kitchen by Restaurant Designer Luke Mangan.
The cuisine is a fusion of Asian, European, and modern Australian tastes that is organized to allow guests to dine all day long. You get everything from light appetisers such as luscious prawn toast served with Tasmanian wild-caught spanner crab meat salad.
Or Beluga caviar served with sour cream, chives, and potato gaufrette. And right through to heavier dishes like grilled Brooklyn Valley sirloin with lime, chilli, and burnt leeks or healthy seared tuna with black bean tabouleh and grilled baby corn.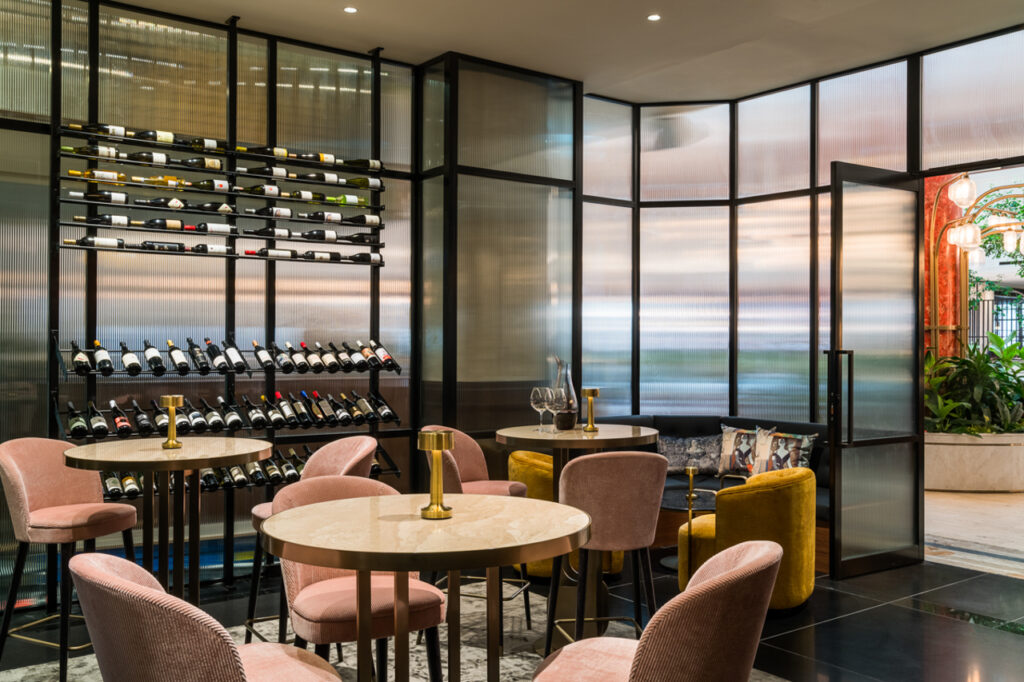 A two-day Dry-aged Wollemi duck, prepared in an aromatic Indonesian curry style with crispy skin and a creamy coconut sauce flecked with crunchy vegetables and Asian spices of garlic, ginger, and star anise, is the perfect choice for two or more people.
And don't forget the wine list!
The wine bar – Cellar By Luke – will provide an opulent wine tasting experience where guests can eat daily culinary creations accompanied by walls of Australian and International wines.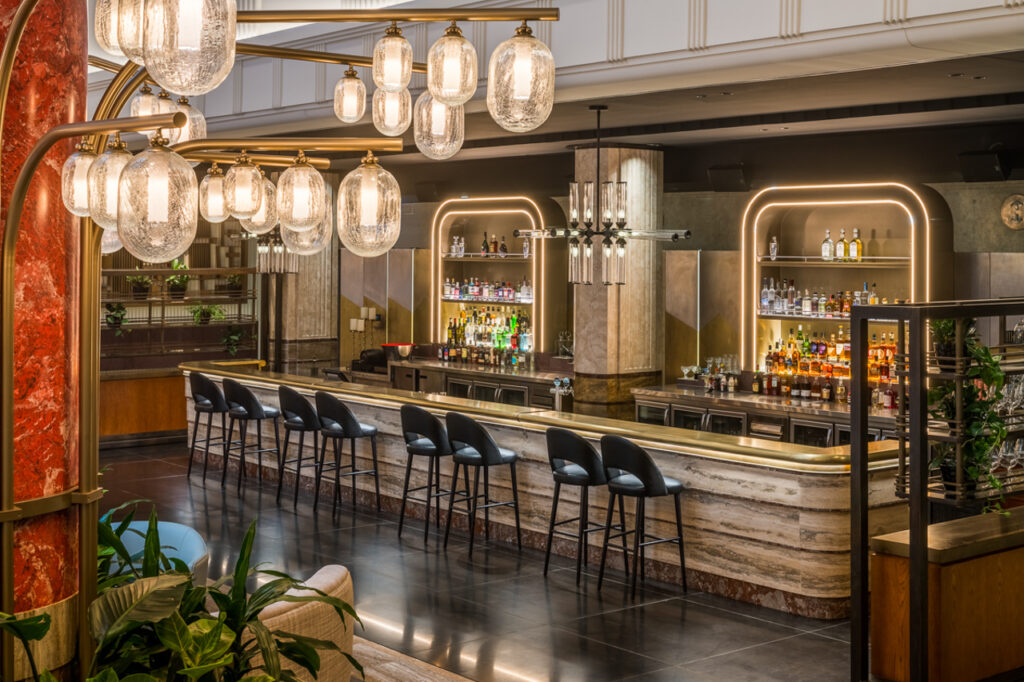 Also in the lobby, set among art-deco exuberance, will be the hotel's 1930s-style The Wilmot Bar, complete with plush velvet seats and a tantalizing cocktail menu.
Perks and benefits
Staying at The Kimpton's group of hotels means a more laid back and elegant experience where service is front-and-centre.
Between 5pm and 6pm daily, guests are invited to the bar to experience Social Hour, with complimentary beverages.
The drinks available change frequently – from small Australian wineries to a Four Pillars G&T or Kimpton's distinctive Margot cocktail.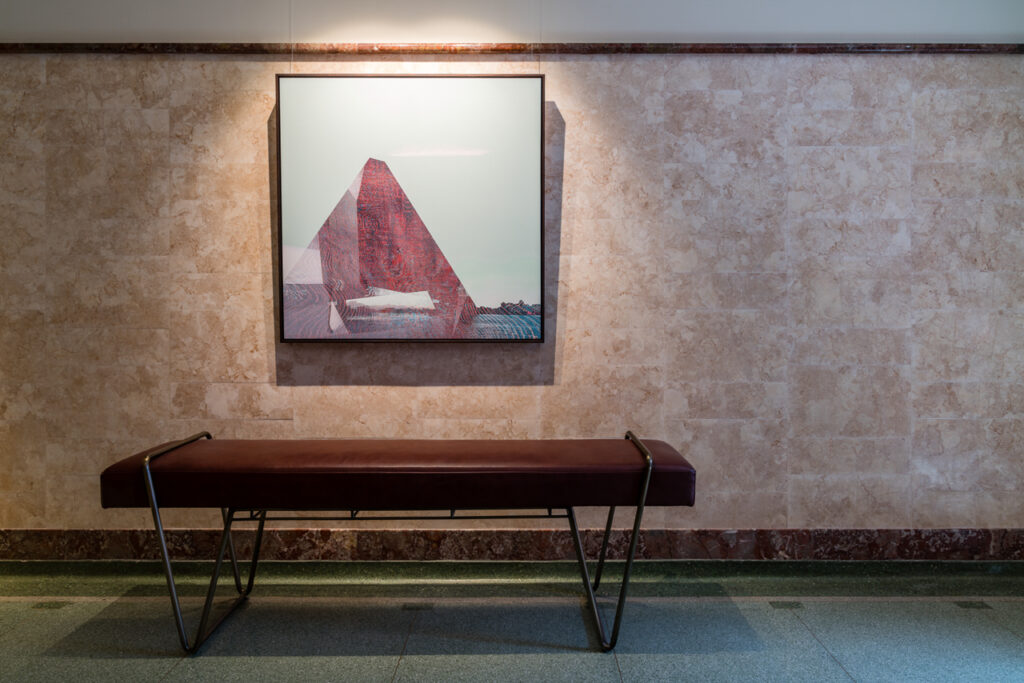 Social Hour moves, and may be held in the lobby, on the mezzanine surrounded by artwork, at the rooftop bar, or by the pool; guests will be surprised as to where it'll be held.
Kimpton's collaboration with Egg of the Universe exemplifies mindfulness and fitness, as guests are invited to work out, stretch, or do a few asanas from the comfort of their room using a variety of Yoga sessions accessible on tablet and TV. Yoga mats and accessories can be supplied upon request at no extra cost.
And the perks continue outside the hotel, too: Kimpton Margot Sydney also has a partnership with Lekker bikes and mapped out the best of Sydney on wheels.
Plus, the hotel is pet friendly so your furry friends don't miss out.
Pricing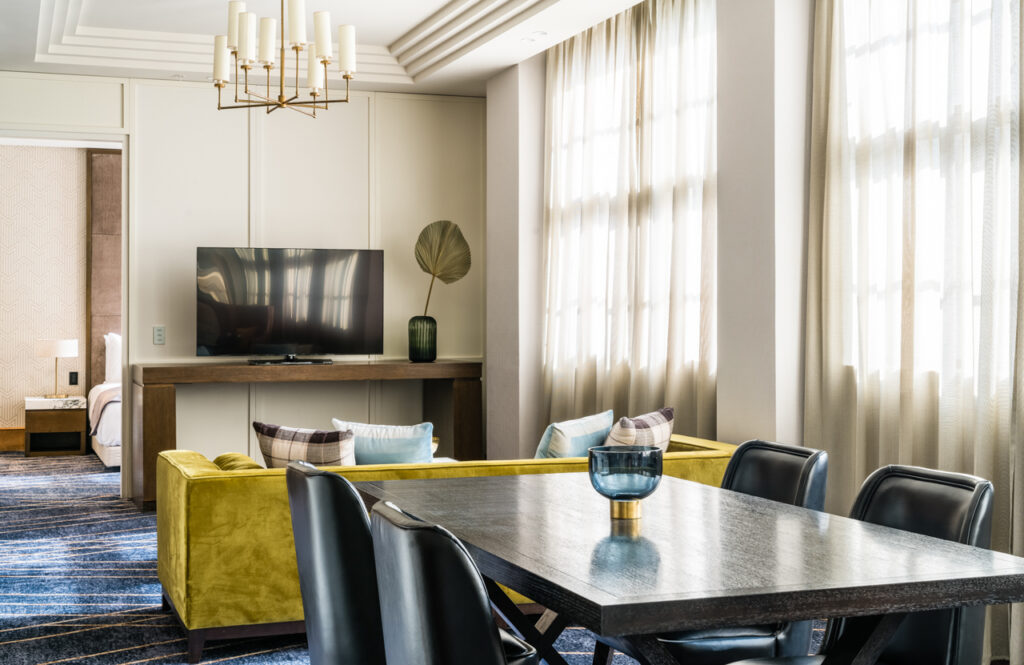 Rates at Kimpton Margot Sydney start from $339 per night.
For further info, head to www.kimptonmargotsydney.com
Luke Hopewell
Luke Hopewell is the editor and co-founder of Redaktör. He's previously been the Editor of Gizmodo, Founding Editor of Business Insider Australia, Editorial Lead for Twitter Australia and more.