Hunter Valley weekend: your two-day winery travel itinerary

Need to get away for a weekend among the vines? Who could blame you? We've explored the Hunter Valley Wine Region in New South Wales and created you a luxurious ultimate Hunter Valley weekend.
How to get to Hunter Valley wine country
Driving into Pokolbin, the heart of the Hunter Wine region is the smartest way to get there, especially with the current state of travel restrictions. If you can fly at some stage in the future, fly into Newcastle Airport and sort yourself out with transport.
Pokolbin is just over a two-hour drive from the Sydney CBD, with mostly smooth highway driving on offer. Put the top down, pump up the tunes and get ready for a killer weekend.
Pro tip: Wineries are open pretty much all day, and your hotel probably won't let you check in until the mid- to late-afternoon, so time your journey to knock out a few wineries before you arrive at your lodgings. That way, you can fit in more wine, a cheeky lunch and keep your bags in the car until it's time to check in.
Getting around with Hunter Valley wine tours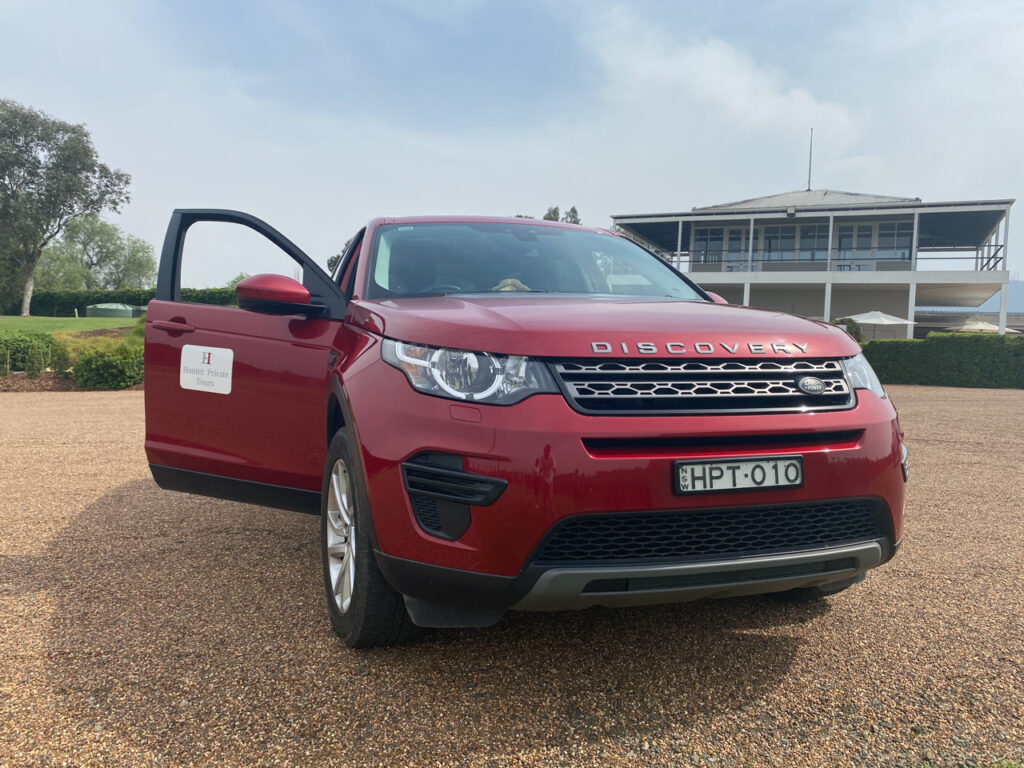 There are a couple of ways to get through your winery hit list safely and responsibly.
After about three wine tastings, you probably want to cool it on the driving a little. You won't be a great judge on your own blood-alcohol content (BAC) reading, and even though you're driving short distances, you can still get into trouble behind the wheel. 
If you do insist on driving, make sure you have a gadget like the AlcoSense Elite 3 on hand to help give you a reading on your BAC. If you are over, don't drink and drive. Stay awhile and enjoy the scenery.
Instead of chancing it, we recommend getting yourself onto a wine tour: something that can in fact be a very luxurious experience!
There are a number of wine tours that will bus you around the Hunter in small- or medium-sized groups, but if you're like us and prefer something more solitary and private, there's Hunter Private Tours.
You can book in a group of up to four people, and chauffeur you around your selection of Hunter wineries for the day. No schedules to keep to, no worries if you drink a bit too much. Just a pleasant day being ferried from vista to vista in a luxurious Land Rover Discovery Sport learning more about the region as you go.
Where to stay in the Hunter Valley
Before you pick up day two, you'll want to return to your accommodation: Spicers Hunter Valley.
It can get slightly confusing here, because Spicers now have two excellent properties in the Hunter Valley region, but we recommend Spicers Guesthouse and its modern take on the rustic country homestead.
Recently renovated, the hotel is separated into several guest lodges, each trimmed in wood with soft furnishings and finishes, draped with climbing vines and flowers.
Exceptionally comfortable and well-appointed rooms mean you'll have a fantastic spot in which to rest your head after a big day on the tastings.
After you've recovered, a wind down dinner at the exceptional eRemo Restaurant is the perfect way to cap off your day. Dining with the kangaroos that roost around Spicers Guesthouse is a unique experience!
Tuck in for the night and get ready for another great day tomorrow!
Hunter Valley wineries – day one
Get ready for a wild ride! You're about to experience the best views, wines and food the Hunter has to offer! 
If you pick up your day around 11am, you should be able to fit the below wineries into your schedule. 
Audrey Wilkinson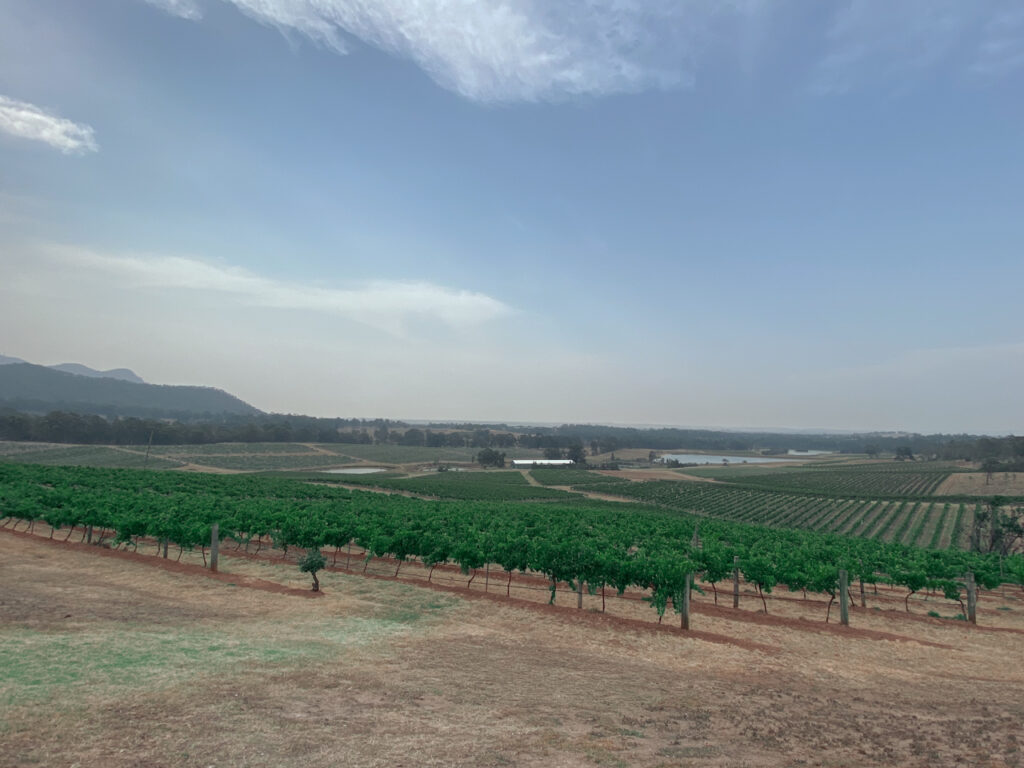 The Audrey Wilkinson cellar door is positioned atop a hill, allowing you to take in the brand's full magnificence.
From the front door of the property, you get a full 360-degree view of the vines, right back to the Brokenback mountain range. It's an incredible view to get you started on what is an interesting and well-appointed tasting experience.
Cellar door experiences range from a simple tasting, through to an hour-long cheese and fortified wine session. Alternatively, you can stop for lunch to take in the incredible view with a picnic among the vines. The $80 pricetag on this experience includes a wine masterclass along with all the picnic supplies you'll need.
If you want to spend a little more time in the company of Audrey Wilkinson, you can take a tour of the winemaking museum also on the property.
Brokenwood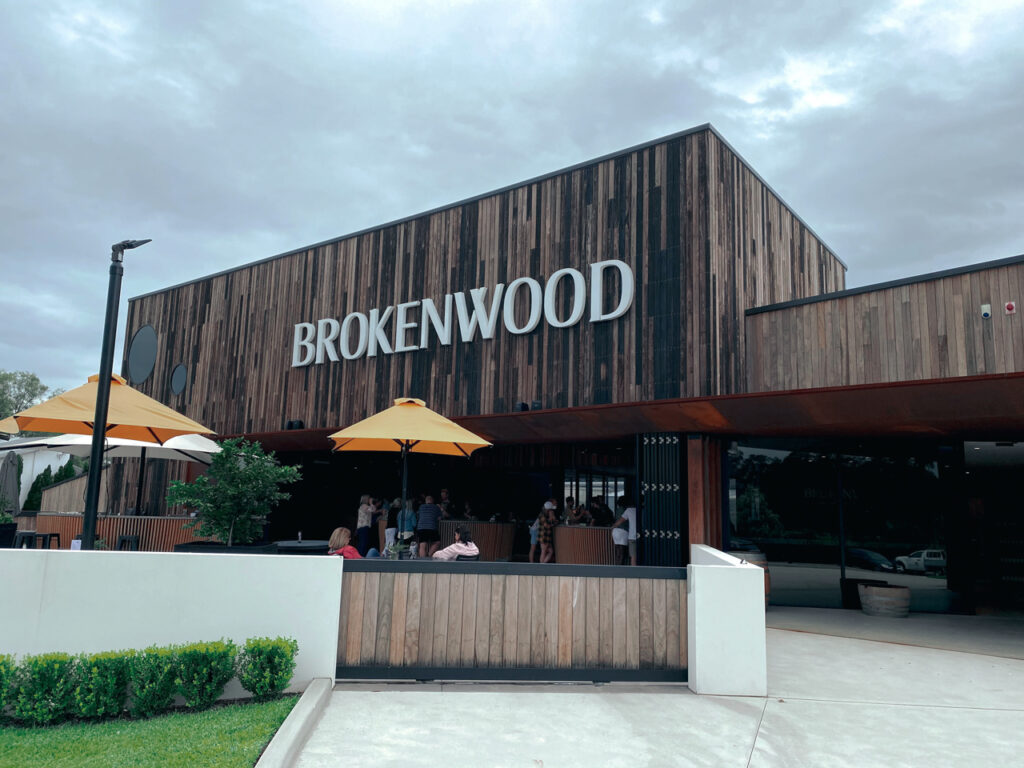 Brokenwood offers a variety of tastings for any budget. Walk-ins can enjoy the $10 varietal tasting or a $25 single vineyard tasting. These tastings take place in Brokenwood's incredible new, architecturally-designed tasting room. Brokenwood experts are stationed in pods and tastings are customised to your palate. The property is absolute eye-candy.
Meanwhile the experiences – which need to be booked in advance – offer you a VIP experience in the private tasting room for the $100pp Brokenwood Journey. This includes a tasting experience of six wines, matching canapés and a discussion with the incredible in-house chef and sommelier on how to match your food and drink. It's concluded by a behind-the-scenes tour of the winery where you can learn everything about how your favourite wine is made.
For the big spenders, there's also the $1099pp Soil-to-Cellar experience. This includes all the trimmings, including personal concierge service; a private tasting of highly-rated Brokenwood Wines (including the celebrated Graveyard Shiraz), followed by a four-course degustation experience, topped off with gourmet charcuterie in the Barrel Hall to conclude.
We took up the Single Vineyard experience with a view to get the most out of our day. The Wood at Brokenwood is where we stopped for lunch, and we weren't disappointed.
The food was incredible from Wood Restaurant, but if you'd prefer to stop in for just a snack, Cru Bar + Pantry will cater to your taste. And if you're like us and driving your Tesla to Brokenwood, you'll also be able to grab 11kW-22kW of charge while you drink and dine.
Peterson House
As the sun sets on your incredible day of tasting, eating and laughing, you should round out with bubbles.
Peterson House specialises in incredible sparkling wines that dance their way right across your palate and into your heart.
The staff at the cellar door are just as bubbly as the wine, and with over 40 different varieties of sparkling wine (including reds and whites along with more traditional sparkling champagnes), you're bound to find something you like. 
Alternatively, if you want to reshuffle Peterson House to the middle of your day, you can also enjoy lunch at the in-house restaurant with a remarkable view across the vines.
Exploring the grounds of Peterson House is also a treat, thanks to the completion of the gorgeous chapel. Poke your head in and imagine yourself attending a gorgeous fairytale wedding here!
Pro tip: Tesla owners can also charge their cars here!
Head back to your hotel for a nap and contemplate some dinner ahead of tomorrow's tastings. You've earned it.
Hunter Valley wineries – day two
After a hearty buffet brekkie, board your grape chariot and go forth amongst the vines for another awesome day.
Hunters Dream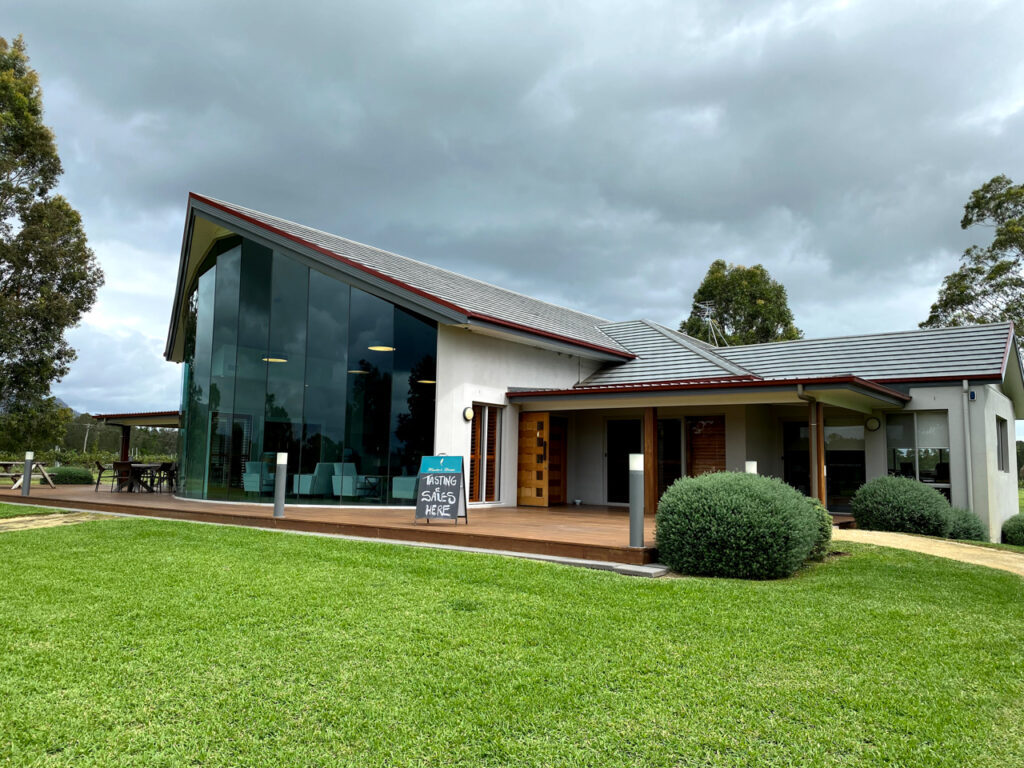 Hunters Dream is a simple place to start your day, and one you'll want to spend a bit of time at.
Not only does it serve simple, yet elegant drops, it does so in a beautiful vista. Huge glass windows give way to a rolling property that glows in the sunlight.
Set amongst the vines is an incredible field of lavender co-owned by a number of health and wellness brands. The garden is backdropped by quaint streams and lagoons for ducks and geese to hangout.
Listen closely and you'll hear the buzzing of the many beehives on the property. You can even buy the local honey here!
Don't forget to pat the dog on the porch before you leave.
Bimbadgen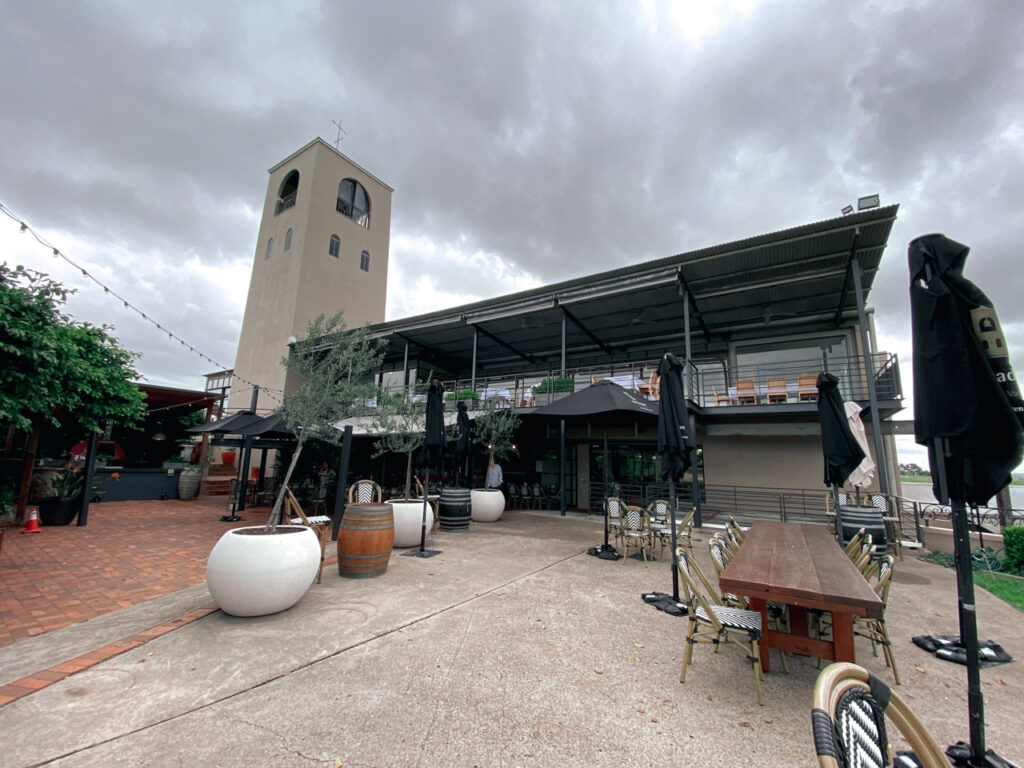 You could be forgiven for looking at Bimbadgen and thinking you've stepped into colonial Spain. With a bell tower that boasts a views for miles around, you won't be short of things to gawp at while at Bimbadgen.
The name itself is derived from the Indigenous language meaning "Place of Good View".
With vineyards over 50 years old producing Shiraz, Semillon and more, it's a top drop in a top spot. Cellar door tastings are generous and inexpensive and are incredible customisable to your palate. 
Bimbadgen also has not one, but two restaurants: Esca Bimbadgen for high-end eats is great for your lunchtime refuel, or if you want something a little more casual, the wood-fired pizzas downstairs will tempt you with scent alone.
Usher Tinkler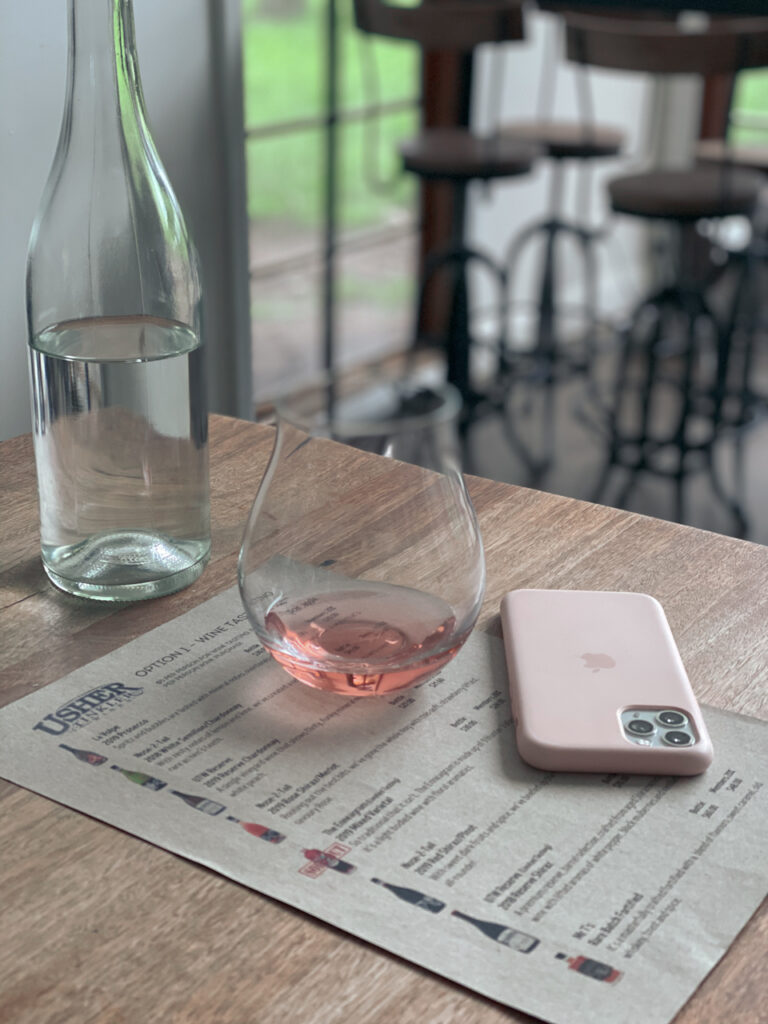 Based in a retrofitted church, Usher Tinkler Wines is an altar to the art of wine.
Usher Tinkler is a cosy, boutique winery with affordable drops and incredible fortified concoctions.
Many of its signature wines are paired designed to be paired with meat dishes, such as chicken, pork and beef. 
If you're looking for a snack to tide you over in the middle of the day, Usher Tinkler offers incredible charcuterie boards in a range of sizes to cater for you and your group.
Read more:
We drove the Tesla Model 3 to the Hunter region, and it's an incredible weekender from the future. Check out our review.
Featured image by Armando Castillejos on Unsplash
Luke Hopewell
Luke Hopewell is the editor and co-founder of Redaktör. He's previously been the Editor of Gizmodo, Founding Editor of Business Insider Australia, Editorial Lead for Twitter Australia and more.