The Frame is the crowning achievement of Samsung's TV range. The Frame 2021 differs in several key ways, yet remains unchanged in others. This is The Frame 2020 vs 2021.
Luke Hopewell is a gadget veteran of over 10 years. He's reviewed over 100 TVs in his time, and been to the magic factory where they're all made.
Got a question for the author? Email me: luke@redaktor.co.
Design
When Samsung made The Frame, it envisioned exactly that. A TV that fit into the real estate of a picture frame. Thanks to some clever design, The Frame 2021 finally makes good on that promise.
Previous models of The Frame – ranging from 2018 right through to 2020 – house the TV inside a thicker unit that measures almost two inches deep (45.8mm / 1.8inches). The Frame 2021 almost halves that measurement, bringing the TV to just an inch thick (25.4mm / 1inch). 
It's sure to be an astounding transformation that lets The Frame 2021 truly blend into a room.
Samsung is keeping The Frame 2021 tidy with the new One Connect Box, that allows you to run a single cable to the panel to handle power and multiple HDMI inputs. This allows you to keep your wall free of cable mess, tucking it away in an entertainment unit or floor alcove instead.
Even the remote gets an update this year. Instead of the same-old white smart remote, The Frame 2021 gets a new SolarCell remote. As the name suggests, it forgoes replaceable and wasteful batteries in favour of a solar panel that recharges it. Good thinking, Samsung.
Panel
There's a lot of new to love when it comes to design, but the actual image you see on The Frame 2021 might feel familiar.
This year's Samsung TV lineup is blessed with a range of new gear. You've got NeoQLED, smarter 8K and more. The Frame 2021, however, rocks exactly the same panel as The Frame from 2019 and 2020. Like, exactly the same.
It's a good-quality QLED panel, but it's the same one we saw last year and the year before. If you've seen it once, you've seen it 1000 times when it comes to this new TV.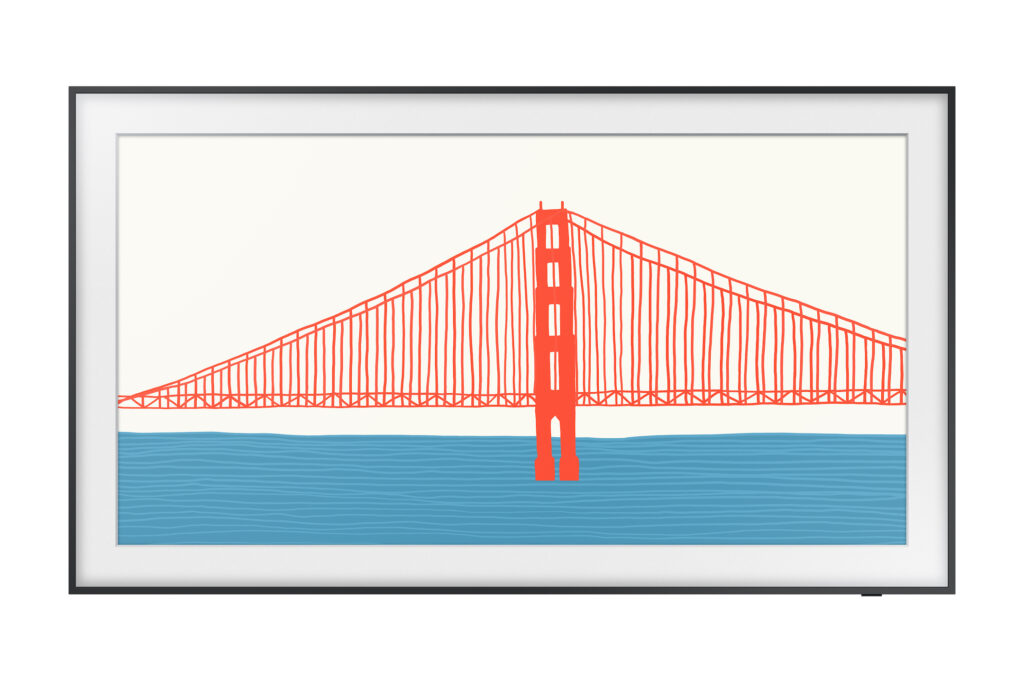 Behind the panel, however, it's a slightly different story. 
The Frame 2021 is powered by Samsung's new Quantum Image Processor. An image processor is basically just a chip that controls what you see on the screen. It's the brain of your TV, and it's where all the smarts live that adapt an image intelligently for your viewing pleasure. It does everything from run your OS through to upscale your image, and everything in-between.
While the processor in both the 2020 and 2021 Frame models share the same name, I suspect they're slightly different in their design. Especially given that all the new Samsung TV models now have Quantum-branded processors, each packing different levels of power up and down the range.
Size
Samsung has a history of making a bunch of different sizes available to its customers and letting the market decide which one is the most popular.
The Frame 2020 ranged in size from 32-inches to 75-inches. The Frame 2021 features a similar range offering, but has several new form factors lingering around the middle.
Specifically, The Frame 2021 comes in a 50-inch model that didn't exist previously. It's a good sweet spot for a bedroom TV, in particular. Especially for larger bedrooms that would be too small for 42-inch but too large for 55-inch. I suspect the 50-inch will be just right.
One of The Frame 2021 models gets a new trick that will make it appeal to a bunch of new buyers: the 42-inch model supports portrait orientation.
Portrait mode on The Frame 2021 means the TV can be flipped vertically. This makes viewing content recorded or even screencast from your smartphone even more enjoyable.
It's not every model getting this functionality, however. The 32-inch Frame TV and the 43-inch Frame TV will be the only ones to receive portrait mode support.
Samsung already has a TV capable of automatically switching into portrait mode. It's the $1700 Samsung Sero which spins to display mobile-optimised content in its natural format. Now you've got similar functionality with The Frame 2021!
Accessories
The Frame is a great platform, and Samsung knows it. That's why this year includes more accessories than ever.
The new 2021 Frame includes additional storage for your art, and makes for an easier time of getting your own pictures on there. 

The speakers on the 2021 Frame also support a new Adaptive Sound+ mode, which calibrates the experience to the room you're in. It's a step up from the 2020 Frame which only really has two sound modes, one only slightly louder than the other. It'll be good to see those who forgo a soundbar catered for with better native sound at last.
The One Connect box is back, so you can connect all your peripherals and devices with just a single cable running to the TV. It's honestly The Frame's best feature. And for those who now opt not to wall mount The Frame, the 2021 model comes with a height-adjustable stand as opposed to the fixed legs on the 2020 model.
Software
Both the 2020 and 2021 Frame models run Samsung's home-grown Tizen operating system. If you've used one, you've used them all. The 2021 Frame, however, gets a few new additions that Samsung has thought up.
Not only do you get Apple AirPlay 2 as with previous models, but you now get built-in Samsung Health. That means you can do all your workouts and track your progress natively on your Frame TV without having to cast or AirPlay another device to the panel. 
If you do want to cast to the TV, however, NFC is your friend. Provided you have a Galaxy device running Android 8.1 or higher, you can tap it to your TV and get the content playing there instantly.
You also get support for multiple voice assistants on the new 2021 Frame. Whereas the 2020 Frame only supported Bixby, the new 2021 Frame supports a choice of Bixby, Alexa or Google Assistant for all of your AI needs.
Price
Here's what you'll pay for a 2021 Frame.
| | |
| --- | --- |
| 32-inch Samsung Frame TV (2021) | $919 AUD |
| 43-inch Samsung Frame TV (2021) | $1629 AUD / $999 USD |
| 50-inch Samsung Frame TV (2021) | $1978 AUD / $1299 USD |
| 55-inch Samsung Frame TV (2021) | $2329 AUD / $1499 USD |
| 65-inch Samsung Frame TV (2021) | $2899 AUD / $1999 USD |
| 75-inch Samsung Frame TV (2021) | $4079 AUD / $2999 USD |
Read more
We've already reviewed The Frame extensively in 2020. Check out the pricing and our review of what it's like to live with. We'll bring you our review of The Frame 2021 range soon.