How much will an LG OLED, QNED or Nanocell TV set you back in 2021? We've got the official price list.
LG has expanded its range of TVs and technologies for 2021. It used to just be LED and OLED models on offer, but now we've got the introduction of QNED and Rollable OLED to boot.
Luke Hopewell is a gadget veteran of over 10 years. He's reviewed over 100 TVs in his time, and been to the magic factory where they're all made.
Got a question for the author? Email me: luke@redaktor.co.
What's new for LG TVs in 2021?
First things first: all new models get the improved Magic Remote.
Gone are the curves we're used to from previous models. Instead, we now get a straighter, sleeker remote, complete with tricks hidden up its sleeve.
The improved Magic Remote has an NFC tag built-in. How useful it is depends on which phone you have.
Android users get the most benefit. With your Android phone, you can simply tap the remote and automatically start sharing content from the device onto the TV.
Both iOS and Android users meanwhile can use the LG ThinQ app to share the TVs audio to your smartphone. From there, you can use the existing headphones, AirPods or plug-ins you already have paired to listen to the sound.
All the new models get a built-in Game Mode Optimiser, also. This mode automatically detects your console, and analyses the game you're playing to produce an optimal picture. If you want to tweak it, you obviously can, but the point is to take the stress out of calibrating a panel for the casual gamer.
LG Nanocell, QNED and OLED: what's the difference?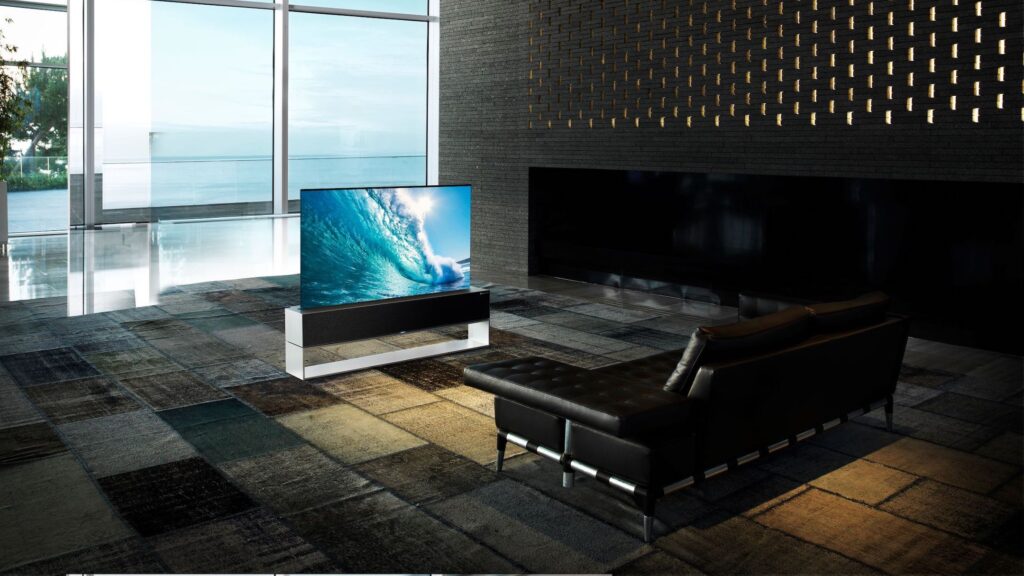 When it comes to panels, the strategy is simple: LG offers you a choice between good, better and best.
Good is its entry-level Nanocell panels, which come in a range of new sizes with largely unchanged technology from last year.
Better is the new QNED TV with MiniLED technology.
Best is of course the OLED models, which now also come in great new smaller and larger sizes. Not to mention the new Rollable OLED TV on offer. 
We've explained exactly what each of these panel technologies does on Redaktor:
4K and 8K: which is which?
It's the third year for consumer-grade 8K panels, but still none of them come cheap.
If you want an LG 8K panel, you're going to have to skip Nanocell and start with the QNED range. 
The QNED96 and QNED99 are both 8K panels, as is the eye-wateringly expensive OLED Z1 panel. 
You can see all the prices below.
LG Nanocell price list (2021)
LG has three Nanocell models for 2021: the NANO75; NANO86 and NANO91.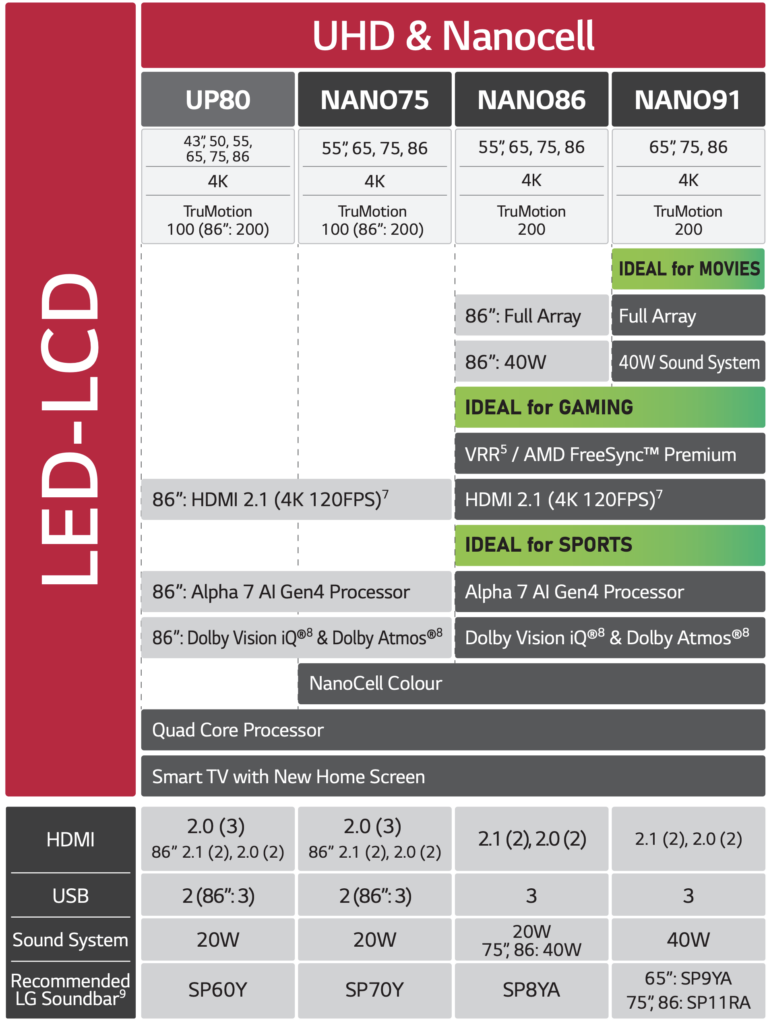 The two models you want to take notice of are the NANO86 and NANO91, which feature 200Hz refresh rate, HDMI 2.1 supporting 120 frames-per-second (including VRR and NVIDIA FreeSync) for gaming; the new Alpha 7 AI Gen4 processor for better image processing, and Dolby Vision/Atmos as standard.
All of the Nanocell models in the LG 2021 lineup are 4K-only. For 8K, you'll have to opt for a QNED or high-end OLED, as explained above.
The NANO75 is still a good TV, but if you're a gamer or sport-lover, you'll miss out on key features that probably drove you to upgrade in the first place.
LG Nanocell NANO75 price list (2021)
| | |
| --- | --- |
| 43-inch | $AUD1199 |
| 50-inch | $AUD1439 |
| 55-inch | $AUD1799 |
| 65-inch | $AUD2279 |
| 75-inch | $AUD2999 |
| 86-inch | $AUD4799 |
LG Nanocell NANO86 price list (2021)
| | |
| --- | --- |
| 55-inch: | $AUD2279 |
| 65-inch: | $AUD2879 |
| 75-inch: | $AUD3599 |
| 86-inch: | $AUD5999 |
LG Nanocell NANO91 price list (2021)
| | |
| --- | --- |
| 65-inch: | $AUD3599 |
| 75-inch: | $AUD4799 |
| 86-inch: | $AUD7199 |
LG QNED MiniLED price list (2021):
LG's MiniLED TVs are a step up from the UHD/Nanocell range. 
As we've highlighted in our detailed explainer piece, the QNED range features vastly more pixels than standard LED or Nanocell TVs. 
This produces higher brightness, deeper blacks and more vivid colours.
LG has three QNED models in the line-up this year, each with subtle differences.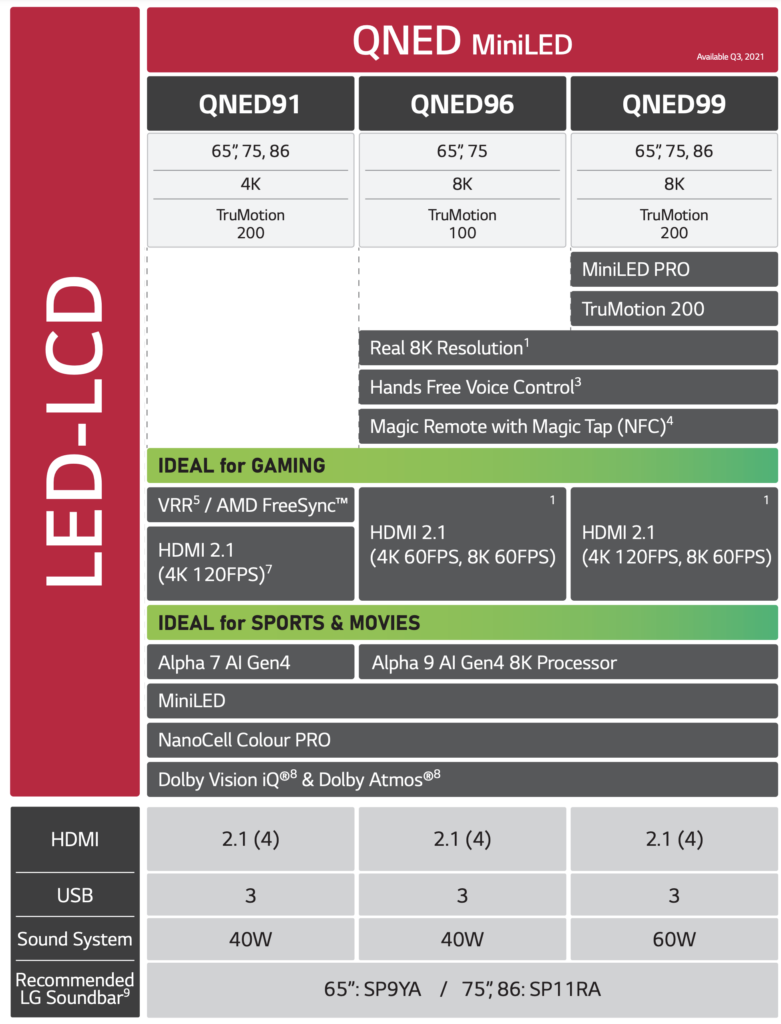 Every QNED TV gets the all-important HDMI2.1 support and all the bells and whistles for gaming. 
The QNED91 is going to be the pick for most people. With a 200Hz refresh rate and a 4K panel, it's the perfect pick for the mid-range buyer looking to get the best bang-for-buck. 
The QNED91 also supports 120 FPS on 4K, which is a nice touch for those who have just bought an Xbox One X or Sony PlayStation 5.
The other two models – the QNED96 and QNED99 – are both 8K panels, and are a more significant step up in price. 
If you're keen on 8K, make sure you have a think about how many frames per second you want to support. 
The QNED96 only supports 60 FPS on both 4K and 8K thanks to the TruMotion 100Hz 8K panel. Meanwhile, the step-up QNED99 supports 120 FPS on 4K and 60FPS on 8K. 
LG QNED QNED91 (4K) price list (2021)
| | |
| --- | --- |
| 65-inch: | $AUD4799 |
| 75-inch: | $AUD5999 |
| 86-inch: | $AUD8399 |
LG QNED QNED96 (8K) price list (2021)
| | |
| --- | --- |
| 65-inch: | $AUD5399 |
| 75-inch: | $AUD6599 |
LG QNED QNED99 (8K) price list (2021)
| | |
| --- | --- |
| 65-inch: | $AUD5999 |
| 75-inch: | $AUD7799 |
| 86-inch: | $AUD10,799 |
LG OLED price list (2021)
This is it. The big ones.
LG continues to set the standard for OLED in the TV industry, making the best panels out there.
The OLED lineup for 2021 is significantly larger than it has been in previous years.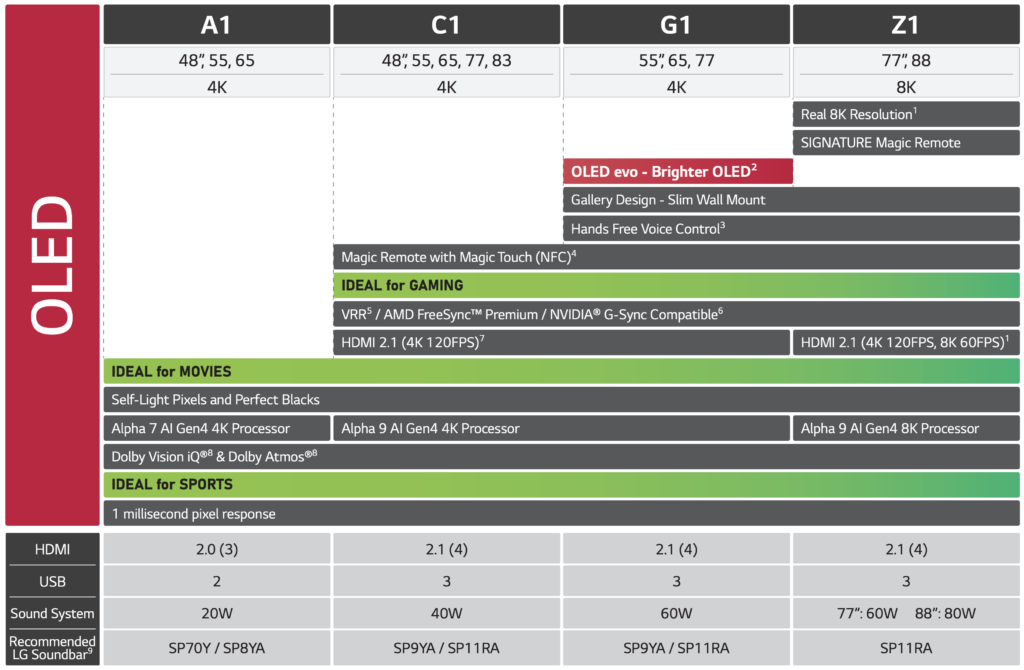 The 2021 LG OLED lineup contains four models, each with slight but important differences.
Entry-level buyers will be tempted by the A1 model in its three sizes. It's a great bedroom TV. But if you're doing anything on this other than watching TV or movies, don't be fooled. It's not the model for you.
The A Series OLED models only feature HDMI 2.0, and miss out on all the supporting features you'll need to power a next-gen console.
The best bang for buck comes from the C1 models. It comes in five sizes, including a new 48-inch model, and features all the next-gen tech you're after in a flashy OLED TV.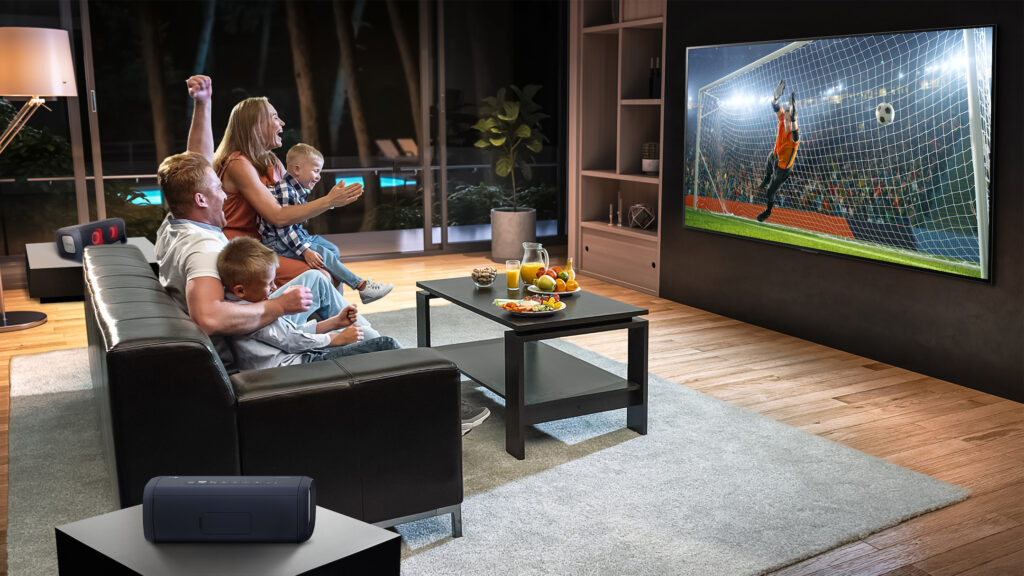 The LG Gallery Series TV also gets an upgrade in 2021. The new LG G1 Gallery TV comes in three sizes. It also gets a new panel upgrade called OLED evo. Here are the differences between OLED and OLED evo.
If it's 8K you're after, you'll be looking at the flagship OLED Z1 with its insane price tag.
LG OLED A1 (4K) price list (2021)
| | |
| --- | --- |
| 48-inch: | $AUD4679 |
| 55-inch: | $AUD3359 |
| 65-inch: | $AUD4679 |
LG OLED C1 (4K) price list (2021)
| | |
| --- | --- |
| 48-inch: | $AUD3359 |
| 55-inch: | $AUD3959 |
| 65-inch: | $AUD5399 |
| 77-inch: | $AUD10,199 |
| 83-inch: | $AUD14,399 |
LG OLED G1 (4K) price list (2021):
| | |
| --- | --- |
| 55-inch: | $AUD4319 |
| 65-inch: | $AUD5999 |
| 77-inch: | $AUD11,399 |
---
LG OLED Z1 (8K) price list (2021):
| | |
| --- | --- |
| 77-inch: | $AUD35,999 |
| 88-inch: | $AUD71,999 |