Samsung's latest-generation of The Frame TV is here, and the asking price is steep. Is something so beautiful worth the money?
Luke Hopewell is a gadget veteran of over 10 years. He's reviewed over 100 TVs in his time, and been to the magic factory where they're all made. He's lost more remotes than he's found, and if you ask him nicely, he'll tell you how tech companies get tech writers to review TVs…

Got a question for the author? Head to the comments, or email us at redaktorco@gmail.com.
Samsung The Frame review: Our take
Samsung The Frame review: Design
Pictures don't do The Frame any justice: it's as much a piece of art as the artworks it displays.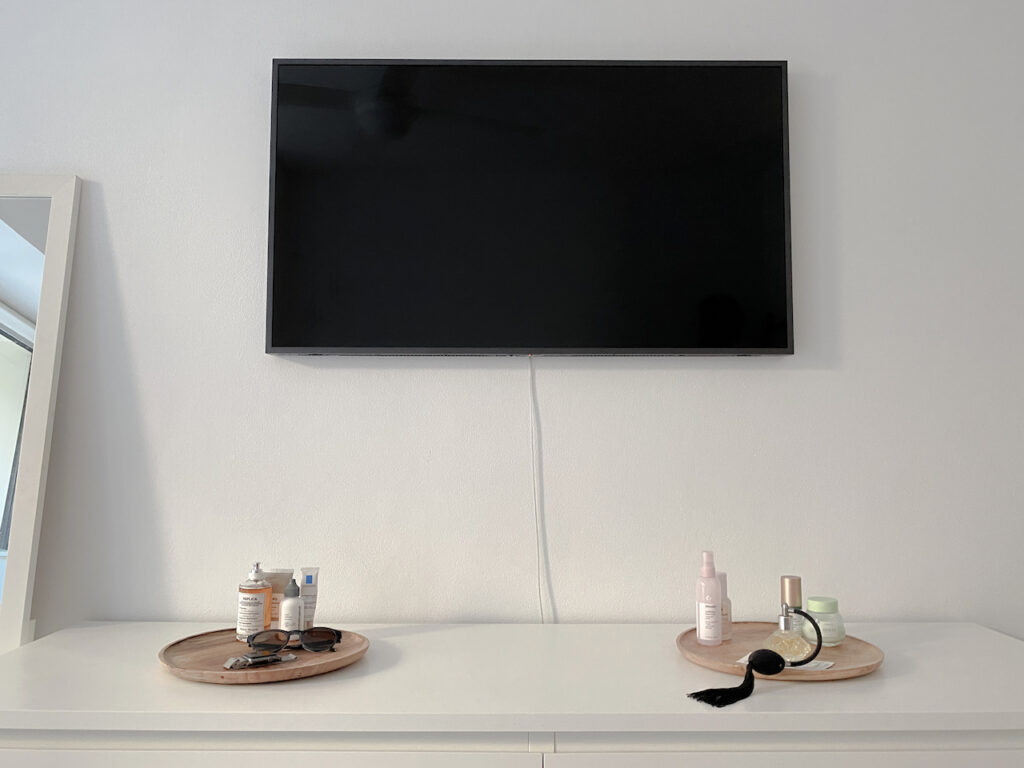 When you stroll the aisles of any electronics store – hell any electronics trade show – a design like The Frame is a rarefied find.
So many TVs pride themselves on their thin profiles and artfully contoured stands, but at the end of the day, it's a huge black rectangle that doesn't even make an effort to blend into your space.
It sticks out, often on purpose. And the bigger you go, the less subtle it gets until you're eventually left with something that needs less of an entertainment unit and more of a plinth to support its girth.
The Frame is different. It's designed to be understated. To never even be seen. Not until you want it to be.
The Frame can effortlessly blend into your space with a mixture of your own artwork or famous works from around the world (for a $5.99 monthly subscription fee to the Samsung Art Store, naturally).
A low-gloss finish means it subtly blends into the wall, looking like a fancy matte-finished picture in your space.
At just over a centimetre, the actual frame of The Frame is subtle, black and metal out of the box. It's a brushed aluminium finish which you can edit or alter with the addition of an aftermarket wood frame from Samsung.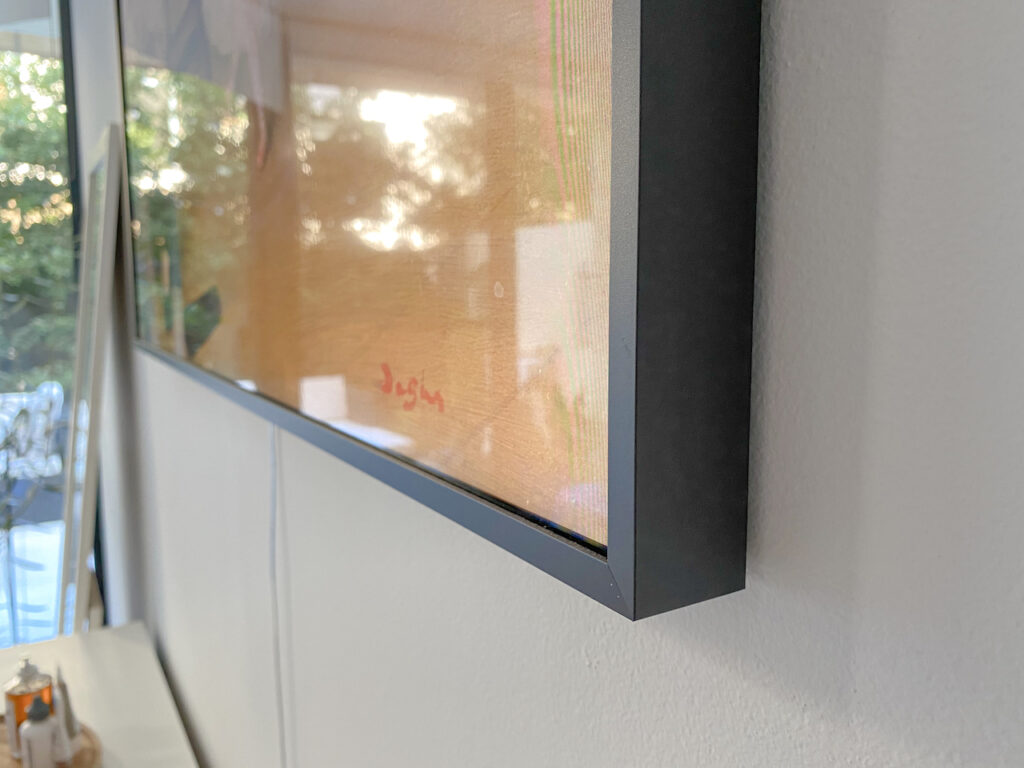 These will run you just shy of $100, and if you match it to the frames of other artwork in your house like we have, The Frame blends in seamlessly with your interior design aesthetic.
We've shown a few friends through the house and thanks to The Frame's understated design, it cops gasps when it's finally revealed to be a fully-functional smart TV.
Samsung The Frame TV: cable management
If you've ever wall-mounted a "normal"-looking TV, you know you're left with what to do about the litany of cables that stray out of the unit. You can either hide them behind a conduit – which gives it away as a TV anyway – or hide them inside the wall like a lunatic. The Frame, ever a fan of subtlety, has a single clear cable that you barely see.
That thin, clear cable moves down to the ingenious One Connect Box, which manages all the inputs for your TV. I have mine hidden inside a dresser unit below the TV, tucked inside a drawer.
Connected to it is my Nintendo Switch and occasionally my PlayStation 4. The TV pairs perfectly with my Sony 1000MX3 headphones for the perfect bed-based gaming set up of all time. I don't know how I ever went without it.
If your significant other won't let you have a TV in the bedroom, put the case forward for The Frame. It's the TV you get when you can't get a TV.
Samsung The Frame review: Picture quality
Samsung and LG have been playing an interesting cat-and-mouse game over the last decade about their picture quality. Both are committed to making OLED panels for everything from phones and tablets through to smartwatches, but Samsung is no fan of putting OLED panels in its TVs.
LG has a range of the best OLED TVs known to man (one of which I have in my living room on the opposite wall to The Frame!), while Samsung prefers to produce lower cost panels with some clever tech to play catch up.
The panel in the 43-inch Frame unit I have is a QLED panel. The Q in the name stands for "quantum", as in quantum dot. Samsung can't beat LG at the depth of its blacks between QLED and OLED. That's why Samsung is going the opposite route and trying to beat it on vivid colour.
Quantum dot is the fancy name for a film sitting in the middle of the LED display that enhances the colours (hence, QLED). Like, a lot.
As a result, Samsung's QLED Frame TVs produce colour that is so vivid it tricked my girlfriend into thinking it was an OLED. It's gorgeous, and the upgrade to a 4K panel is more than welcome. Especially on a 43-inch model where everything looks tight, bright and vivid.
If you know what you're looking for, you'll notice subtle inconsistencies between QLED and OLED. But it's not enough to discourage you from buying this TV.
Unless you're about to drop $10,000 or more on an LG Wallpaper OLED TV, the picture quality in tandem with the design of The Frame makes it an unbeatable wall-mounted combo.
Samsung The Frame review: Software
Here's where you run into the biggest problem with The Frame. At least, my biggest problem.
The Frame is a beautiful TV made impossibly well. Over time, however, you begin to notice a few software issues that serve to let the whole experience down somewhat.
Plus, the new Frame TVs come with Apple AirPlay 2 support and a built-in Apple TV app. Both join forces for access to all your favourite Apple TV+ programming and your iTunes purchases. At least, that's half-right: the AirPlay 2 on The Frame has never worked on my TV. And it's not just an AirPlay issue either.
The connectivity issues I've had on The Frame make some features truly maddening. Like loading on your own artwork or connecting to a Plex server.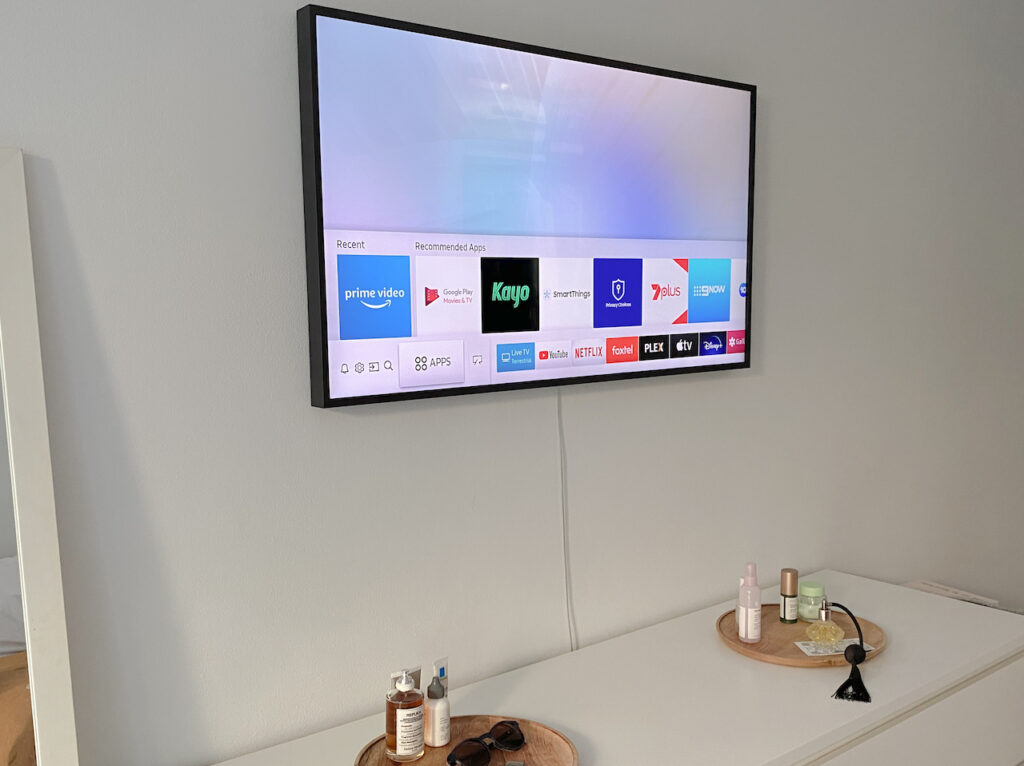 Here's a tip you won't get anywhere else, too. If an app on your Smart Hub hangs or freezes, you can perform a soft-quit. To do this, open the Home hub ribbon, hovering over the app that you want to restart and holding the back key. That should restart it. If it doesn't solve the issue (it often won't), restart the TV. To do this, hold down the power button on the remote for 10 seconds, forcing a reboot of The Frame.
Write this tip down, you'll use it once a week. That's how annoying the software gets.
When it works, though, it's truly a thing of beauty. That makes pretty much all the software issues you went through worth it.
Samsung The Frame review: Should you buy it?
The Frame isn't the best TV I've ever encountered. Far from it in fact. The software is a bit of a pain; it hurt my wallet to buy (yes, this is my actual bedroom TV), and I can never get content from my iPhone or iPad to work with the built-in AirPlay.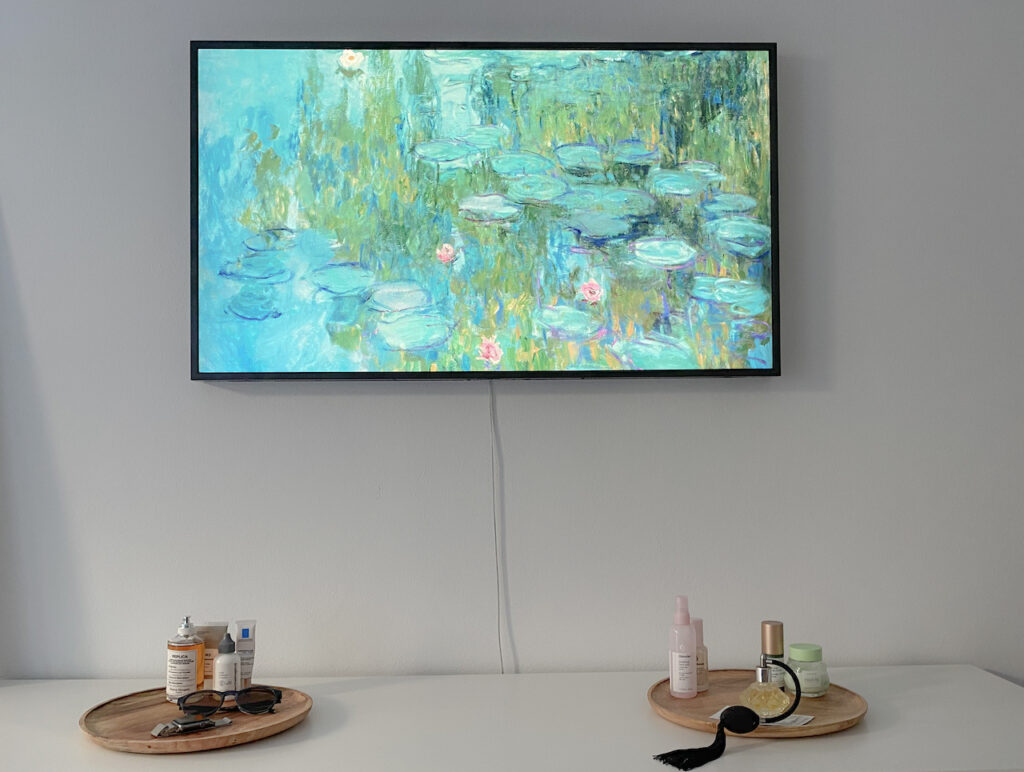 I can say with confidence, however, that The Frame is just about the best-looking TV I've ever used. That's both in its design and in its picture.
It won't beat an OLED on black, but the colours are gorgeous. To the point that Mia could barely tell the difference between the Quantum Dot output from The Frame and the organic colour from the LG C8 OLED we have in the living room.
Plus, when we show folks around the house, they're convinced on first look that it's not a TV: it's literally a framed piece of art. You won't find another TV that is simultaneously as elegant, practical and well-built as The Frame. In my book, it's worth the money.
Samsung The Frame (2019): pricing
While The Frame does come with a pair of legs for freestanding use, you should factor in a few hundred bucks to get the thing mounted professionally. It is a frame, after all.
And don't get conned into buying an additional wall mount for it: the low-profile wall mount comes bundled in the box!
43-inch Frame (QN43LS03RAFXZA): $1499 AUD / $1299 USD
55-inch Frame (QN55LS03RAFXZA): $2499 AUD / $1999 USD
65-inch Frame (QN65LS03RAFXZA): $3499 AUD / $2799 USD
Read more
Should you buy an OLED instead of a QLED? Here's what to consider.