Legendary Aussie winemaker Penfolds has teamed up with BlockBar to create a rare wine NFT.
You'll get the chance to own an NFT barrel of the Penfolds 2021 Magill Cellar 3 Shiraz Cabernet Barrel. As well as a few perks on top of that.
The price? A tidy US$130,000. Or around 30 ETH at the time of publication.
Magill Cellar releases are incredibly rare, and this one comes from some of the oldest vines Penfolds has on offer.
Unlike a lot of NFTs, this Penfolds release comes with a few bonus extras.
Made by the legandary Penfolds' wine-maker, Peter Gago, the Magill Cellar 3 Old Vine is a special drop. An old vine Shiraz aged for 51-73 years paired with a Coonawarra aged 49 years.  
Only 13 barrels of the Magill Cellar 3 Old Vine Barossa will be made, and only one NFT will be sold.
The owner of the NFT will score a whole barrel to themselves at the time of bottling. That means you're buying an NFT, as well as 300 bottles of incredibly rare Australian wine.
The wine is set to be bottled in October 2022. At that time, the purchaser will get a private winemaker-hosted tasting at the Penfolds Magill Winery in Adelaide.
You'll also get a vineyard tour and updates on the wine as it matures.
And if you miss out, you can't actually make up for it by picking up a bottle at Dan Murphy's. The wine is vine to barrel, and won't be available for commercial sale. Ever.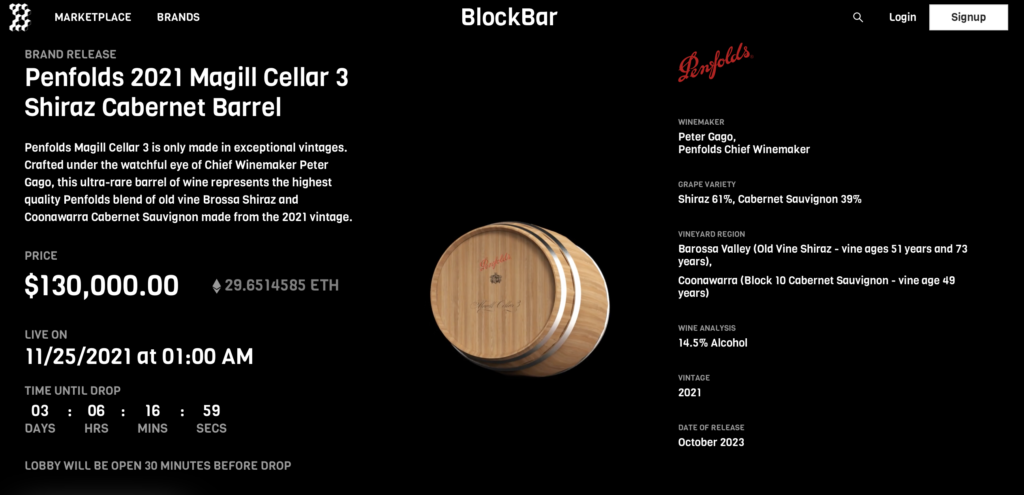 The wine is still maturing in Penfolds' temperature-controlled barrels. Here's what we know about it so far.
From the vineyard's tasting notes:
"This wine is a combination of mouth filling Shiraz generosity and texture, with the assertive power of cabernet tannins and savoury red fruits. 
"The complexity and layers are evident and will only continue to evolve over time.
"Dark licorice with spice aromatics, tannin and acid balance aligned and poised.
"A youthful unique character developing and maturing, anchored by Penfolds DNA."
The NFT goes on sale on 25 November, 2021.