LG QNED MiniLED 2021 TV review: is it worth the money?

MiniLED is here, and LG has a bunch of new models to tempt big budget shoppers. We take a deep dive in our LG QNED MiniLED review to find out if it's worth it.
Luke Hopewell is a gadget veteran of over 10 years. He's reviewed over 100 TVs in his time, and been to the magic factory where they're all made. He's lost more remotes than he's found, and if you ask him nicely, he'll tell you how tech companies get tech writers to review TVs.
What is it?
The QNED MiniLED is a TV built on a new type of technology for LG. 
It's brighter, and comes in a choice of either 4K or 8K resolutions with enormous panels as part of the range. We reviewed the QNED91 4K 65-inch model. Here's where it sits in the lineup.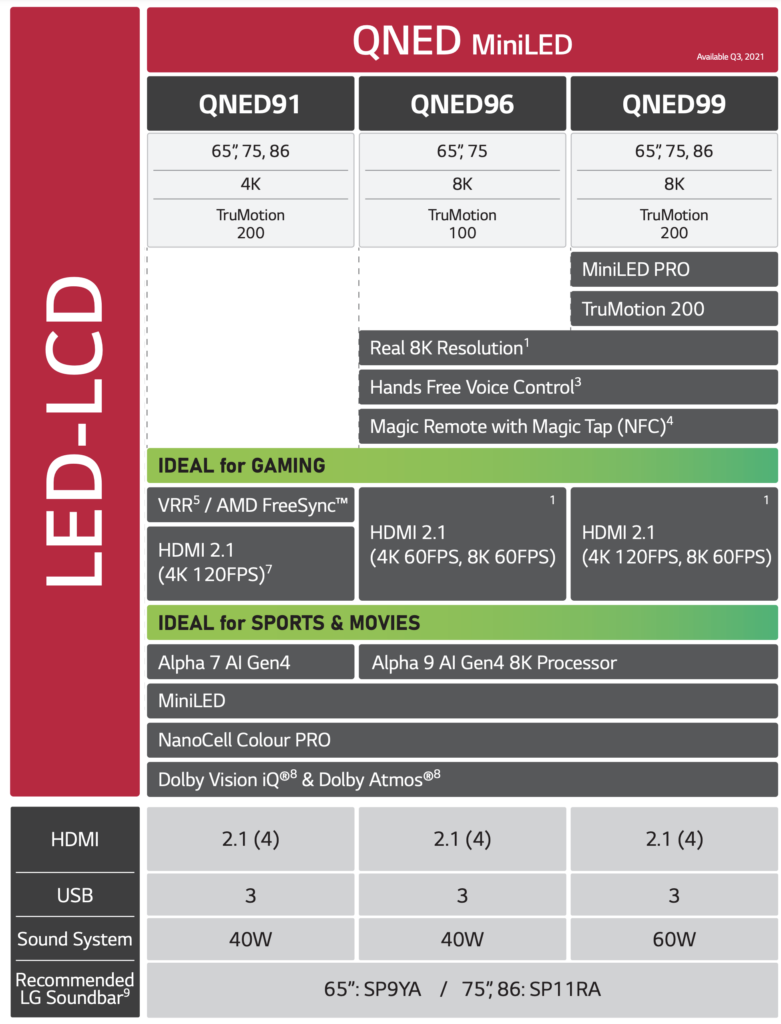 You get all the stuff you need to future-proof your living room. HDMI 2.1 for the new gaming consoles; variable refresh rate up to 120fps (but the 8K can only go up to 60fps); Dolby Vision and Dolby Atmos, as well as LG's Game Optimiser mode.
There's also the new a7 Gen 4 processor for all the smart stuff. The new processor really earns its money, too. It's the first TV I've reviewed that doesn't stutter or clip fast-moving images. 
Clipping is typically something I just put up with, but when I played my test content on the new QNED panel, it's virtually gone.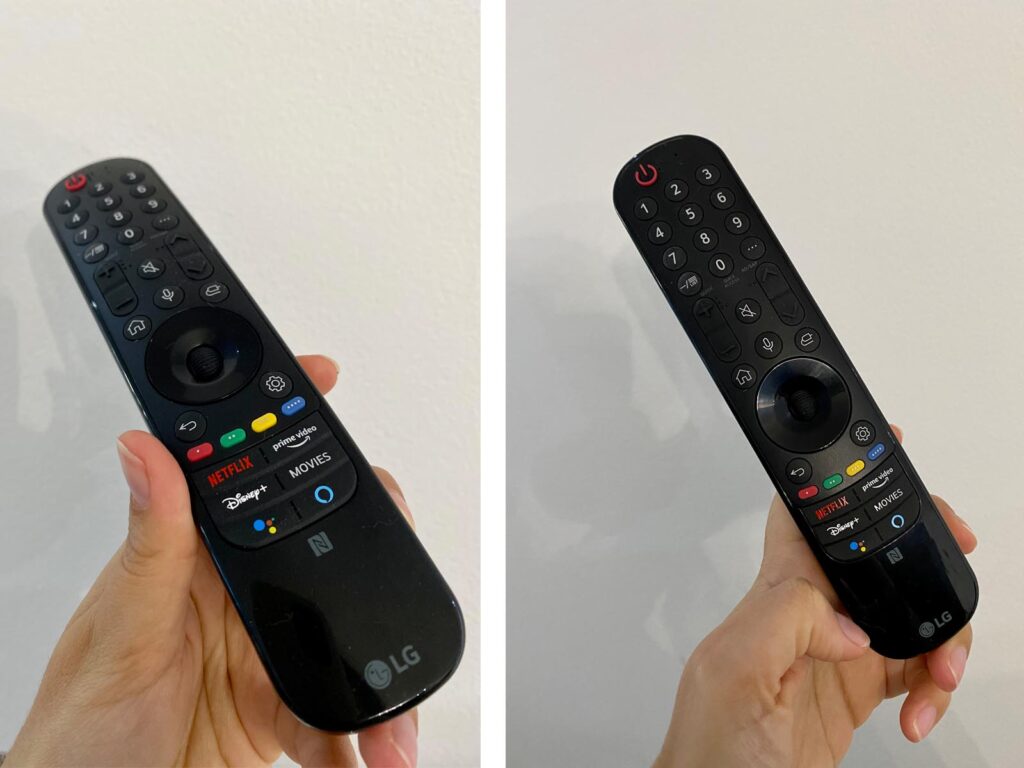 The improved Magic Remote also has an NFC tag built-in. How useful it is depends on which phone you have.
Android users get the most benefit. With your Android phone, you can simply tap the remote and automatically start sharing content from the device onto the TV.
Both iOS and Android users meanwhile can use the LG ThinQ app to share the TVs audio to your smartphone.
From there, you can use the existing headphones, AirPods or plug-ins you already have paired to listen to the sound.
What is LG QNED MiniLED?
QNED stands for quantum nano-emitting diode.
It's basically a fancier version of a standard LED TV. Traditional LED TVs use a series of light strips to backlight a panel.
It means that you'll never get "true black", as your TV is always being exposed to a light source.
QNED MiniLED is different in that it uses around 28,000 tiny LED lights to illuminate your panel. And with dimming technology that turns off some of those lights when they're showing darker scenes, you have a better chance of getting true black.
It's a bid to replicate OLED-like performance with technology that's cheaper and easier to build for bigger, higher resolution panels. And because they're cheaper and easier to make, you can get one in 8K resolution.
LG Nanocell vs LG QNED MiniLED: which is better?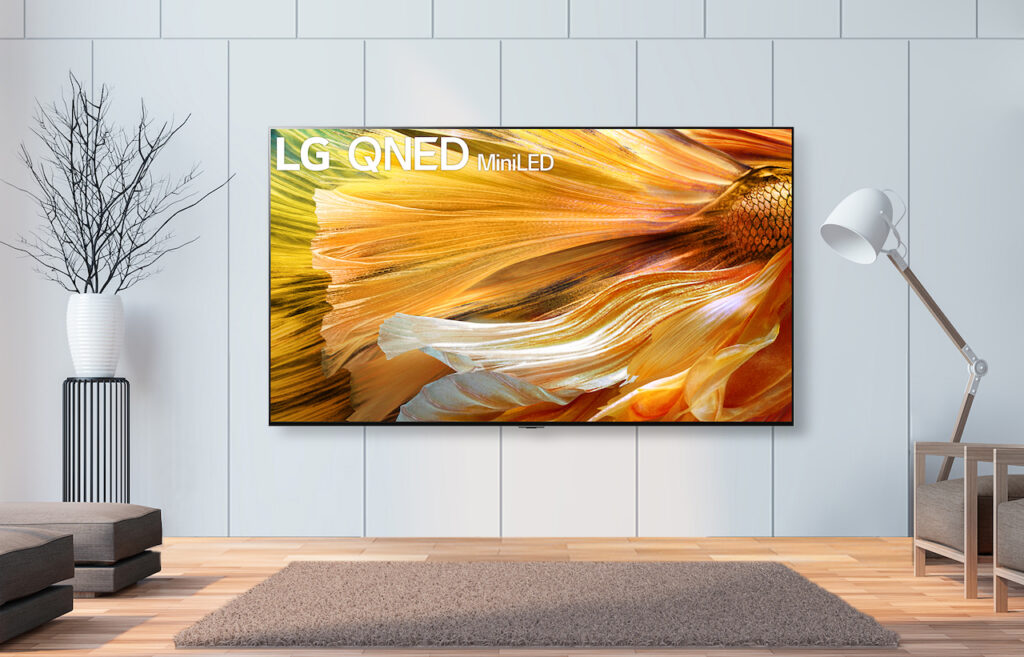 For a brighter, more vibrant image, you're going to want to opt for QNED MiniLED. Seriously. It's so bright we had to turn it down at night to save our eyes.
Because the LED lights in the TV are much smaller, LG can fit more of them behind the panel. 
That means a brighter image, and more vibrant colours as a result. The new processor also helps our with Full Array Dimming, which individually controls the light to around 2400 zones.
This means that in dark scenes, the LEDs are dimmed so you can experience deeper contrast. Check out our full guide on Nanocell vs QNED to see more differences.
Should you buy it?
It has a lot of tech, and a big price tag, but that doesn't always guarantee you a great experience.
It's tough, but I think this is a rare miss for LG.
The MiniLED is a great looking TV that produces a really gorgeous image. It's also brighter than just about any TV I've ever laid eyes on. But it has a few issues that I just can't get through.
The viewing angles are pretty average. It's meant to be viewed straight-on. If you stray beyond a 30-degree viewing angle you're going to start to see halos around what you're watching. It's especially pronounced in darker scenes.
The speaker quality also leaves a lot to be desired. It's weird: the speakers in the OLED panels should be worse given their limited real estate.
And by that logic, the QNED's should be great given there's a lot more room on the chassis. But for some reason, they're tinny and disappointing.
If it were my money (and it soon will be), I would save a few grand and go for the 2021 Nanocell range instead.
The blacks could be better, but colours are still eye-popping, and you can save yourself a boatload. A 65-inch QNED MiniLED will run you close to $4700, while a Nanocell will cost almost half that.
There is one exception, however. I would recommend you buy the QNED MiniLED if you want a great 8K TV for an absolute steal.  They're heavily discounted from RRP right now.
For example, you can get yourself a 65-inch 8K MiniLED TV for under $4000.  If you had told me three years ago you'd be able to snag one for that price, I would have thought you mad. 
How much is a QNED TV?
The QNED MiniLED range starts at 65-inches and goes up to a whopping 86-inches in both 4K and 8K panels.
Whereas an 86-inch 8K panel would have cost you $100,000 a few years ago, the QNED99 8K 65-inch tops out at just over $10,000. A bargain. Here's the price list.
| | | |
| --- | --- | --- |
| Model | Size | RRP |
| QNED99 8K | 86-inch | $10,799 |
|   | 75-inch | $7,799 |
|   | 65-inch | $5,759 |
| QENED96 8K | 75-inch | $5,999 |
|   | 65-inch | $4,799 |
| QNED91 4K | 86-inch | $8,399 |
|   | 75-inch | $5,999 |
|   | 65-inch | $4,679 |
Read more
If you aren't sure if you should pick a QNED MiniLED or an OLED, we've got you covered. Check out our review of the new LG C1 OLED models before you buy.
Luke Hopewell
Luke Hopewell is the editor and co-founder of Redaktör. He's previously been the Editor of Gizmodo, Founding Editor of Business Insider Australia, Editorial Lead for Twitter Australia and more.