If you're comparison-shopping for a new LG TV in 2020, don't do anything before you read the difference between LG's new Nanocell TVs and its OLED TVs. This is Nanocell vs OLED: head-to-head.
LG's 2020 TVs are very easy on the eyes. Here are the differences and which one you should buy.
Update: LG now has new Nanocell, QNED MiniLED, OLED and OLED evo TVs available for 2021. Get the latest info on LG's new TVs for 2021.
Luke Hopewell is a gadget veteran of over 10 years. He's reviewed over 100 TVs in his time, and been to the magic factory where they're all made. He's lost more remotes than he's found, and if you ask him nicely, he'll tell you how tech companies get tech writers to review TVs…
What is Nanocell?
Let's get something straight right up front: OLED beats Nanocell when it comes to image quality. If you're a purist who wants the best of everything, get the OLED. 
If you want to save a few bucks while still getting yourself an incredible bit of TV kit, read on and find out more about Nanocell. I, for one, was pleasantly surprised during my review
LGs Nanocell TVs work in a similar fashion to other LED TVs: a light source illuminates the panel from behind to brighten a vibrant image and send it out to the viewer.
Nanocell differs from standard LED TVs when it comes to how it handles colour. Nanocell TVs from LG insert a layer into the TV that improves the viewing experience for colours on the red and green wavelength. 
By inserting that filter layer, the Nanocell TVs are marketed to net you better colour reproduction thanks to the smarter handling of colours as they come out of the TV.
The Nanocell TVs boast the ability to produce more detailed and vibrant colours than their competitors by filtering red and green colours better.
Nanocell TVs also boast better-than-usual black performance thanks to what's called "Full Array Local Dimming" (FALD). Backlit LED TVs can't produce the same blacks as an OLED TV (for reasons we'll get into), which is why Full Array Local Dimming exists.
Available on the top-end of Nanocell TVs, FALD allows the panel to dim its LED backlight in certain zones for darker scenes, meaning that contrast ratios and HDR performance is better than a standard LED TV.
Brighter, more detailed colours; deeper, more intense blacks, and a price that won't break the bank. That's Nanocell.
That being said, Nanocell still a backlit TV and still has some of the tropes you can expect to hold back your perfect viewing experience. If you want a the best of the best, that's where OLED comes in.
What is OLED?
OLED stands for Organic Light-Emitting Diode. While it might have "LED" in the name, it's very different to its backlit competitors.
Rather than having to blast light through a panel in order to produce vivid colours, OLED pixels are all individually-lit and controlled. 
That means you get truer colour reproduction, but more importantly, you get the blackest blacks you can.
Because OLED pixels are all self-lit rather than relying on a backlight system, when an OLED pixel displays black, it's actually just turned off on that section.
That gives you the truest black around. Old-school plasma TV lovers will absolutely get a kick out of how true-to-life OLED is.
The reason OLEDs are more expensive is because it's not only a more premium product, but also because it's much, much harder to manufacture. 
It's so hard that other large manufacturers have bailed on making OLEDs because of the amount of wastage that goes into getting it right. LG stayed the course, and in my opinion, makes the best OLED TVs in the game.
Read more:
Samsung "The Frame": is it worth the money?
Whereas OLED has what LG calls "self-lit pixels", the Nanocell is still lit by a backlight. It's a clever backlight, but it still has some of the same drawbacks.
The blacks are great on Nanocell, but they aren't the same perfect black offered by OLED.
The colours look incredible on Nanocell, but they're a little oversaturated to compensate, even in smarter modes like Game and Cinema where they've been specially tuned to look true-to-life.
Honestly, it's kind of unfair to compare OLED and Nanocell. While Nanocell is incredible, it still can't hold a candle as close as it would like to OLED TVs from LG.
If you were to compare Nanocell to anything, it's probably more reasonable to hold it against the standard of a Samsung QLED instead of an LG OLED.
OLED as a technology is always going to have better colours and smarter blacks, but Nanocell will give you near-enough as good performance for significantly less cash.
LG 2020 OLED vs Nanocell: Pricing
Here's where it gets interesting. You'll leave a store with far more still in your wallet if you buy a Nanocell panel over an OLED. Here's the damage.
OLED Range
LG BX 4K Smart Self-Lit OLED
55-inch: $3599
65-inch: $4799
LG CX 4K Smart Self-Lit OLED
55-inch: $3959
65-inch: $5399
77-inch: $10,199
LG GX (Gallery Design) 4K Smart Self-Lit OLED:
55-inch: $4139
65-inch: $5999
77-inch: $11,399
There are subtle differences between the models. Check them out (click for larger version):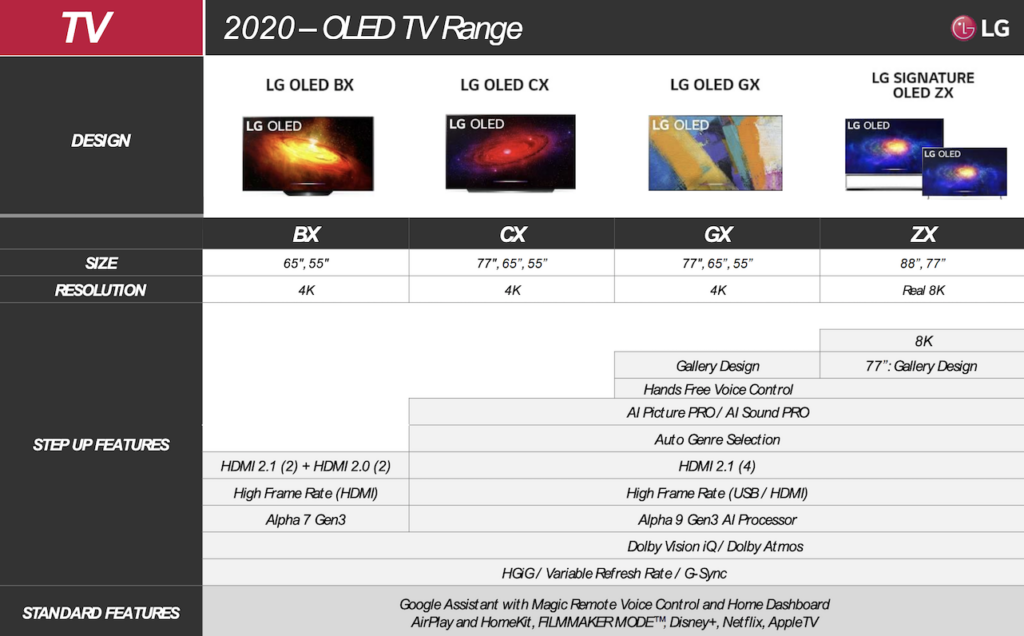 Nanocell 4K Range
LG Nano80 Series 4K TV
55-inch: $1799
65-inch: $2279
LG Nano86 Series 4K TV
55-inch: $2159
65-inch: $2759
LG Nano91 Series 4K TV
65-inch:$3239
75-inch: $5039
86-inch: $7439
There are again subtle differences between the models. Check them out (click for larger version):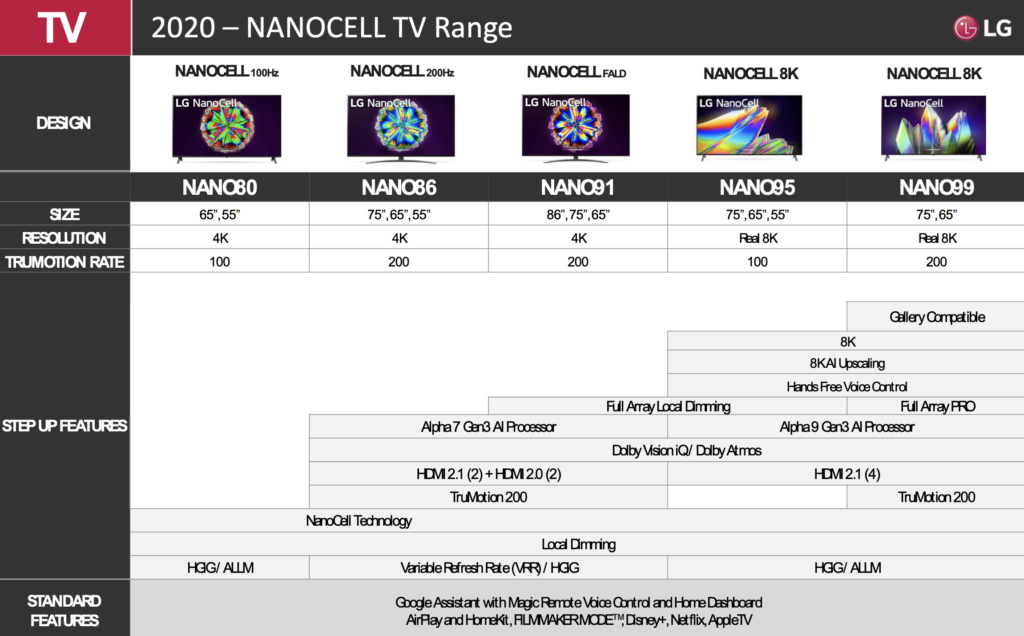 Which one should you buy?
TV manufacturers are always chasing true-to-life colour and vibrancy. Whites should be bright; colours should be vibrant and blacks should be deep and true. 
With a range of TVs spanning from a cheaper Nanocell through to a more premium OLED, you're sure to find something you like, but is the step up worth the money?
Typically, I'm ready to write off any backlit-LED panel. The blacks are never black enough compared to OLED (nothing beats a pixel that's off for black reproduction, remember), and the colours are always oversaturated to compensate.
This isn't the case with Nanocell, however.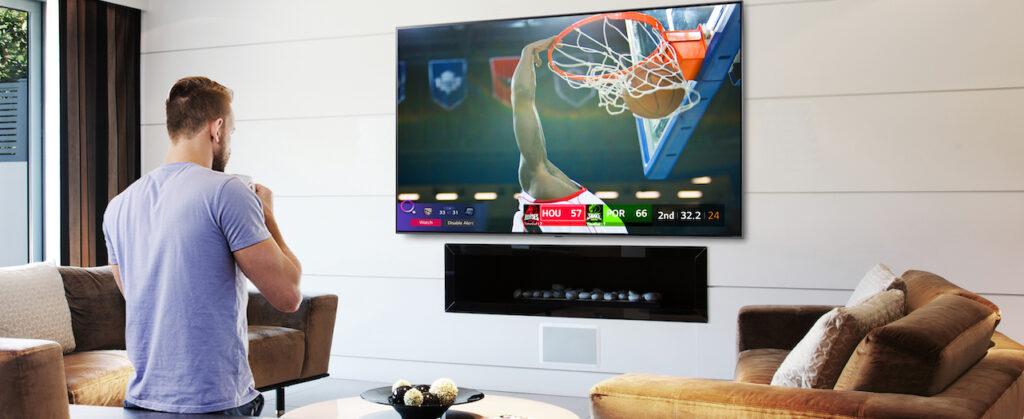 While the colours are certainly dialled-up to impress, it's the blacks that really stand-out on the new Nanocell models. 
Typically, OLED can't be beat for black performance, but the Nanocell will certainly surprise you when it comes to how black it can get.
It all comes down to how much you think you're going to notice when watching black-heavy content. 
For me then, it comes down to price. Cash is king and in the TV game, you don't actually have to spend a lot of it these days to get an eye-popping panel.
That's where the LG Nanocell TVs have it in spades: the bang-for-buck you get is truly incredible.
While it won't wow you like an OLED might, the Nanocell range for 2020 from LG allows you to get a sizeable display for hundreds, sometimes thousands of dollars less.
The 65-inch LG Nanocell NANO91 65-inch model, for example, will set you back $3299 RRP. It's a lot of TV for the money, especially considering that the 65-inch LG CX OLED we tested retails for $5399.
That's a $2100 saving you can put towards something like a soundbar and still have considerable change leftover.
If you're someone who wants absolute perfection as far as your images are concerned, however, you're going to need to stay in the OLED lane.
But as someone who has just had both TVs in my living room, I have to say that the Nanocell performs similarly to the OLED in terms of colour reproduction and gets a solid pass mark when it comes to blacks.
Don't get me wrong: you'll never be disappointed with LG's OLED TVs. It will always beat the Nanocell in a fight, but when it comes to how much you have to shell out for a great panel, the Nanocell has more value for less money.
Read more:
If you're TV shopping, you will have heard the hype around 8K. Should you buy one in 2020?