The iPad Air has come of age. No longer caught in no-man's land, it's finally the baby iPad Pro of your dreams.
Luke Hopewell is a gadget veteran of over 10 years. If it goes beep in the night, Luke has tested it. The brand-new iPad Air is just one of the countless gadgets he's reviewed.
Got a question for the author? Head to the comments, or email the author at luke@redaktor.co.
iPad Air 4 2020 review: our take
For a long time, Apple watchers have voiced their concern about what's called "cannibalisation". One device eats into the market share of another for whatever reason, reducing that product's chance of success.
Apple's iPad line-up has always had this risk, until now.
The current line-up is as close to pitch-perfect as I've ever seen it. And sitting right in the sweet-spot is the go-anywhere, do-anything iPad Air 4th Gen.
It's a truly stunning bit of kit, and one that fills all your tablet needs, and some of your laptop needs too. It might even be the best Apple product you can buy right now.
iPad Air 4 2020 review: power and design
The new iPad Air really is a masterpiece to look at.
If you loved the iPad Pro 11-inch, you've got a lot to look forward to with the new 4th-gen iPad Air. They're basically identical.
So much so that they even fit in the same accessories, like the new Magic Keyboard, which we'll soon get to in the Accessories section.
The bezel of the iPad Air is slightly thicker than that of the Pro 11, but compared to something like the iPad 8th-generation with its classic design, or even the old iPad Air, the new model is an absolute tour de force. 
And the impressive specs don't stop there, either.
Under the hood is Apple's new A14 Bionic chip, which outflanks its fair share of traditional PCs in its benchmarking results. Compared to the 1st-gen iPad Pro, the new iPad Air chip is two generations ahead (A12X vs A14 Bionic). While benchmarks for the A12X's multi-core tests still beat out the A14's, it's still top of the table when it comes to single core and Metal graphics engine tests, and the Air 4th-gen packs a much larger battery at a reported 9720mAh.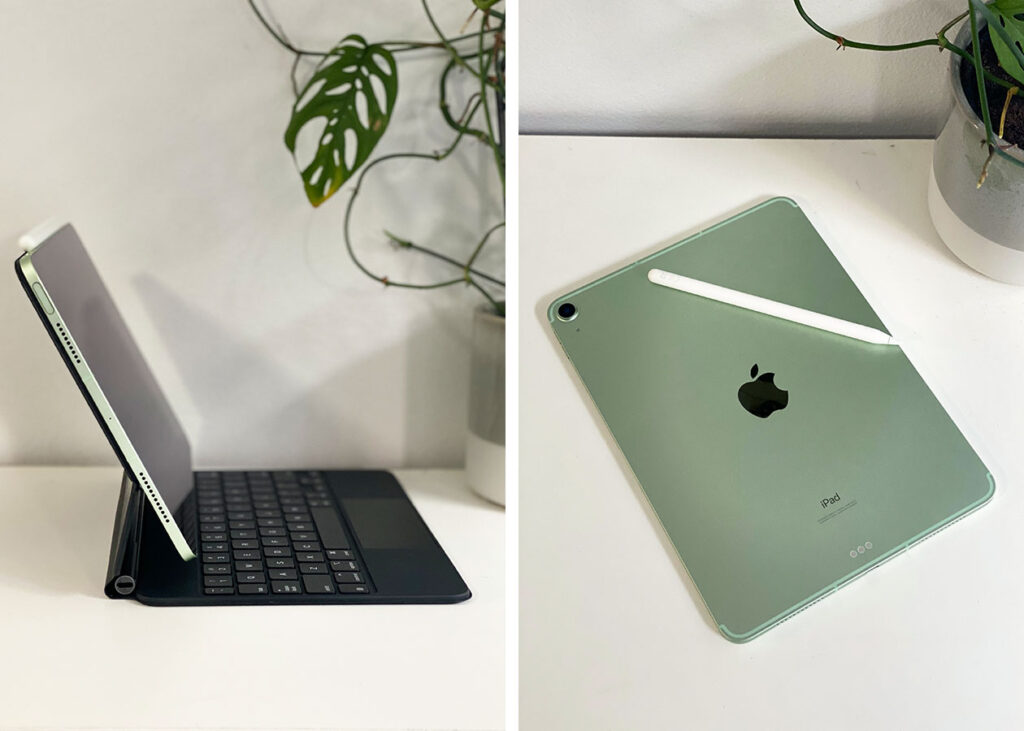 Then there's the laundry list of features you get to supercharge the whole experience.
We're talking a 12-megapixel camera and a 7-megapixel front-facing camera for all your video calling needs; Wi-Fi 6 for faster and more capable connectivity; TouchID built into the power button (honestly, a game-changer); 10.9-inch Liquid Retina display with an eye-popping resolution; stereo speakers that move the audio experience depending on the tablet's orientation, and all in cool new colours like a forest green or a frosty blue.
Apple's new iPad OS really shines on the new Air, also. Despite a few bugs here and there with multitasking, the iPad Air can hold its own as a replacement to your laptop, provided you're not after a supercomputer.
Anything your laptop can do, your iPad Air 4th-gen can also. Photoshop? Got it. Microsoft Office 365 apps? Nails it. Any streaming app you could possible think of? On fleek. It's seriously impressive stuff. iPad OS serves to fuse together what makes your iPhone so useful alongside what makes your MacBook so capable. Two great tastes that taste great together. 
The only thing you have to contend with is that your favourite apps probably work in slightly different ways, but after a week you'll still be getting all your stuff done like a pro.
It's not without small faults here and there, however. Weirdly, despite the larger battery, the iPad Air 4th-gen really chews through the power. I'm still happy to give it the badge for all-day battery (manufacturers call 8+ hours all-day), but using the Air 4th-gen in full-flight, with top brightness, 4G LTE (no 5G here, but I expect to see it soon!), Bluetooth Apple Music and especially picture-in-picture saps your battery faster than you'd like. 
It's one to watch for absolute power users who want the new Air as a baby laptop replacement: maybe pack a charger. Just in case, y'know?
Speaking of what to pack, you've got an unreal choice of new accessories with the iPad Air.
iPad Air 4 2020 review: accessories
Where the iPad Air really shines is its ability to take it to the larger and more powerful iPad Pro models. Not only does it perfect the formula of the base model iPads, it gives you a whiff of just how powerful you can be with select features from the Pro models.
Aside from the iPad Pro-inspired, all-screen design, you also get access to USB-C as your primary port, and the new and improved Smart Connector for your cover and keyboard accessories.
USB-C opens up a whole world of possibilities for you, now more than ever. When we first saw it on the first-generation iPad Pro 11, we weren't super convinced, but now that there are more gadgets around your house with USB-C support, you're likely to have more use for it. Monitors, cameras, drones, console controllers, modems, and more pack USB-C support, and you can plug them all in with your new iPad Air 4th-gen connector.
A real party trick, however, is the new Smart Connector. With that, you can connect to not only the Smart Keyboard Folio we loved from the iPad Pro 11 1st-gen, but you get access to the new Magic Keyboard, featuring both a full light-up deck and a laptop-style trackpad.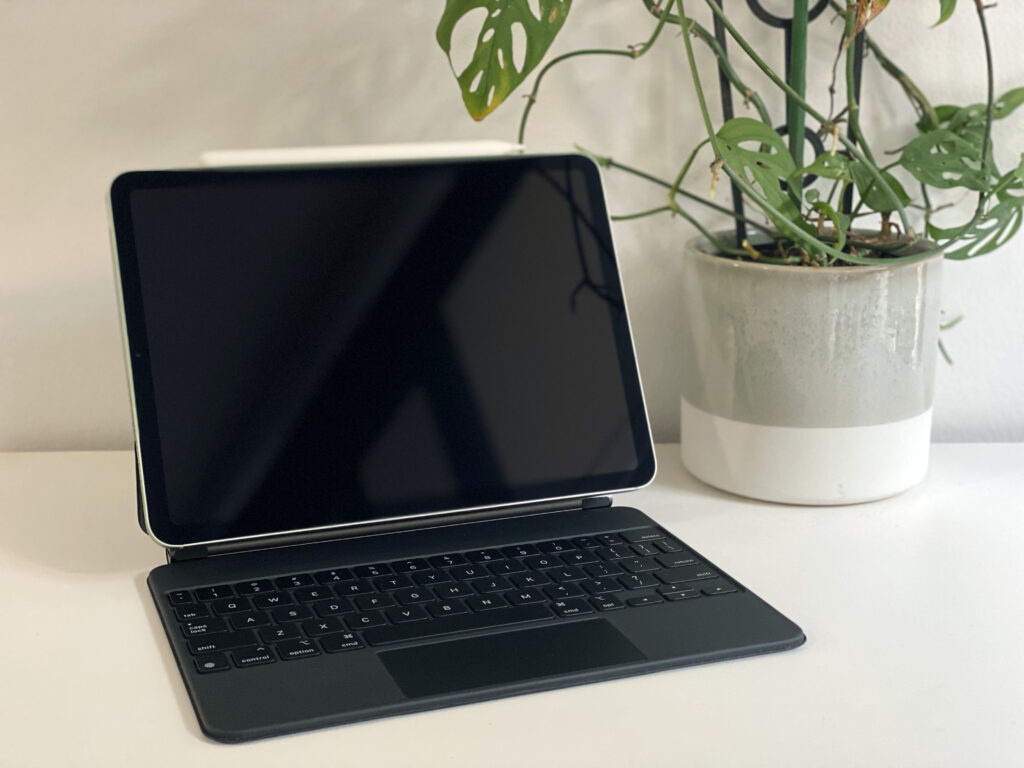 Yep, a trackpad on an iPad. It's genuinely the goddamn future, on my desk right now, and it's so astonishingly good I almost can't believe it.
Recent upgrades to iPad OS as it's now known mean you have support for a mouse or trackpad. It's still pretty basic, in that you can't really use it for games at this stage (sorry, Fortnite fans), but it levels up the entire iPad experience.
The cantilevered design of the Magic Keyboard is also fairly astonishing, in that it magnetises the iPad to the back of the cover to give the appearance that the device is "floating" off the base. And if that weren't enough, you get an additional USB-C port in the Magic Keyboard for pass-through charging, and some device support if your main port is otherwise occupied. 
The keys are scissor mechanisms and give a good 1mm of travel for a satisfying tap and solid feel. It also makes the iPad feel like a baby MacBook. Old netbooks could never!
It's a really special bit of kit, and honestly brings new purpose to your iPad Air to make it feel more Pro than you paid for it.
Is the Apple Magic Keyboard worth the money?
If you want to know our full thoughts, check out our iPad Magic Keyboard review.
Here's the catch: the Apple Magic Keyboard with Trackpad is a $499 accessory.
If you're playing along at home, that's $100 shy of getting yourself an entirely new iPad mini alongside your iPad Air, and it's more than a little eye-watering.
But honestly, the more I think about it, the more I think it's still the best single solution for getting a keyboard and trackpad into your iPad.
There are other accessories, sure, like cases that work via Bluetooth and such — you could even take a mouse in your bag to pair with the iPad and just get the original Smart Keyboard — but this use of the Magic Connector is really special stuff.
Read more:
Apple iPad Magic Keyboard review: is it worth it?
That means if you were to buy an iPad Air 4th-gen (64GB) with a Magic Keyboard and a 2nd-gen Apple Pencil to complete the kit, your purchase comes to a total of $1597.
It's $2 shy of the new 13-inch MacBook Air with its wildly-powerful M1 chip and a larger screen, which means you might have a difficult choice to make when it comes time to buy.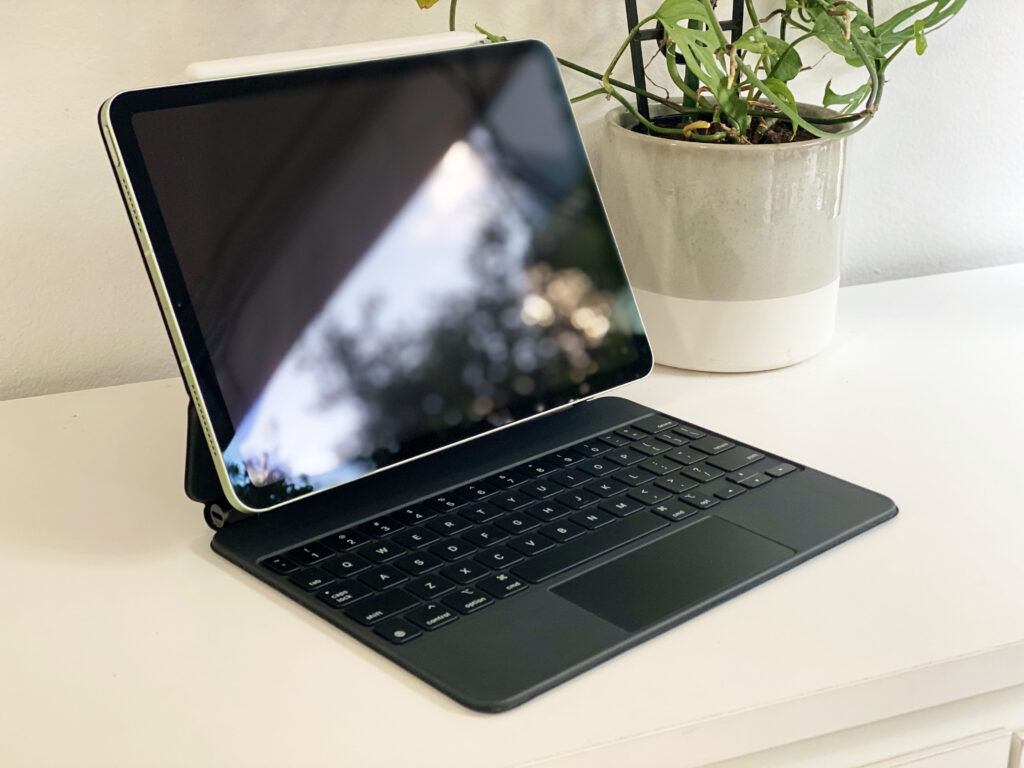 It's horses for courses, obviously: the MacBook won't draw  as well as your iPad will thanks to the Apple Pencil support, and I still think that despite the classic design of the MacBook Air, the iPad Air is still infinitely more portable and versatile.
All options here are winners in my mind, but it does make me wish the new Magic Keyboard was just a few bob cheaper.
iPad Air 4 2020: should you buy it?
At $899, you're getting a tonne for your money.
Considering the step-up iPad Pro 11 (2020) starts at $1329, the iPad Air represents significant value. It's a massive powerhouse that tops the base model iPad range easily, and capably holds its own against iPad Pros and even some more recent MacBook models. 
It's potentially the best and most special iPad Apple has ever made.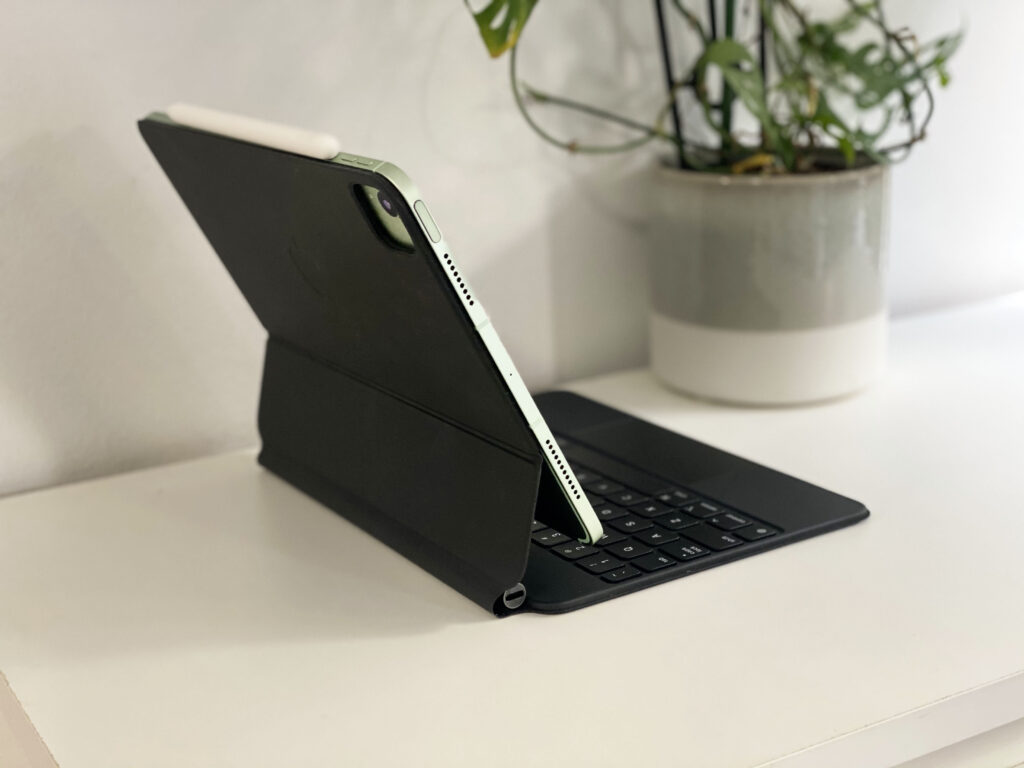 If you've been flirting with an iPad Pro purchase but couldn't justify the additional cost above something like an 8th-generation iPad, you're absolutely going to love the 4th-gen Air. It's everything you need, and nothing you don't. The Goldilocks of iPads.
Could the accessories be cheaper? Sure they could, and if you're willing to get something that looks slightly less special and works a little differently, you can save yourself some coin.
But if you're in the market for a bagful of power at the right price, all you need is Air.
Read more
If you really want to find out what the iPad Pro 11 (1st-generation) is like to live with, check out our review.