Apple's first pair of over-ear headphones is here. They're glorious to look at and listen to, but are they worth the eye-watering price tag? Find out in our AirPods Max review.
Luke Hopewell is a gadget veteran with over a decade of experience reviewing everything from speakers to headphones, TVs to movies and everything in-between.
Got a question for the author? Head to the comments, or email us at luke@redaktor.co.
AirPods Max: our take
Design
There's no mistaking AirPods Max.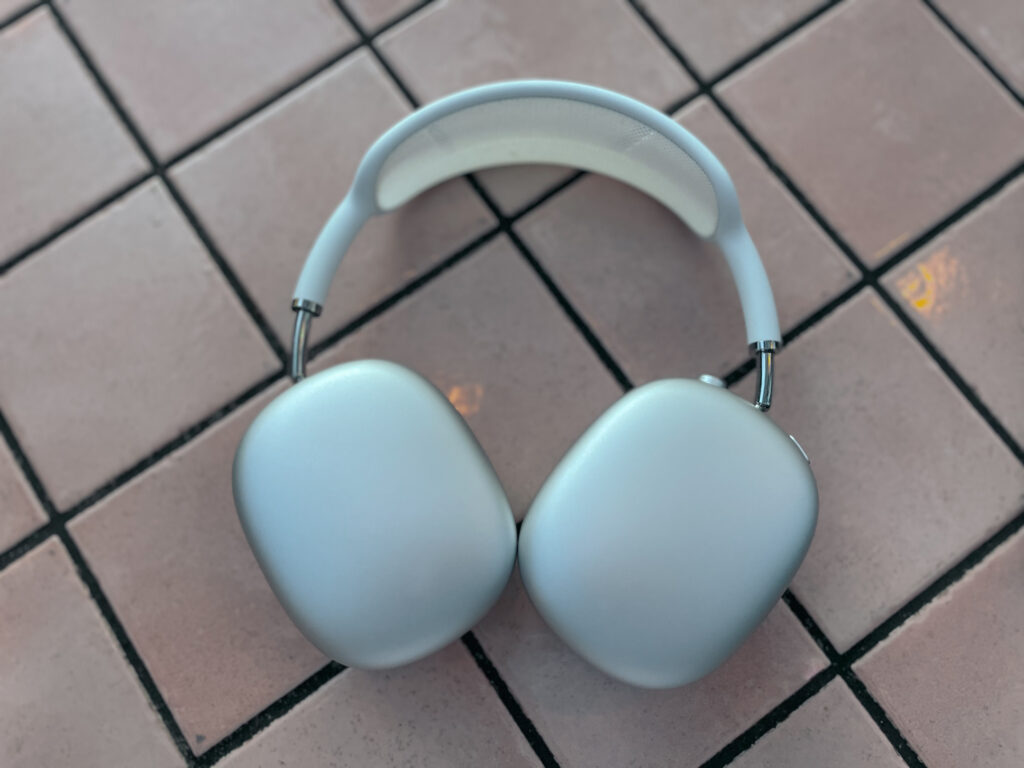 While other headphones are designed to appear sedate and functional, Apple's first take on over-ear headphones are there to be seen. 
So much so that colleagues on virtual meetings have immediately identified them and asked what they're like.
They're designed to stand out. Not in a garish way, but in the same way that white headphones stood out when the iPod first came out.
The two massive over ear cups are connected by a metal headband that distributes the weight on your head via a dual arch. Instead of padded cushioning, weight is distributed downwards via the elegant mesh in-between the two rubber-wrapped, telescoping arms.
The result is a balanced fit from what is a heavy pair of 'phones. Compared to the Sony WH-1000XM4's paltry 255 gram (8.9oz) weight, AirPods Max have some heft at 384 grams (13.6oz).
The aluminium used to fashion the AirPods Max are "virgin" metals, meaning non-recycled. And it's polished to a fine finish, with a range of colours that match the latest range of iPhones and iPads. Truly when you have all the same matching colours of iPad, iPhone and AirPods Max you start to feel a little posh.
The headphones are a relatively spartan affair as far as buttons are concerned. The headphone cups pass on the tap controls favoured by other noise-cancelling headphones in favour of a Digital Crown.
If you've ever seen or used the Apple Watch, you'll recognise it. It's a small dial with a button underneath that's designed to control your music, Siri and calls, while a scroll takes care of volume up and down. It's a gorgeous way to control these special headphones that goes beyond just tapping.
Overall, they're incredible to look at, and insanely comfortable to wear. The comfort comes down to the memory foam cups, that are not only stylish but also removable.
You can pop them out with a bit of a tug to clean them (damp cloths only, no machines), and even replace them if your cat chews them. Which mine has definitely tried to.
The comfort factor is great, because it means you can wear them for hours and hours on end. I've had these on for about 7 hours straight today and I haven't noticed them yet.
AirPods Max Smart Case
When you're not using your AirPods Max, they slip into the nifty origami Smart Case. 
They don't fold up like other headphones. Instead the cups tilt flat and sit into the case, giving them a slim profile in your bag or satchel. Slimmer overall than the carry cases of the Sony or Bose competitors we've loved here at Redaktor.
Magnets tell the headphones that they're inside the case, which puts them into an ultra-low power mode. 
Your headphones are never really off in the case, so you can reconnect and start listening as soon as they're removed and placed on your head. 
If you're someone who's worried about scuffing or dirtying your beautiful new tech, let me give you a tip: don't get these in white. 
The Smart Case appears to be made from a similar material as some Apple Smart Keyboards for iPad. They pick up absolutely every bit of dirt and dust they come into contact with.
AirPods Max: usability
If you've ever used AirPods, you know just how practical they are. AirPods Max are no different. They're ready to go as soon as you slide them on your head.
That's thanks to some clever sensors inside the ear cups that detect you're wearing them.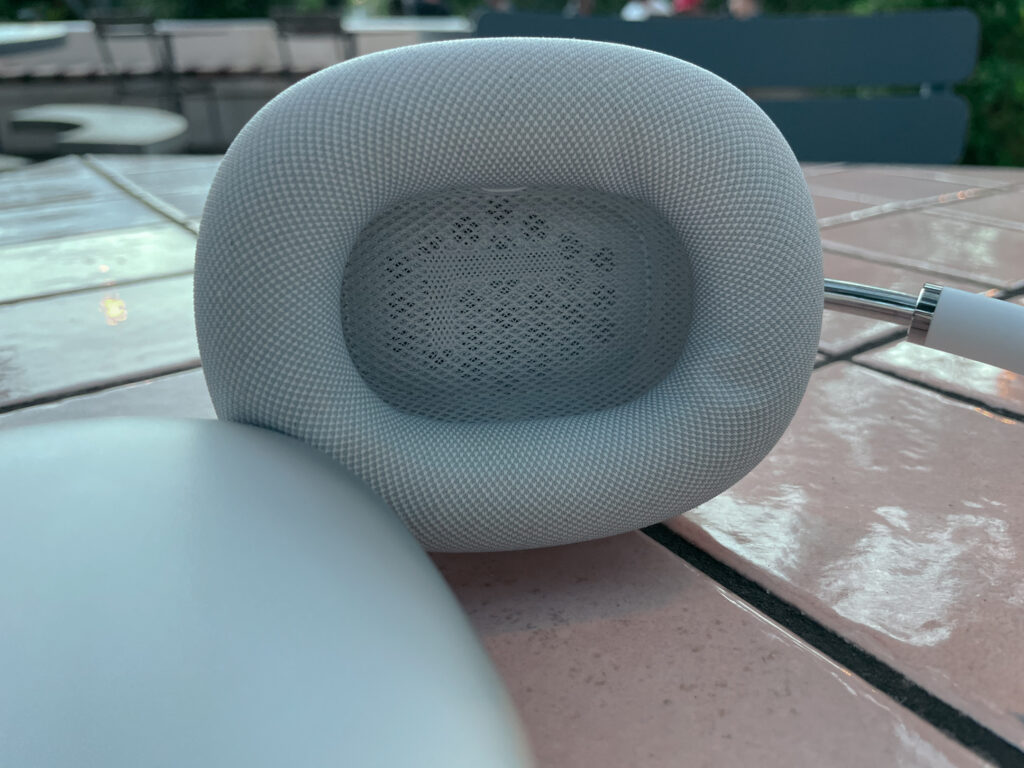 In fact, there's probably more computing power in this set of headphones than there was on Apollo 11. More on how that works shortly.
Battery life is impressive, but I haven't yet been able to find the 20 hours Apple promises from the headphones. I've instead been closer to around 15 hours before I've needed to find a charger. 
Mercifully, you can even use them while they charge. That beats Sony and Bose hands down.
Either way, that's still pretty goddamn impressive. And enough to deal with even the longest long-haul flights. If we're ever able to do those again, the AirPods Max will take prime position in my carry-on.
Speaking of flights, if you want to connect your AirPods Max to a 3.5mm jack, you're out of luck. There's no 3.5mm jack on these anywhere (unsurprisingly). But you can connect it to your favourite headphone jack via a $55 (AUD) / $35 (USD) Lightning to 3.5mm Audio Cable if you really want.
AirPods Max: sound quality
Here's where the AirPods Max get really interesting. The sound quality is almost unlike anything you've ever heard. It's a mix of great hardware and great software that turn your experience up to the proverbial 11.
The depth of sound produced by AirPods Max is truly a gorgeous thing. I listen to a huge variety of music to review headphones, but I'll always use super high-quality files of Billie Eilish to benchmark an experience these days. Billie's producer and brother, Finneas, creates an incredible soundscape inside every single Billie Eilish track. Apple actually released a Logic Pro project of Ocean Eyes that shows just how much work goes into every single Billie ballad. 
I bring this up to shout-out AirPods Max's greatest skill: showing you every part of a song. Listening to these headphones makes every single studio session sound magical in your ears. Listening to the FLAC version of When The Party's Over and Bad Guy on AirPods Max felt like listening to the tracks for the first time all over again. Every sample, instrument and vocal tick was on display. 
And the same is true for just about everything you listen to. Even lower quality tracks at 256kbps or 320kbps found on most major streaming services, you hear parts of songs you never knew were there.
It makes for a slightly distracting experience when listening to a podcast, however, as you can hear every single car in the traffic jam outside the studio as you listen.
AirPods Max: noise-cancelling and Transparency Mode
The noise cancelling is also the best I've ever heard. A lot of noise cancelling headphones take the bass out of what's happening around you. AirPods Max practically suck the air out of the room so you're listening to your tunes in a near-perfect vacuum. And if you need to hear what's going on in a hurry without snapping them off your head, there's Transparency Mode.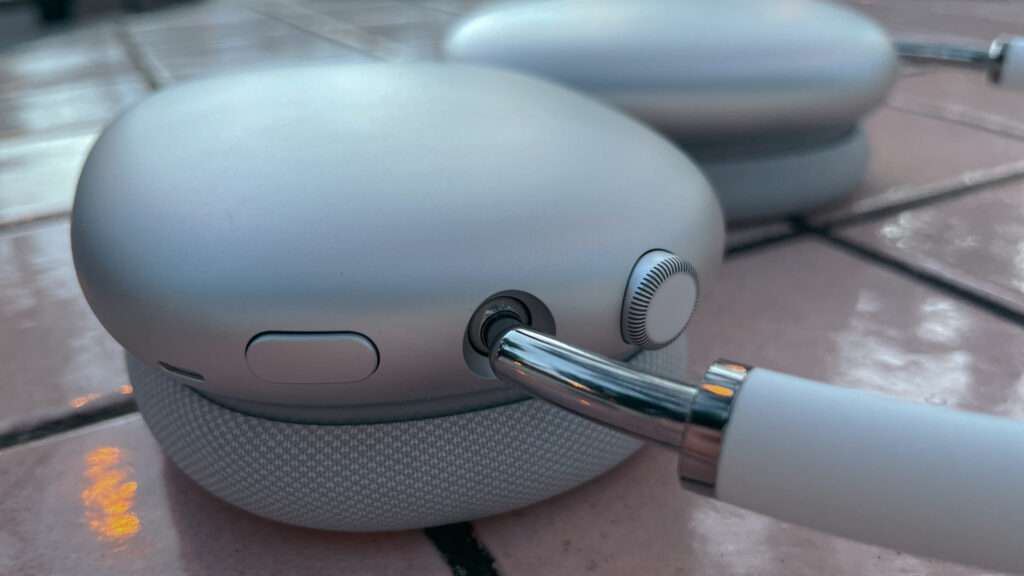 You activate Transparency Mode via a little button on the front right ear cup. Press it, and external noise is pumped into your headphones so you know exactly what's being said and going on.
Apple does pull a rabbit out of a hat a little when it comes to Transparency Mode. Transparency Mode is designed to feed the sounds of the outside world into your headphones via the array of microphones on the edge of each cup. 
Then with a touch of a button, you're back in Noise Cancelling Mode, and the outside world just drops away. It's a party trick, because as I experienced, Transparency Mode actually serves to lightly amplify the outside noise and make it slightly louder. This is for a few reasons.
When you use Transparency Mode, it's about hearing what your partner just said from across the house. Or to hear traffic before you cross a street.
In both of these instances, I kind of prefer a lightly amplified experience to help me hear what's going on. The second reason Transparency Mode amplifies what is going on is to make the slip back into Noise Cancelling Mode that much more impressive. 
Both reasons are acceptable, and both modes are unreal to use.
It's also how everything works in concert. It's how the noise-cancelling effortlessly blocks out the outside world before the H1 chips work their magic to show you parts of your favourite songs you may have never heard before. 
And Apple works even harder to layer more wild sound experiences over the top, too. For example, if you're using your AirPods Max with an iPad or iPhone, you'll have support for Spatial Audio. This works by knowing where your head is in relation to the device and simulating a sound experience to match. If you turn your head to the left while watching a supported video, your sound will favour the left channel in the 3D environment. They're wildly powerful headphones.
Overall, it's an easy win: these are the best consumer headphones out there right now.
What's not so good?
Honestly, I have little to fault AirPods Max for. 
While the design is great and they sit on your head comfortably, they are a little weighty. That's fine if you're sitting completely still. But start moving around, bending down or working out with the AirPods Max and they start to migrate around your head. I haven't had mine fall off just yet – probably because I have huge ears that can catch them on the way down – but these aren't sport headphones.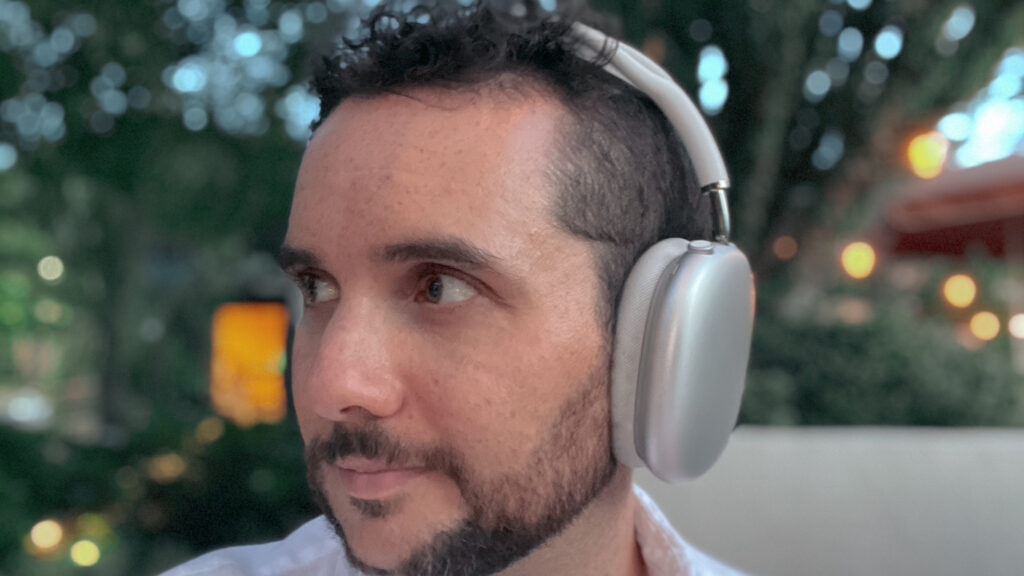 This also isn't a real dig at the headphones, but Apple would love to see you use these headphones with Apple Music. Sadly, it's a waste of their incredible sound abilities. If you're a Tidal subscriber, these are the headphones for you. FLAC 695kbps lossless sound makes these headphones literally sing. Unfortunately, Apple Music can only reach 256kbps on its Maximum Quality mode. It sounds good, but it's not the same. 
My only other complaint is on customisation of the sound stage. It's an incredibly binary experience. The only option you really get is whether the noise-cancelling is on or off. Other headphones allow you to tweak adjust how much noise-cancelling you get; what your soundstage should sound like, and even create virtual effects like the Sony WH-1000XM3 and XM4. With AirPods Max, there's no customisation to speak of. It's 100% noise-cancelling or nothing. 
Oh, and the price. Yikes. Which leads us to the all important question.
Are AirPods Max worth the money?
So, after all that, are the new AirPods Max worth it? In a word: yes. In a lot more words: it's complicated.
If you want incredible sound and noise-cancelling on a budget, you'd be mad to get these when the Sony WH-1000XM4 exist. Even the Bose 700 will feel better on your wallet and give you a noise-cancelling experience you will enjoy.
On the flip side, if you're an audiophile who wants an incredible sound experience, you probably have access to the sort of cash that normies wouldn't dream of dropping on gear. The price tag on AirPods Max won't make you blink, but the hardware probably won't give you pause compared to a $4000 pair of headphones to plug into your DAC.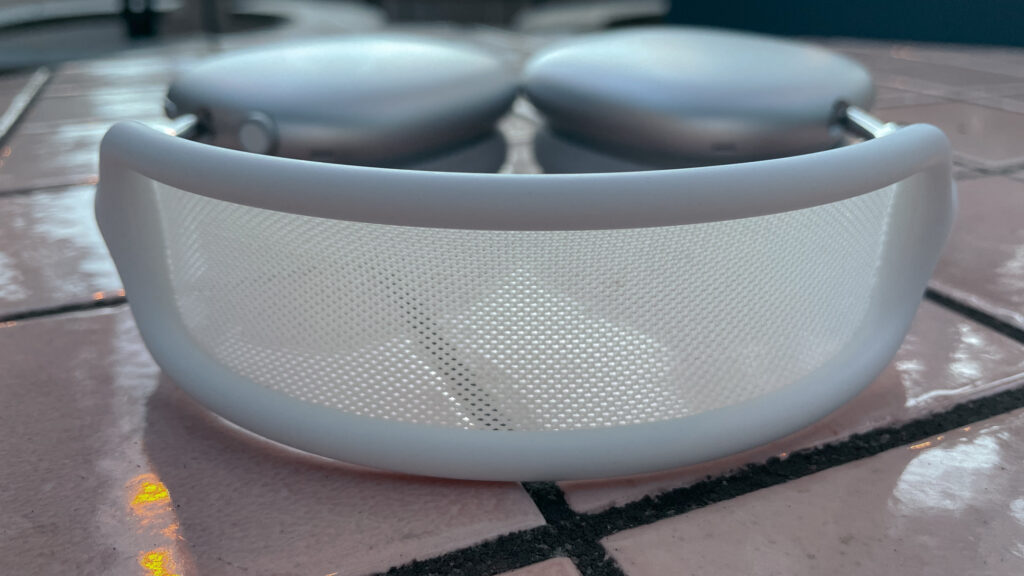 That means AirPods Max sit in this really interesting middle ground where they're for just about everyone and just about no-one. Regardless of the market, however, these headphones are an absolute dream to use.
The simultaneous focus on brilliant hardware and intelligent software creates an experience that is second-to-none. And that's the key with great headphones. It's not just about the sound: it's about everything. The killer battery life. Or sliding it out of a smart case and feeling the weight and material. And having them ready to play your music the second you slide them over your head. 
They're an incredible set of headphones, magnified by the knowledge that it's Apple's first foray into over-ear territory. 
At the price tag, they're a stretch on any casual listener's budget. There's no denying it. You won't regret it, especially if you use headphones as often as I do. If you slide your 'phones on for more than three to four hours per day, AirPods Max are the investment you've been waiting for.
Buy.