Microsoft's Surface line is the last word in quality Windows laptops. The Surface Laptop Go is the newest and cheapest in the Surface Laptop range. Should you buy it, or can you find better value elsewhere?
Luke Hopewell is a gadget veteran of over 10 years. Luke has reviewed just about every Surface that has been released, right back to the Surface 1 (remember that awesome hinge?!)
Got a question for the author? Head to the comments, or email the author at luke@redaktor.co.
Surface Laptop Go review: our take
A sub-$1000 laptop is never going to set the world on fire. That's why we've tempered our expectations where the Surface Laptop Go is concerned. But you can see where Microsoft cut the corners on the Surface Laptop Go to make it cheaper.
Between an average screen, a slightly-cramped keyboard and 4GB of RAM on the entry-level model make it difficult to like. This one is less of a productivity workhorse. It's more of a laptop for the student who needs a reliable essay-writer.
Surface Laptop Go review: what is it?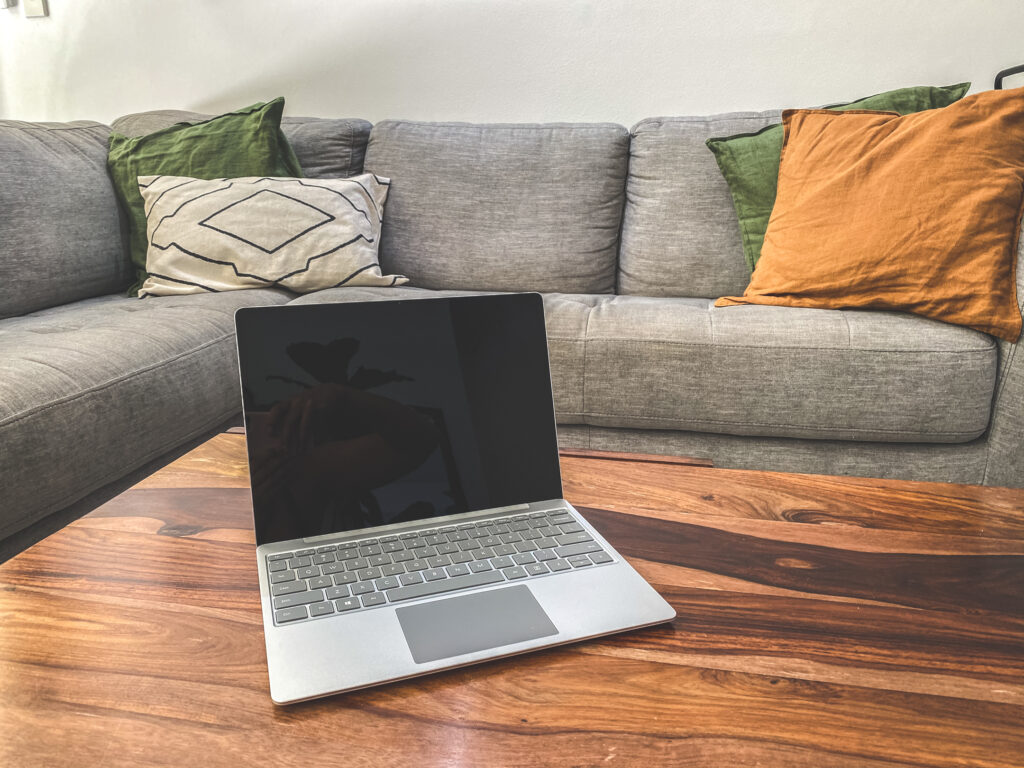 The Microsoft Surface Laptop Go is a new entry-level, ultraportable that starts at $999 AUD / $549 USD. Let's stop for a sec and think about how that price doesn't exactly make sense for buyers Down Under.
It comes in three specs, all featuring the same 12.4-inch touchscreen and an Intel Core i5 processor. The lowest spec features 4GB of RAM and 64GB of storage; the mid-spec features 8GB of RAM and 128GB of storage. Meanwhile the top spec features 8GB of RAM and 256GB of storage.
In terms of design, power and price, it's meant to sit in the Surface lineup above the 10.5-inch Surface Go tablet, and below the 13-inch Surface Laptop.
Surface Laptop Go review: design
Microsoft knows when it's onto a winner, and so do I. The Surface Laptop Go takes the familiar and excellent look and feel of the Surface Laptop 3 and simplifies it.
You get a small selection of ports with the Surface Laptop Go: including one USB-C port, one USB-A port and a 3.5mm headphone jack. Those looking for a little more port love can use the Surface Dock. Thanks to the proprietary port on the right-hand side you can expand your port experience. It'll run you a princely $420, but bundles in all the I/O you could want.
It's a larger device than the 10.5-inch Surface Go tablet, and with the addition of a built-in keyboard comes a few nifty upgrades.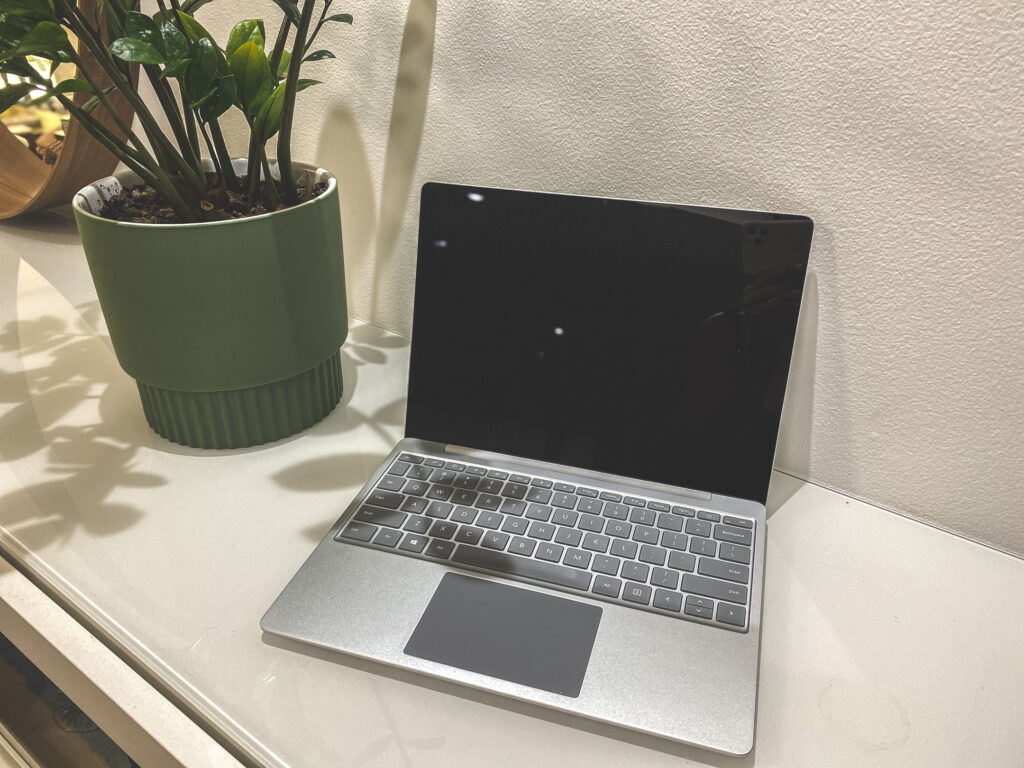 Firstly, the glass trackpad feels really luxurious to use. And it's just large enough to not be annoying in the long-term. Also in the nifty design department is the fingerprint scanner tucked underneath the power button.
The fingerprint scanner is a welcome security addition. Especially seeing as how the Surface Laptop Go is missing an infrared camera required for Windows Hello facial recognition. An odd omission, especially considering the Surface Go tablet has it.
Finally, there's the keyboard, with soft touch buttons and a satisfactory amount of travel. My only complaint here is that it feels a little tight and cramped. I don't have big hands, and even I found myself tapping adjacent buttons all at once.
Surface Laptop Go review: power
The Surface Laptop Go ships with an Intel Core i5 processor across the range. With a base clock speed of 1GHz, it's designed to sip power while you browse the web, stream movies and play your music. Anything more powerful will see the Intel chip to burst up to a maximum clock of 3.6GHz. 
Not to worry about the maximum processor speed, however. I'd be surprised if you could do any "real" gaming on the Surface Laptop Go. That's not what it's meant for. Sure, you can probably crack through a few games of Civilisation or even The Sims, but don't expect to get peak gaming performance here.
Speaking of performance, the base model ships with a paltry 4GB of RAM. I need everyone within range of my voice to understand that 4GB will deliver a pretty frustrating experience for those looking for even a basic productivity laptop for work. Multitaskers to be comfortable should always look for something with at least 8GB of RAM for best results.
Also, I found throughout my usage that you'll get around half a day of battery on the Surface Laptop Go, so don't go too far without your charger for this one.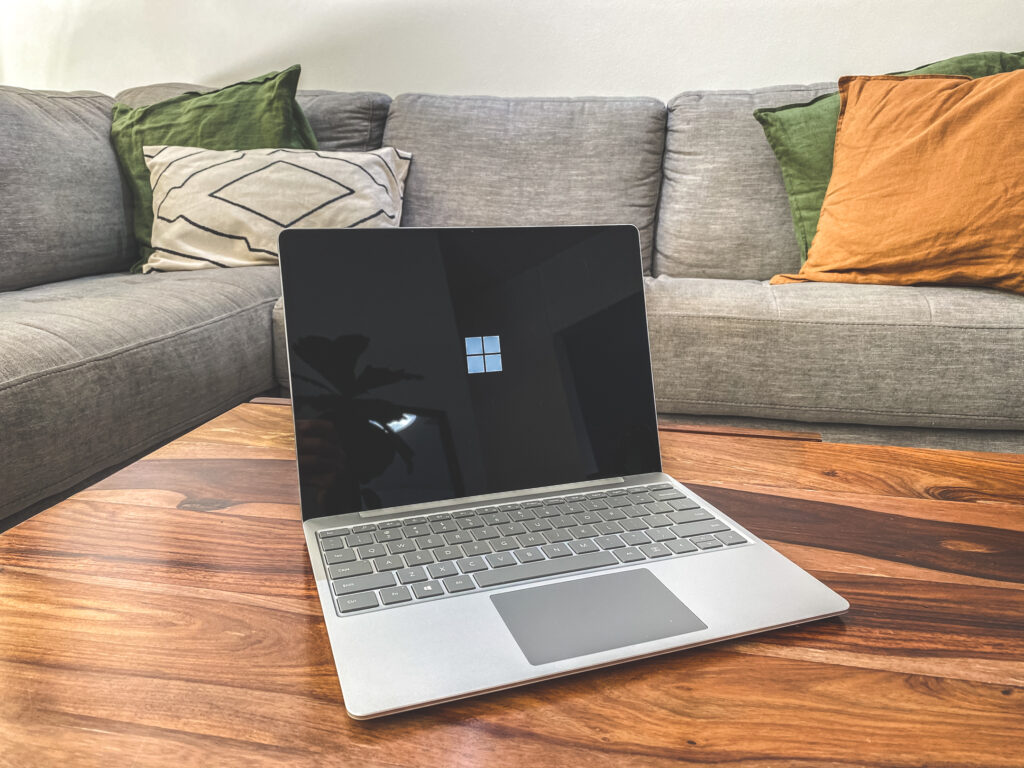 The Surface Laptop Go also ships with Windows S by default. You can turn it off by "upgrading" or unlocking the full-version of Windows in the Store, and to be honest it's what most people will do first.
The only folks who'll want to live with Windows S are the people who buy this laptop for their kids and don't want them installing anything outside of the Windows Store. Horses for courses, and all that.
Surface Laptop Go review: screen
The only real problem with the Surface Laptop Go is the screen. Sadly, it's close to being unforgivably bad.
It's a 12.4-inch touchscreen, surrounded by a distractingly-large bezel made worse by the panel resolution of 1536 x 1024. Compare that to the exceptional 1920×1280 screen on the Surface Go ultra-portable tablet, and you start to realise where Microsoft has gone wrong.
The Surface Laptop Go is meant to be a step-up from the Surface Go tablet, and in a lot of ways it is. With a better battery, full-size keyboard, larger panel and more powerful processor, it has it where it counts. But the screen – the thing you look at for as long as you're using the device – is really disappointing. 
Especially from a company that has always put great screens in just about everything that bears the Surface name since day one.
The only thing the screen really has going for it is the 3:2 aspect ratio. It's taller than a lot of its 16:9 competitors, and allows you to see more on the one screen.
Is it worth the money?
If you're looking for a basic laptop for your kids, the $999 Surface Laptop Go is great.
But if all they really need to do is watch Netflix and do their homework, what's wrong with a Chromebook for half the price of a Surface Laptop Go, or even the Surface Go tablet?
If you're looking for a decent productivity workhorse that will get you through a day full of Microsoft Outlook, Teams, Word and Chrome usage, you'll need at least the 8GB model, which takes you into over $1000 territory. For the money you'll pay for the mid-spec Surface Laptop Go, you may as well just buy the Surface Laptop 3 and get a better screen and processing experience. 
Should you buy it?
This is a tough one. I love Surface devices, always have, but the Surface Laptop Go is an odd fit in the range.
It's a fantastic performer if you're getting your kids or teens something to do their work and streaming on. A little expensive for this use case, but it's a well-built and well-backed machine for all your basic needs.
If you're looking for anything more from it, you might be disappointed, The Surface Laptop 3 delivers much better results than the mid-spec Surface Laptop Go for what is ostensibly $150 extra. 
If it were my money, that's where it'd be going.
Read more
Looking for the entry-level laptop of your dreams? Maybe a laptop isn't what you're after? The iPad Air (4th-gen) is mighty compelling also. Here's our review.