After years in the game, Sonos finally has a portable speaker that sounds great. But at almost $650, it's a pretty penny to pay for pitch-perfect arpeggios. Is it worth the cash?
Luke Hopewell is a gadget veteran of over 10 years. He's reviewed hundreds of speakers in his time. He's still got hundreds of reviewed Bluetooth speakers in his iPhone's connection list, and no idea where they all are.
Got a question for the author? Head to the comments, or email us at luke@redaktor.co.
Sonos Move review: our take
Despite its girth, the Sonos Move is a beautiful speaker with incredible sound, but at this price point, your mileage may vary.
Sonos Move review: design
The Sonos Move is also designed to stand up to the outdoors in a first for its range of products.
The Move is IP56-rated. That means it's "dust protected" (not dust-tight, mind), and resistant to everything up to immersion.
The "6" in the IP56 rating speaks to its water resistance, and according to the rules, the Move is protected against harmful effects from everything up to and including "water projected in powerful jets (12.5mm nozzle) against the enclosure from any direction.
Basically, as long as you aren't dunking your Move in the pool, you'll be ok to take it to a waterside or beachside party and blast the bangers.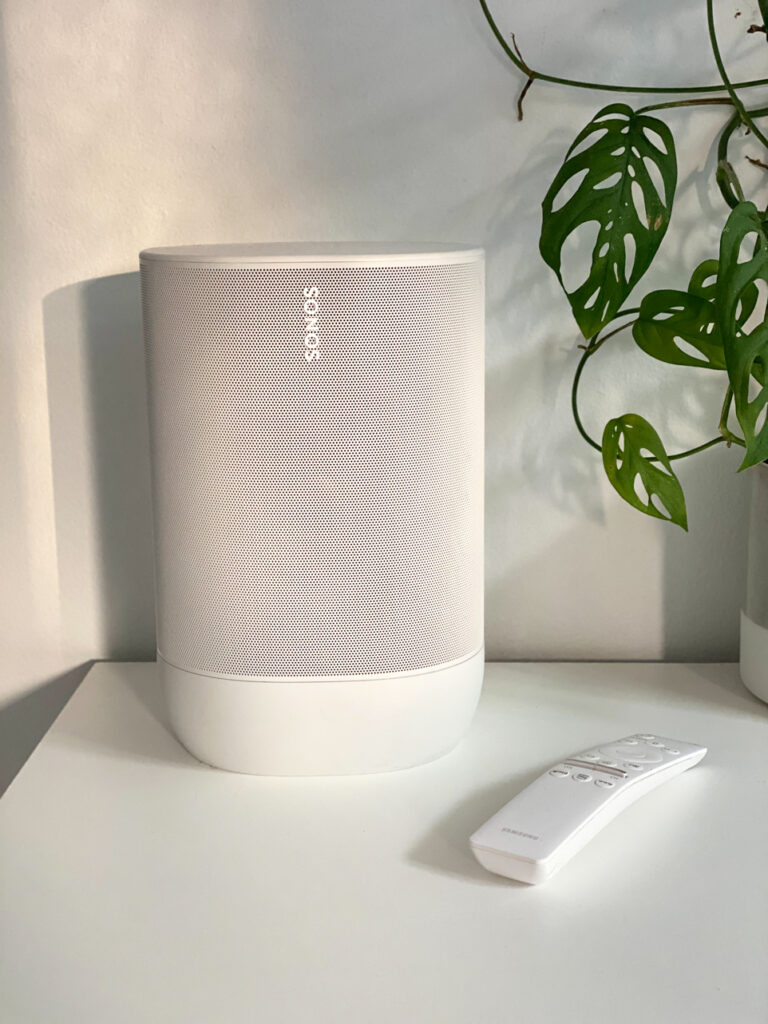 And thanks to the nifty design of the Move, that's pretty easy to do.
The smart and flush front of the Move gives way to a handle that occupies most of the device's top-rear, making it insanely portable.
My only complaint with its portability overall is that the move is actually pretty heavy for a "portable" speaker. Tipping the scales at 3kg (6.6lbs), and measuring just shy of 25cm high (10-inches), it's not something you can simply slip into a small beach bag.
Taking the Sonos Move somewhere has to be slightly more purposeful than just tossing a UE Boom speaker into the same bag your drinks are in, for example. 
But if you do decide to take it out of the house, your lifting is rewarded with sound that knocks your socks off. Other Bluetooth speakers *wish* they could do what the Move can do in terms of sound performance.
And it's not like you'll be cutting the party short with the Move, either. An 11-hour battery life will keep you rocking into the early hours – much to your neighbours' chagrin – and a USB-C charger means it's easy to rejuice once you're out.
Sonos Move review: sound quality
The Sonos Move is an elegant little tower filled with clever speakers all working together to give you a rich and harmonious sound.
There's a mid-woofer in the centre of the Move, complimented by a downward-firing tweeter to disperse sound. All of this is driven by two digital amps in the Move.
It all adds up to a sound unlike any other I've ever heard in a portable speaker. It's rich and full and fills the space, despite it having diminuitve size to the room.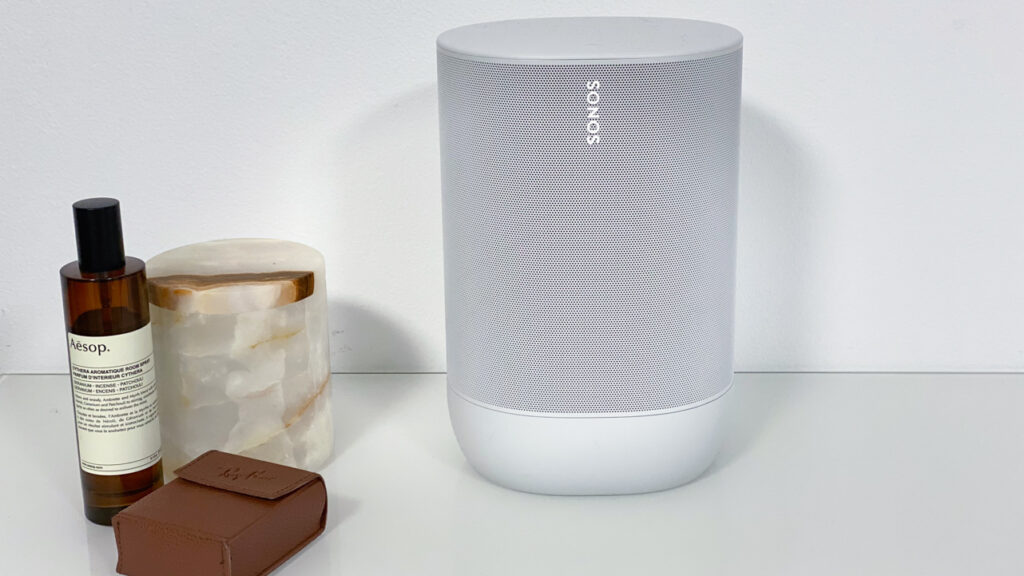 And when it works together with another product like the Sonos Playbar to fill the whole space, you understand why it costs as much as it does. The premium price truly gives way to a premium sound experience that almost instantly turns the non-believers into Sonos converts.
And of course, the incredible sound quality is backed up by the truly excellent new Sonos app (unless you're the owner of an older S1 system). 
Recently upgraded to become a better home for your music at home, the Sonos app lets you control everything about your speaker to create rich, timorous sound throughout your home.
The new Sonos app still pairs with all your favourite services – from Spotify to Apple Music and everything in-between – but it also now features Sonos Radio. Boasting more than 60,000 stations, you get everything from music to news and sport in a range of languages. Sonos has a bunch of artists on spec to help curate the service, backed up by an algorithm that can help you discover new music.
It's a great little service to have when you just want to throw some music on by mood, but if you're someone who is already heavily into algorithmic curation via something like Spotify or even Apple Music's Beats 1 radio, this 
And because the Move is portable, it also works with AirPlay 2 for compatible devices that don't have your Sonos app, and Bluetooth so you can use it when you're out of Wi-Fi range. 
And in any situation, the Move packs built-in support for Google Assistant and Alexa, with a beam forming mic designed to hear you across the room. You always know when it's working on something and never miss the response thanks to the sound quality, but more importantly, you know when it's not listening too.
A tiny white light on the top of the device shows when the mic is active, meaning the more paranoid among us (read: me) can have peace of mind when the Move is in the house.
Sonos Move review: should you buy it?
The Move is a curious one. Obviously, if money is no object, you're getting it no question. It's the coolest gadget Sonos has ever made, hands down.
But if you're a discerning buyer, you have to think about how the Move is going to fit into your current system.
For example, I have a Playbar for my television and for parties, and in both instances it fills the house with music, but once you step outside into the garden courtyard, you're met with silence thanks to the noise-cancelling glass doors.
The Move is perfect for my circumstances, because the system fills the whole space with immaculate sound.
Add to that the fact that the Move is going to be the special guest of barbecues and summer beach outings, it's a no-brainer for me. 
But in all of those scenarios, the Move's portability plays a role. If you're someone just looking for a home speaker to add sound to another room that won't move once it's plugged in, it makes sense to save yourself some cash and pick up a Sonos One or One SL. 
The One is half the price of the Move, and for the same money you can buy two and create an incredible stereo pair to give surround sound to your home on the cheap.
The Sonos Move is definitely worth the cash, but only if you're hitting the road with your music like me.
Read more:
Wondering which music service to use in the gym? We've compared Apple Music and Spotify to help you decide.