If you want your TV to blend into your home, you can't beat these two entrants from Samsung and LG. But which is better? We put them to the test.
Our take
First things first. I have reviewed both LG OLED TVs and the Samsung Frame 2019 model extensively on Redaktor. This includes the upcoming preview of the 2021 Samsung Frame. If you would like to know more about the tech behind the screen, these are a great place to start.
Ultimately, you'll always struggle to beat the vibrancy and black performance of an OLED, especially from LG. The GX Gallery Series TV is one of LG's absolute best performances, but Samsung's Frame TV runs rings around it aesthetically.
If you care about your TV looking good when it's off, The Frame from Samsung still can't be beaten.
2020 LG Gallery Series (OLED65GXPTA) TV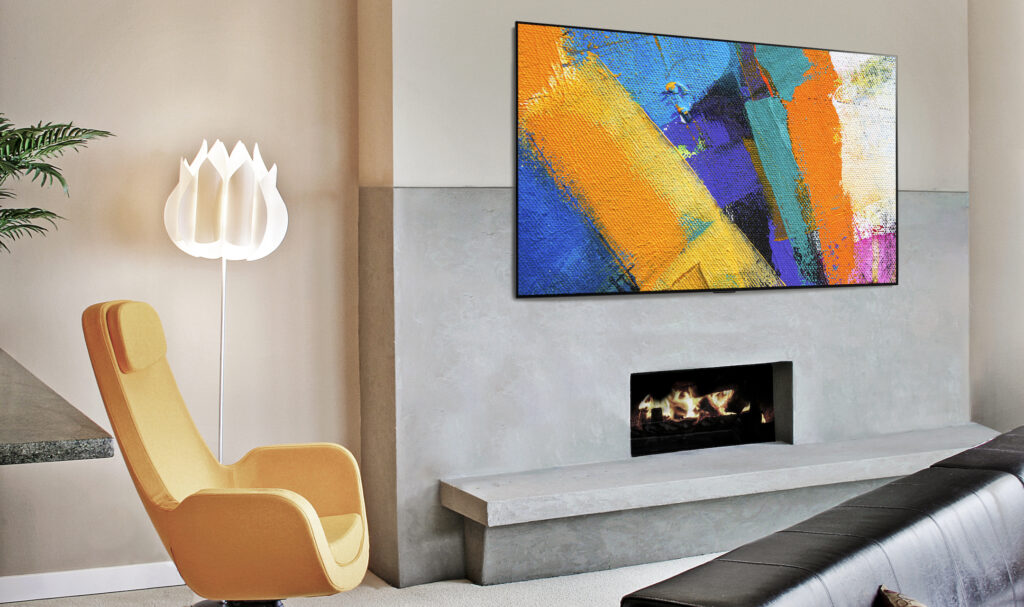 It's no secret that I'm partial to an LG OLED TV. They're things of absolute beauty, especially after generations of production refinements here and there.
With that in mind, it goes without saying that the Gallery Series TV has it in spades. Incredibly vivid colour; truly deep blacks and all the hidden bells and whistles that make it a truly modern television. Here's where it gets a little technical.
If you're buying a TV at any point in history, you should consider exactly what you want to use it for. Not just on the day you're buying it, but in the following months and years. A television should at least stick around for five to seven years, and in that time a lot could happen. 
Ask yourself: are you thinking of getting a new gaming console? Will you want to expand your speakers for surround sound? Do you want to connect devices in a specific way that you'll buy at a later date? You will need to answer all of these questions before you pick your TV so you can get the absolute best value for money.
The X-series of LG OLED TVs – that is the BX, CX and GX (Gallery) TVs – are just about as future-proofed as you could hope for these days (depending on your model, of course). The Gallery Series TV in question, for example, packs in a heap of gaming gear that make your Xbox Series X and PlayStation 5 experience as close to perfect as you could hope for. The Gallery Series TVs support Variable Refresh Rate, Auto Low Latency Mode and feature HDMI 2.1 ports. You've even got NVIDIA G-Sync tech built-in for PC gamers to take advantage of.
Related:
QLED vs OLED: which is better?
It's a lot of jargon, but it means that your Gallery Series TV makes sure all the fancy picture processing features of your new next-gen consoles are supported for low-latency, high-frame rate performance.
Also behind the scenes is a top-of-the-line new image processor that optimises the picture and sound experience dynamically. 
It even tilts the brightness automatically to compensate for the light in the room, and it does it in such a natural way, you barely notice.
2020 Samsung Frame TV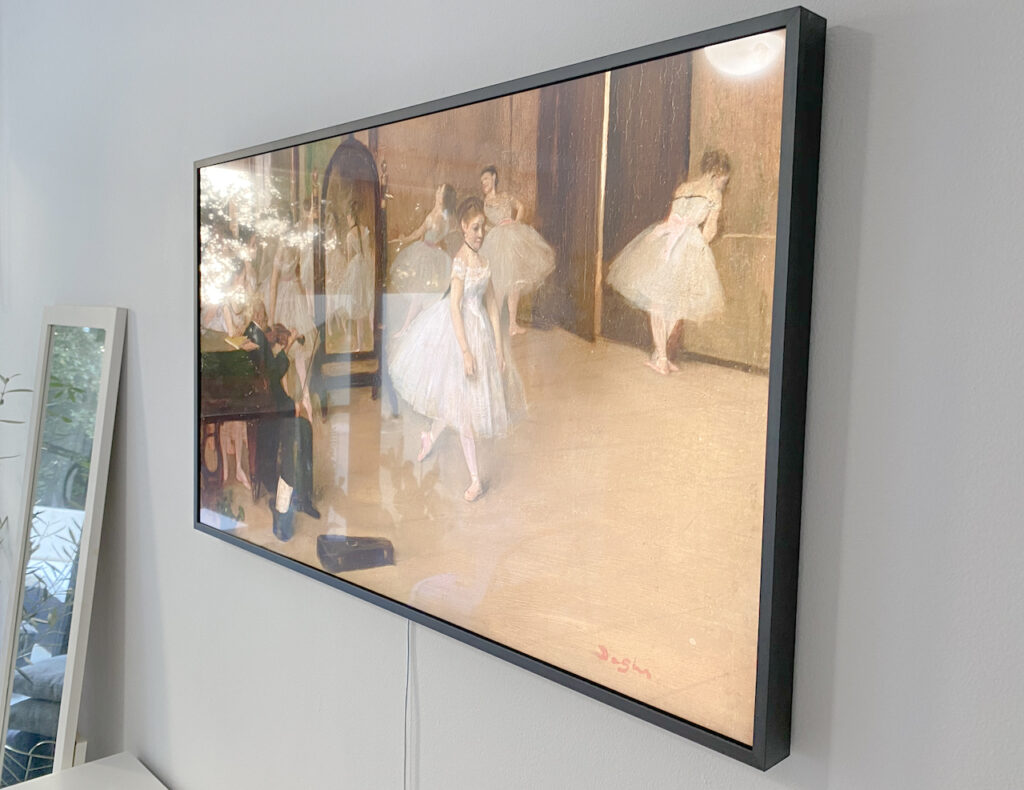 The Frame from Samsung is a little different to the LG Gallery Series OLED.
Not only is it aesthetically better, it also has a completely different panel.
The Frame runs on a QLED panel, which is starkly different to OLED. 
Rather than feature organic "self-lit" pixels, the QLEDs from Samsung shine a backlight through a series of LED panels to light the image. 
Despite the difference in panel technology, the QLED in The Frame is still remarkable to look at. Colours are bright and vivid thanks to the Quantum Dot technology.
Check out our guide on the differences between OLED and QLED to learn more.
It's easy to think that all black rectangles look the same in the TV game. Samsung's The Frame is a different animal: it's the best-looking television ever made.
When it's on, it works great and does everything you'd want it to. When it's off, it's a gorgeous, backlit work of art of your choosing. And one that's almost indistinguishable from a real framed piece of art.
You can load your own images on The Frame, or you can subscribe to the Art Store for $5.99 per month. 
The Art Store gets you curated collections from the world's best galleries for art that really shines on your walls.
You can expect to pay a little extra for something as fancy-looking as The Frame compared to something like the 2020 Q series of QLED TVs. But if you're obsessed with minimalism like we are, it's worth the extra price.
Samsung will release the Frame 2021 in coming months. It packs in the same panel, but a sharper, thinner design. Find out more with our preview.
What's the difference?
From a technical perspective, the two are vastly different.
The Frame is a QLED panel, lit by backlights shone through the image layer. The LG Gallery Series TV is a 2020 OLED flagship. OLED uses organic, self-lit pixels for better colours and richer blacks. 
That's the technical differences. Aesthetically speaking, the two couldn't be more different.
The Samsung Frame is engineered to be a TV when it's on, and art when it's off. It is hewn by a literal frame that can be customised with aftermarket accessories, and allows you to add your own pictures for added personalisation. 
Furthermore, The Frame has an Art Store where you can subscribe for $6 a month. The Art Store gives you access to your own curated library of masterpieces from the world's best galleries. It's the ultimate culture TV.
The Frame TV comes with a wall mount that allows it to sit flush with the wall. And in a bid to increase the immersion, it comes with the Samsung Single Connect Box. 
This simply moves all the power and ports your TV could want into an external module, that connects to the TV with a single clear cable, thereby reducing mess. 
It's an absolute game-changer, and allows you to simply manage your connections without having to muck around behind your incredibly thin, wall-mounted TV. 
The LG Gallery Series TVs purport to do the same thing by way of their name, but the execution is vastly different. 
The LG GX OLED isnt designed to show art when it's off in the same way that the Samsung Frame is. Presumably because of an image burn in risk.
OLED TVs can be susceptible to what's known as "burn in", where an image left on the panel for too long can leave a sort of afterimage burned into the screen as you use it. 
Burn in is less of a problem these days, but QLEDs aren't particularly susceptible to it in the same way that OLEDs are.
That's why The Frame can do what it can in Art Mode. It's also why selected Samsung's 2020 TVs  can do Ambient Mode, which allows them to blend into the environment around them.
Beyond technology challenges, the LG GX Gallery Series also carries a design flaw. 
Cables.
Cables. Everywhere.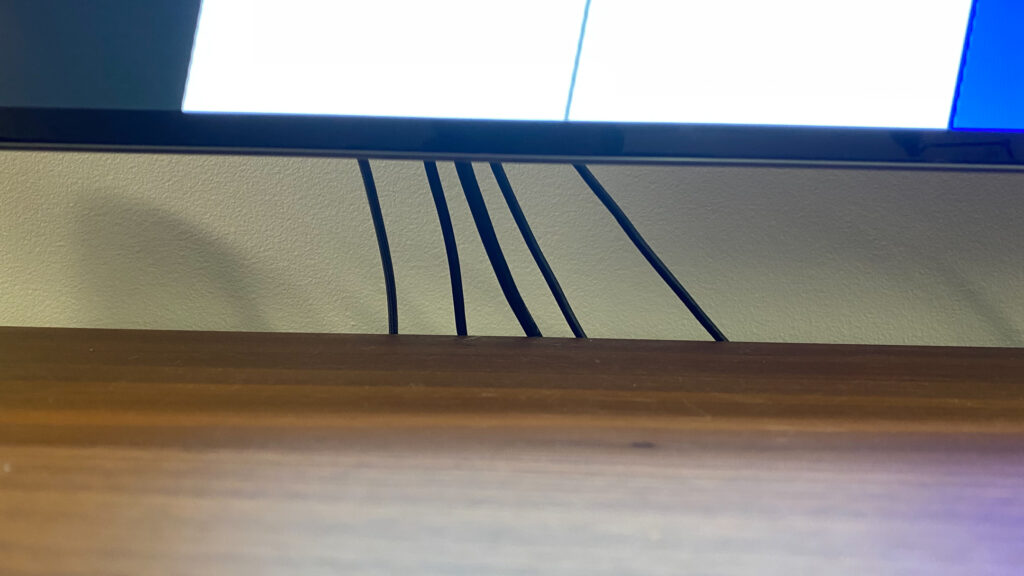 Unlike the Samsung models, the LG Gallery doesn't have anything as nifty as the One Connect Box.
This means that all of your cables plug directly into the TV, and hang down hideously from its mounted position. 
The solve for this is a series of channels carved into the back of the LG GX Series that are designed to keep your cables as natural and tidy as possible.
A solve for this would be to pipe the cables through a wall, or even just cover it with a small bit of channeled piping from Bunnings. The former is probably going to be the fix for most who buy this rather expensive TV, mind you.
But it shouldn't need a fix at all in this reviewers opinion. The One Connect Box from Samsung is one of the best things about The Frame, as it keeps the look as clean as possible.
The Frame also comes in a pleasant variety of sizes. There are four sizes, from the monitor-sized 32-inch; the bedroom-perfect 43-inch, the small lounge-sized 55-inch, and the imposing 65-inch. 
The LG Gallery TV has one perfect home based on its size, and that's your living room. Starting at 55-inches and moving all the way up to a whopping 77-inches, this one's the main event.
Which is better?
It's tough. 
When I got the LG Gallery OLED, I wanted it to run rings around The Frame. 
I wanted it to feature a beautiful art mode and boast a picture that would make real life look boring. 
When it comes to the picture quality and the technical performance, it truly is incredible.
But the only way it's a 'gallery' TV is that it hangs flush on the wall.
Compared to previous LG OLED models, the Gallery Series is a beautiful hanging piece of art, with a design that allows it to sit flat. But that's where the similarities to The Frame stop.
Aesthetically, if you want your TV to blend into your home, you still can't pass up The Frame.
If you want a TV with more bells and whistles than you can count (but it still looks like a TV), go the LG Gallery Series OLED.