Melbourne's famous Bar Americano is coming to Sydney for a limited run. Here's what you need to know before snagging your seat.
What is Bar Americano?
Bar Americano opened in 2011 as tribute to the Golden Age of drinking.
The idea originated in response to foreign demand; well-to-do Europeans discovered these drinkable pleasures in the Jazz cities of Chicago and New York.
They (as well as thirsty Americans fleeing Prohibition's drought) clamored for these creative cocktails in Europe. The "American Bar" strikes the perfect balance of American "get-up-and-go.
Bar Americano, which is typically found tucked away in Melbourne's laneways, notoriously seats only ten people at a time. When recreating this at the Icebergs Bar you'll be able to fit seven guests seated or 10 guests standing.
This private and intimate area will be available for individual and group bookings.
Bacardi-Martini Australia will be bringing the famous Bar Americano to Sydney for a limited run in April.
The drinks menu will include eight classic cocktails, featuring top-shelf spirits from Tequila Patrón, Grey Goose Vodka and Bombay Sapphire Gin.
It's a 'bar-within-a-bar': an idea the team behind Americano in Melbourne came up with after a night out in Venice, Italy.
BMA's MD, Sarah Nichols, said of the opening: "Bar Americano will give cocktail lovers an intimate experience by receiving unmatched service and the upmost care and quality into the signature cocktails they know and love, as well as adding a few surprises along the way."
Bar Americano Sydney: drinks menu
Here's what you'll find on the menu for starters.
Cocktails cater to all tastes: from sweet to sour; spice to dry.
SWEET
Bombolone
The tart Tuscan wonder. House Patron Limoncello, Amaro Americano, Italian Aperitivi and fresh lemon all charged with icy DOC Prosecco. Bold, refreshing and ridiculously Italian.
No. 8 Mimosa
Fermented Ruby Red Grapefruit, House Grapefruitchello. Italian Bitters, Grey Goose Vodka, all charged with DOC Prosecco.
SOUR
Aviation
Floral Bombay Sapphire Gin, fresh lemon and perfumed aromatic cherry.
Rick Dalton
Inspired by Rick's Hollywood Poolside Blending. Patrón Silver Tequila, Spaghetti Western herbal liqueurs, Bacardi Carta Blanca Rum and fresh-pressed lime. Frozen and blended, of course.
SPICE
Americano
Our namesake and the most underrated cocktail on the planet. The drink that inspired the Negroni and we say probably still trumps it. A bittersweet symphony of Italian Martini & House vermouths, Northern Italian Aperitvi and a refreshing twist of citrus.
Antica Fashionista
Our homage to Mr Terzini. Our (very Italian) version of the classic Old Fashioned. Whiskies, Amaro Americano, aged & spiced fruit gum syrup with aromatic bitters.
DRY
Negroni
Many say this is the best in the world but can bar talk be relied upon? A simple but secret blend of Bombay Sapphire Gin, Martini, House Vermouths & Italian Bitters.
 2+2=5 Martini
Catch it before it disappears like the rest of our culture today, down the memory hole. Curated by the Ministry of Truth. Bombay Sapphire Gin, Grey Goose Vodka + House Vermouths, Disputed Territory Bitters = 5.
SNACKS
Pecorino & Alto Olives 8
Wasabi Melon & David Blackmore Wagyu Bresaola 12
Smoked Bacala & Yarra Valley Salmon Roe Cruller 12
Cotechino & Fontina Burger 18
Bombolone, Beef Fat Caramel 10
Bar Americano Sydney: where is it?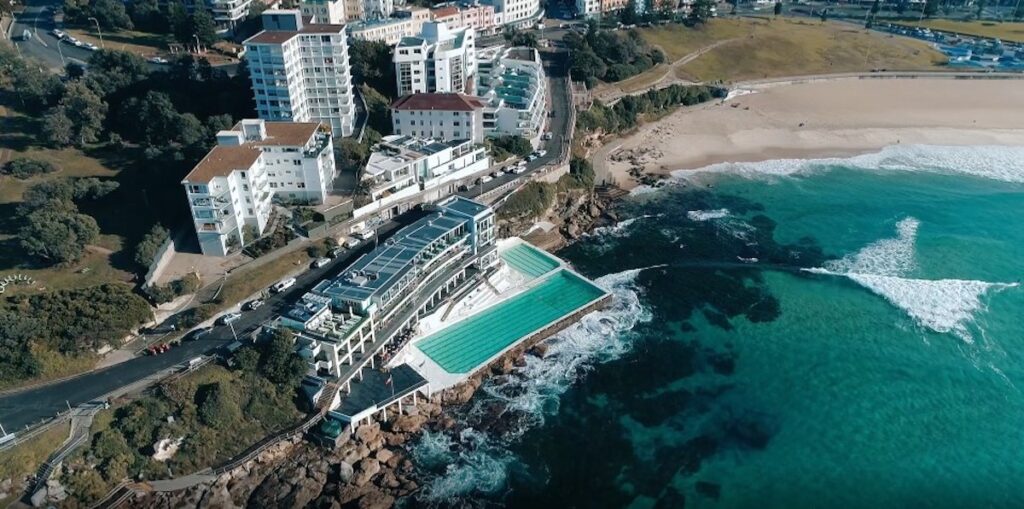 You'll find the Bar Americano Sydney pop-up at the famed Icebergs Sydney.
The address is Icebergs Bar, 1 Notts Avenue Bondi Beach.
Bar Americano Sydney: when will it be open?
It's a small bar, so it runs a few sessions each evening.
Bar Americano Sydney will be open from Thursday 31 March to Sunday 1 May.
Here are your session times:
2.00pm – 3.30pm – Friday, Saturday, Sunday
4.00pm – 5.30pm – Wednesday, Thursday, Friday, Saturday, Sunday
6.00pm – 7.30pm – Wednesday, Thursday, Friday, Saturday, Sunday
8.00pm – 9.30pm – Wednesday, Thursday, Friday, Saturday, Sunday
You'll only be able to get seven people seated and 10 people standing per session, so book quick!
Bar Americano Sydney: how much does it cost?
To secure your booking, you'll need to pay $80 per person in advance.
This amount will be taken off your tab at the end of your session.