At roughly three hours drive North of Sydney and an hour drive from Newcastle is Bannisters Hotel, Soldiers Point, Port Stephens.
Mia Steiber is a travel, lifestyle and fashion guru. With over a decade of experience sampling and reviewing the finer side of life, she loves nothing more than a good hotel bar.
Got a question for the author? Send us an email.
It's a quiet and serene retreat set in one of the most picturesque spots in the country. There are so many reasons to love this hotel, to the point that I would class this as a destination in itself.
Port Stephens is famed for its larger arched bay, inside of which you will regularly see dolphins at all times of the year. 
The water is crystalline, sparkling against powdery, white sand. The greenery is more lush here than you'll find in the Southern parts of NSW and it frames much of the coastline. It's the perfect spot for a hotel such as this.
Bannisters Hotel review: location
The township of Port Stephens has a number of luxurious locations. Around 5-10 minutes by car from the center of town in Nelson Bay, Soldiers Point is quieter but still accessible. 
It's ideally placed, far enough away from the loud crowds at Nelson Bay and Shoal Bay that the sounds of birds and trees are undisturbed. But also, only a short drive away.
If you plan on driving around to see the sights, this still places you centrally enough – but you will need a car to get around. 
Bannisters Hotel review: design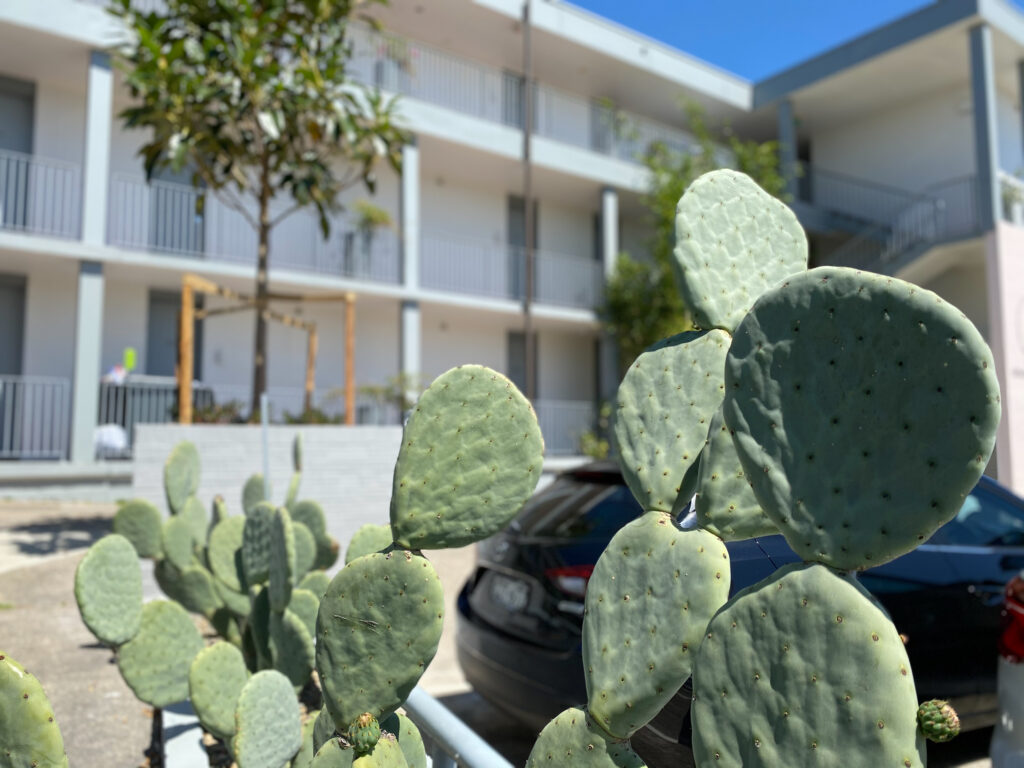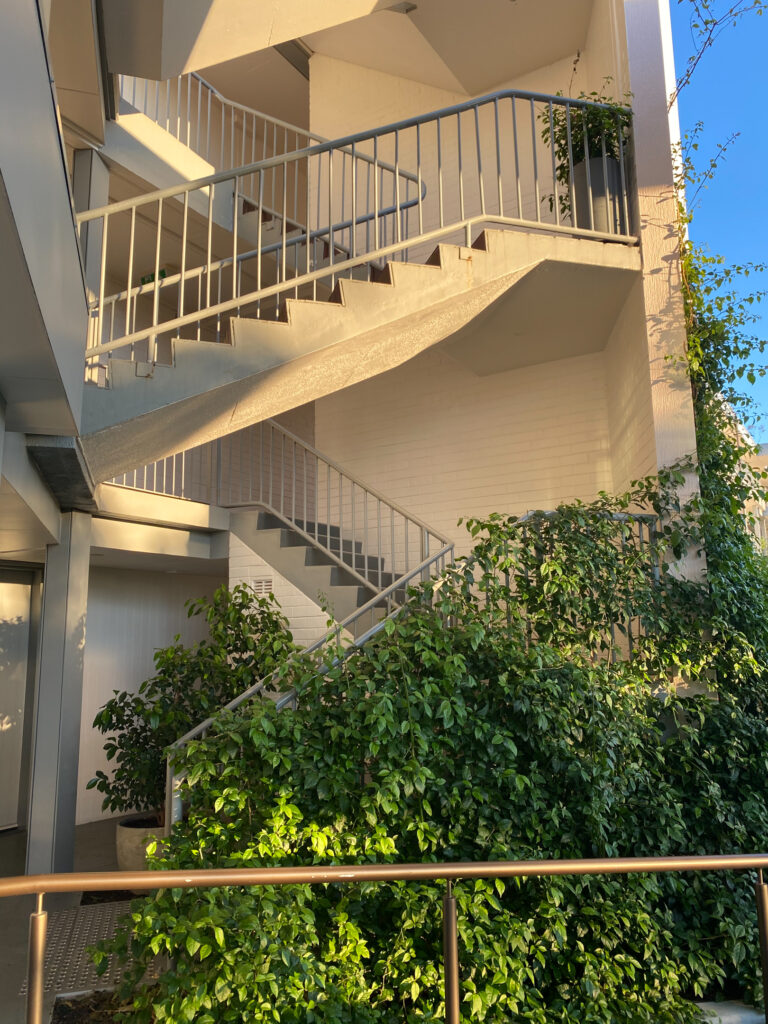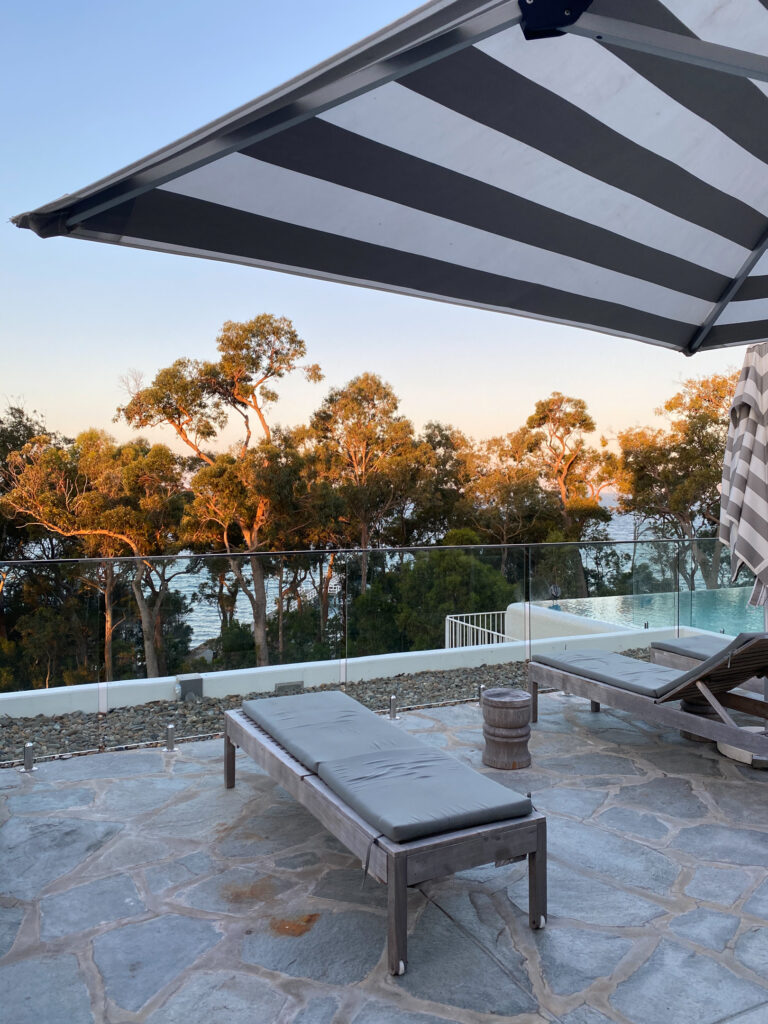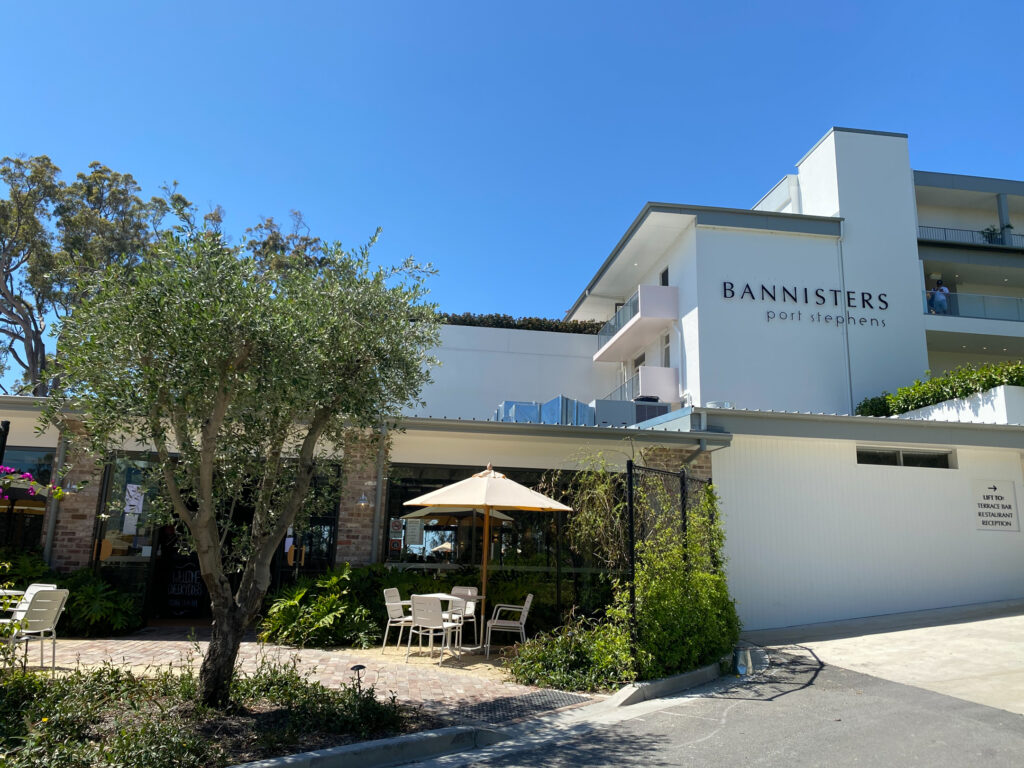 While I'm not sure of the history of the Bannisters building, it looks reminiscent of a mid-century motel. Something you might see on a Californian postcard, lovingly restored. Renovated to be modern while retaining the charm of that historic decade. 
If it's a recreation, however, it's a darn good one. Stark white walls with grey-green hotel doors, framed with metal balustrades and prickly pear cacti.
The reception and pool area appear to be newer parts of the property, but with the same subtle nods to mid-century California. A cavernous room adorned with greenery and touches of soft green and pastel pinks. The pool is an infinity that spills over into the glorious bushland, making it the crowning jewel of the whole hotel.
Bannisters Hotel review: the rooms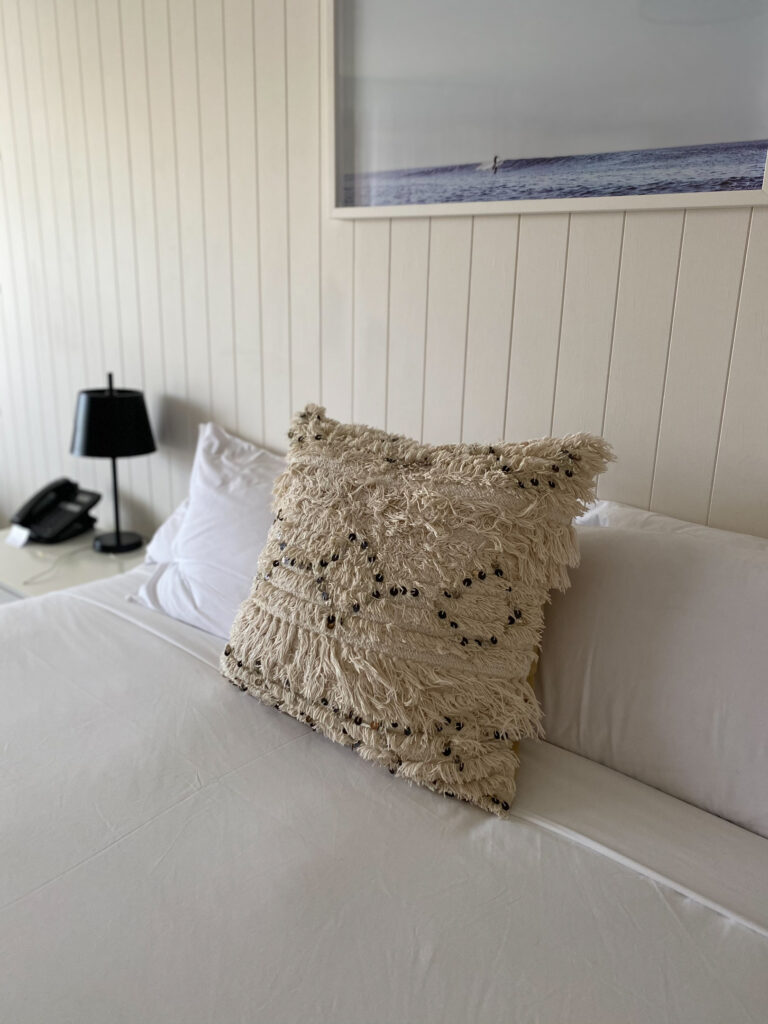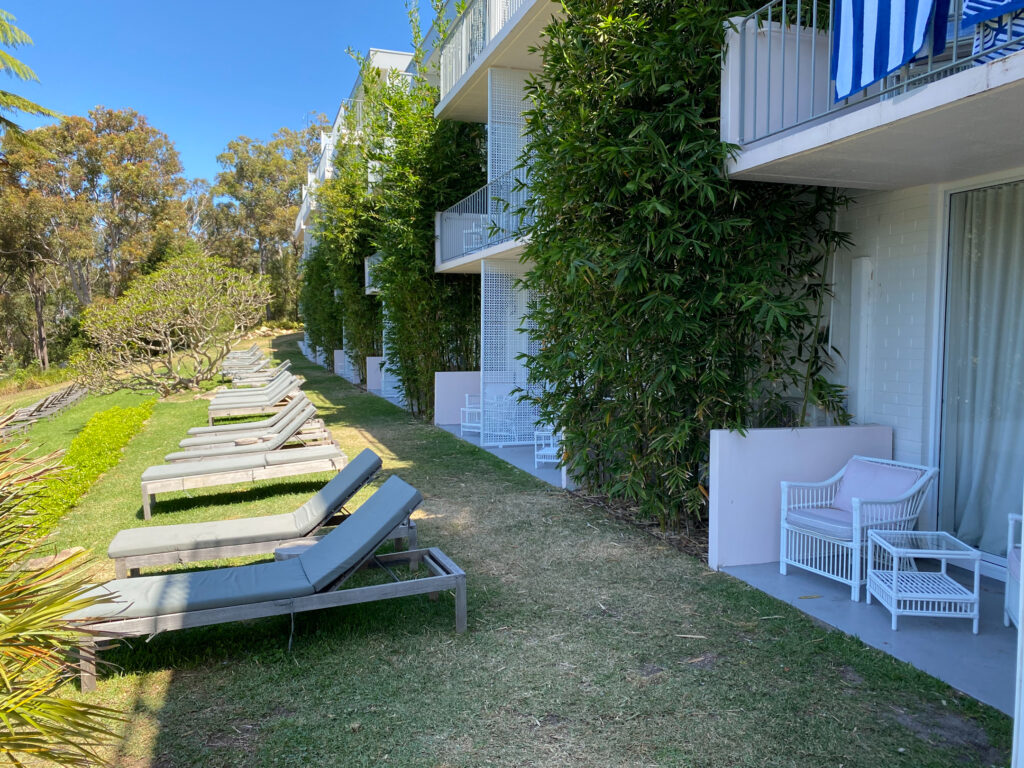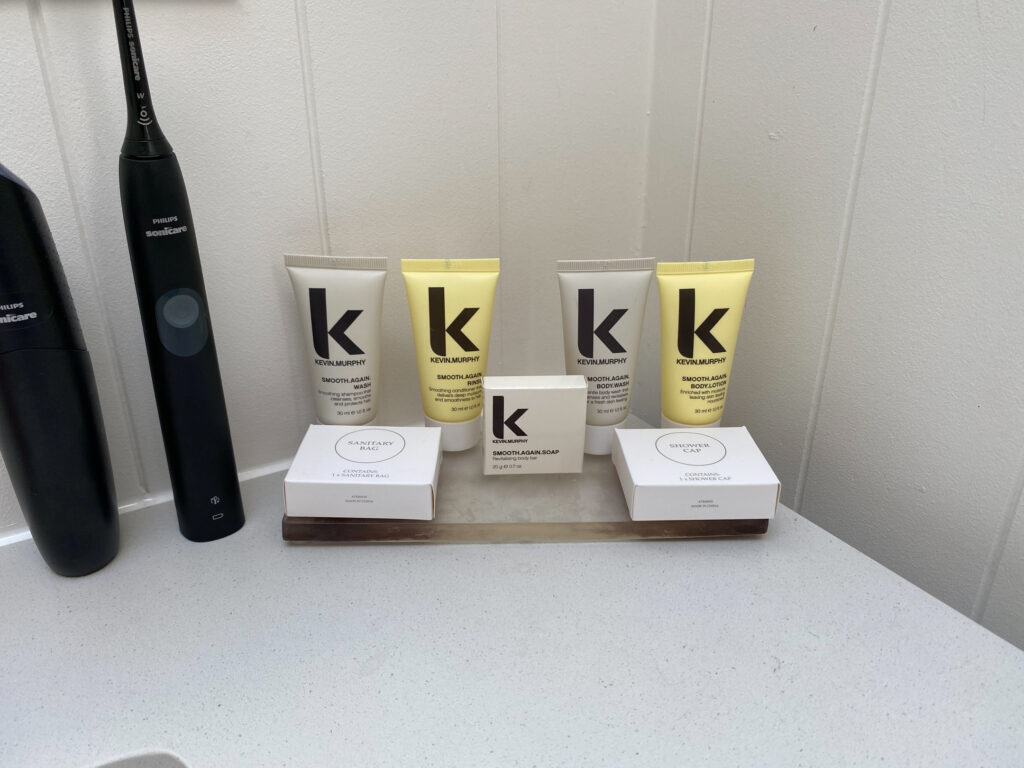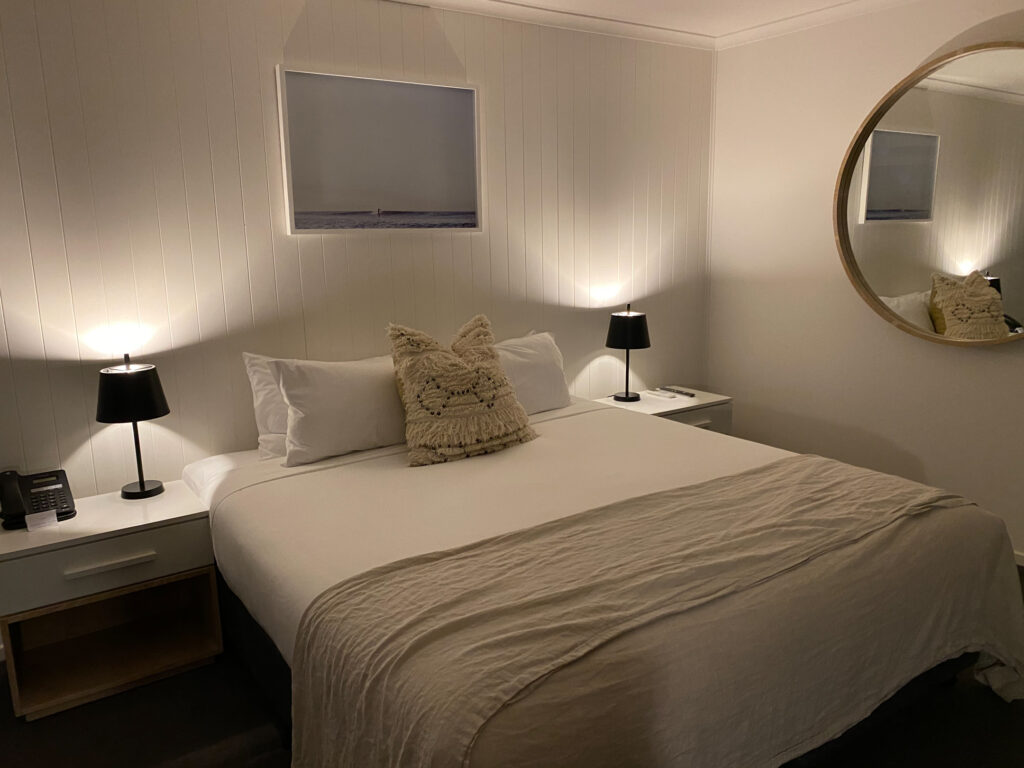 We booked at one of the busiest times so there were only the Paperbark rooms available. Despite it being the standard room, we were pleasantly surprised to find that the Paperbark was still rather large. 
It has a king bed, a sofa, work area and balcony – plenty of space to spread out and relax. It's one of the largest "standard" hotel rooms I've ever seen.
Having a lounge inside the room was very pleasant. It was nice to be able to relax in your room without having to lie on the bed. 
Some of them are even pet-friendly, so you can bring your dog or adventurous cat away with you.
Bannisters Hotel review: facilities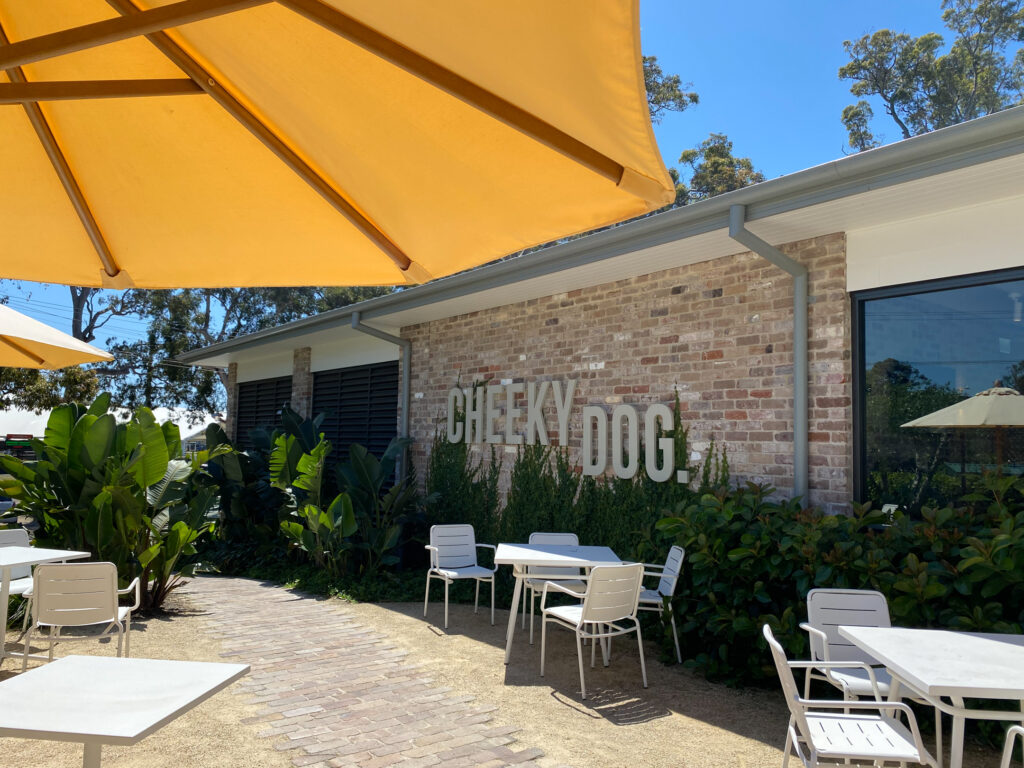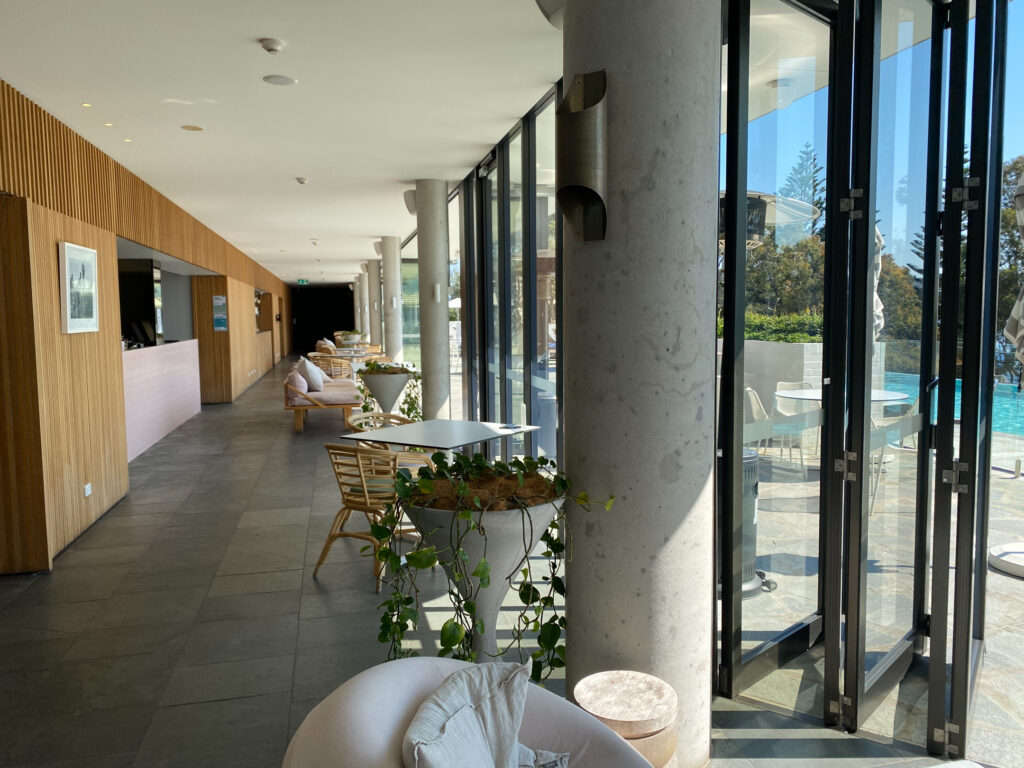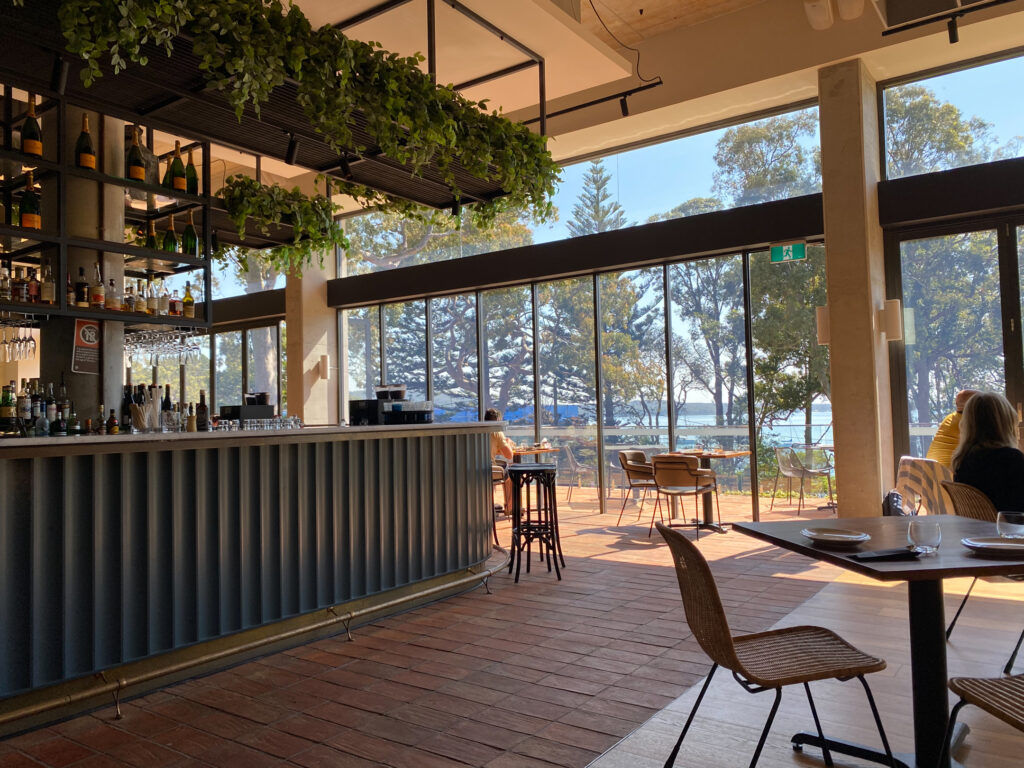 Bannisters Port Stephens has not one but three onsite dining options. 
There's the Rick Steins' restaurant for fine dining, around which the hotel was built. Followed by the Terrace Bar around the pool area which serves cocktails and lighter meals. And finally at the base of the property is The Cheeky Dog Pub: the Bannisters take on a bar with live music and bistro faire.
We ate at all three and found each to be wonderful and fit for purpose. Rick Steins' is elegant. A seafood-heavy menu with an excellent wine selection and equally lovely view. 
The Terrace Bar is perfect if you're hungry but not looking for three courses and a $200 bill. It has some great salads and other simpler, but still sports delicious, options. And the views at sunset are divine.
The Cheeky Dog is a pub fit for purpose. It's more relaxed than the other two restaurants and serves classic pub food – but still has the same Bannisters look and feel.
All three restaurants are extremely popular with visitors and locals. Even if you are a guest, you will need a booking for each.
Bannisters Hotel review: the pool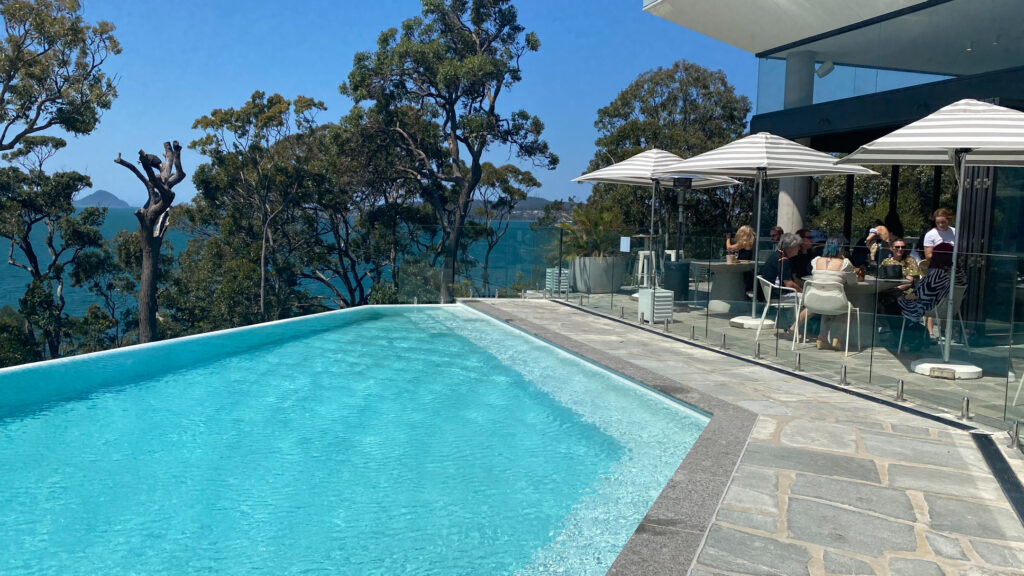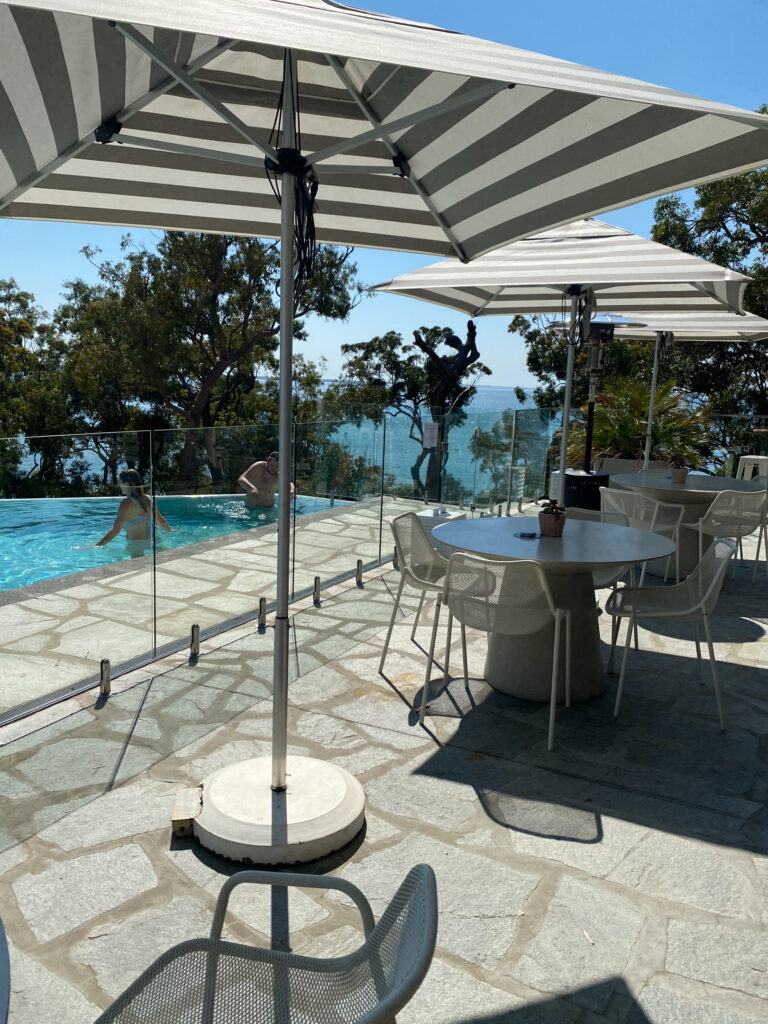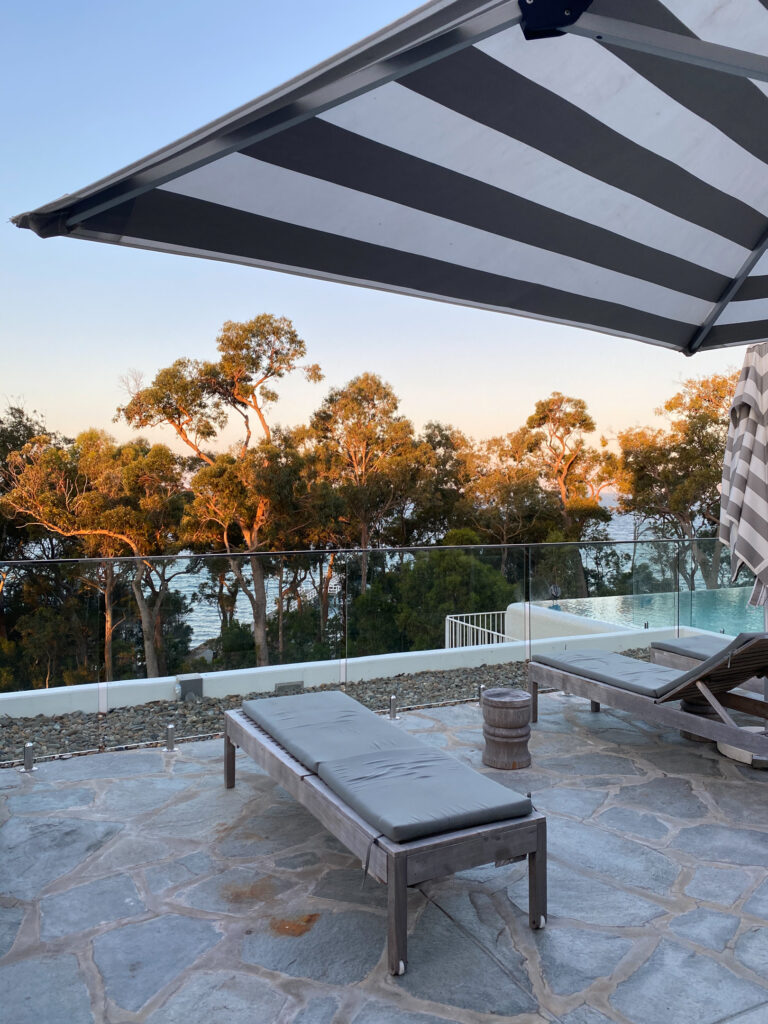 The biggest draw card of this hotel is the pool area which you have likely seen all over Instagram. 
We were a little concerned about being able to snag pool recliners since the hotel was fully booked, but we got one every day without issue. Each set of chairs has an umbrella as a reprieve from the sun.
The views from this area into the bay are very special. Blue water framed by a jetty and Stringy Bark and Paperbark gumtrees. 
Then there's the pool itself: a large infinity-style body, finished with pearlescent tiles that glisten perfectly in the sunlight. It begs to be photographed as it twinkles in the midday sun.
You can order drinks or food straight to your pool recliners. There is an ME&U NFC system on all of the umbrella bases. Tap your phone against it, the menu will pop up and you can place your order. It will go direct to the kitchen and will be delivered to you within 10 minutes. No more waiting for the staff to see you wave them over, order at your own leisure. Pretty nifty.
My only critique is that the pool could have been heated. The water was a little cold. Other than that, this is a delightful place to spend a morning or afternoon or even the whole day.
Day Spa
I didn't get a chance to make it to the spa but there is one onsite in the back corner of the property. It's beautifully decorated and offers a full treatment menu of massages, body treatments, facials, manicures, pedicures and packages.
I wasn't able to find out what products the spa uses but they are clear that they tailor to skin type and skin concern. 
Reception, concierge and staff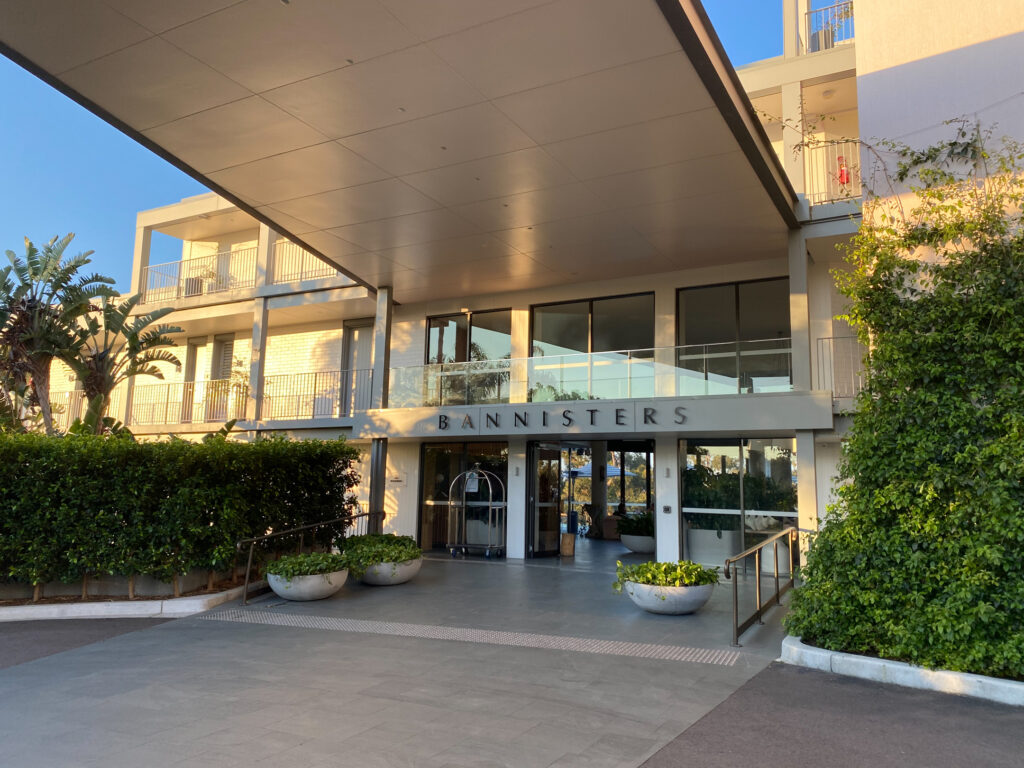 I'll start here with what I think is a huge plus – and a massive pet peeve at other hotels. Bannisters offer a bag service. 
I honestly am so bothered by the fact that you can pay $400, $500, even $1000 a night in some Australian hotels and be required to carry your own bags to your room. At that price, you really should have full service. Bannisters does.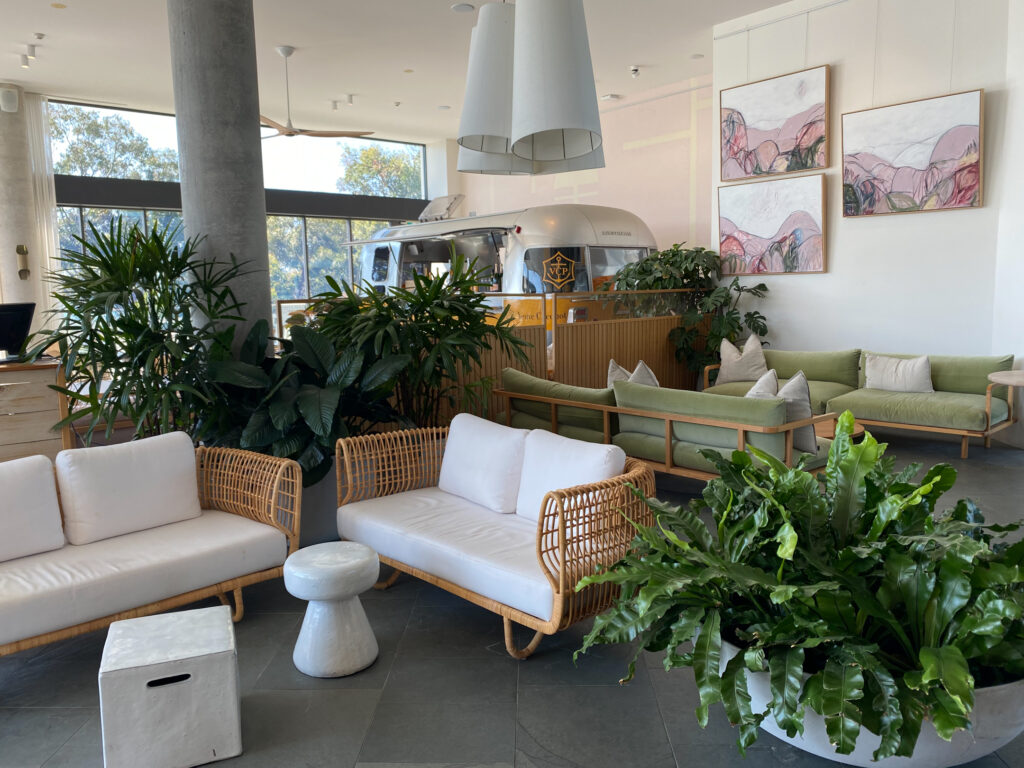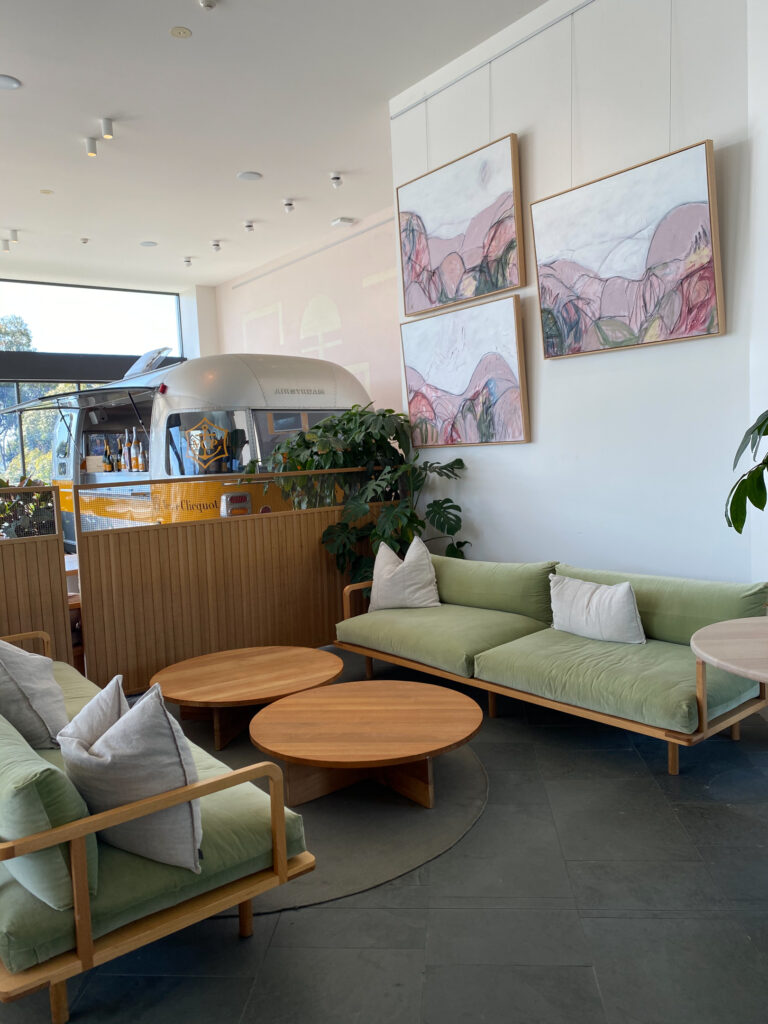 There's a full-service reception and concierge at entry to the hotel, and an ellipse where you can drive in and park while you check in over a glass of champagne. You can drop your bags off or bring them yourself up the elevators.
The staff are all delightful and extremely helpful, especially the restaurant staff.
Breakfast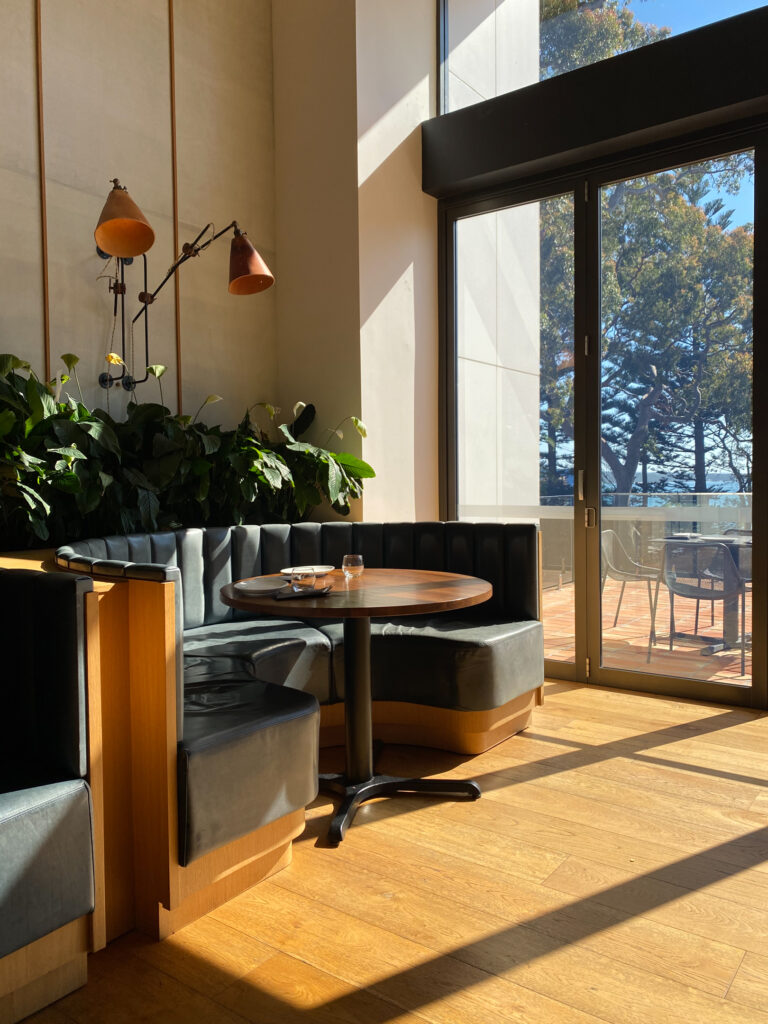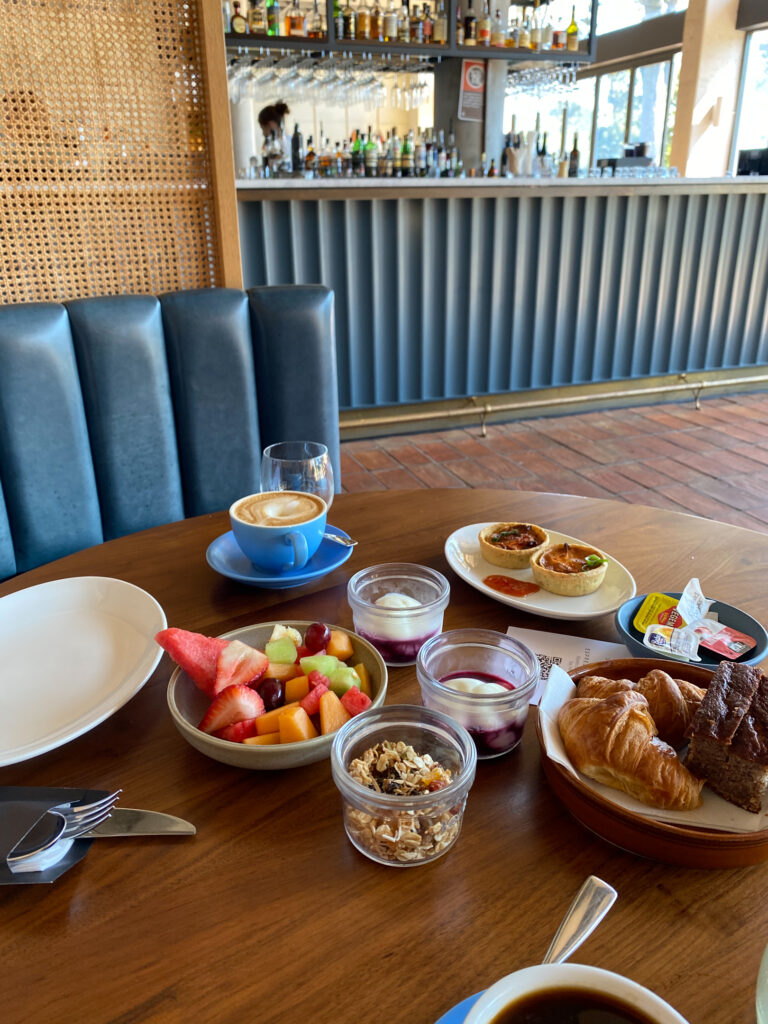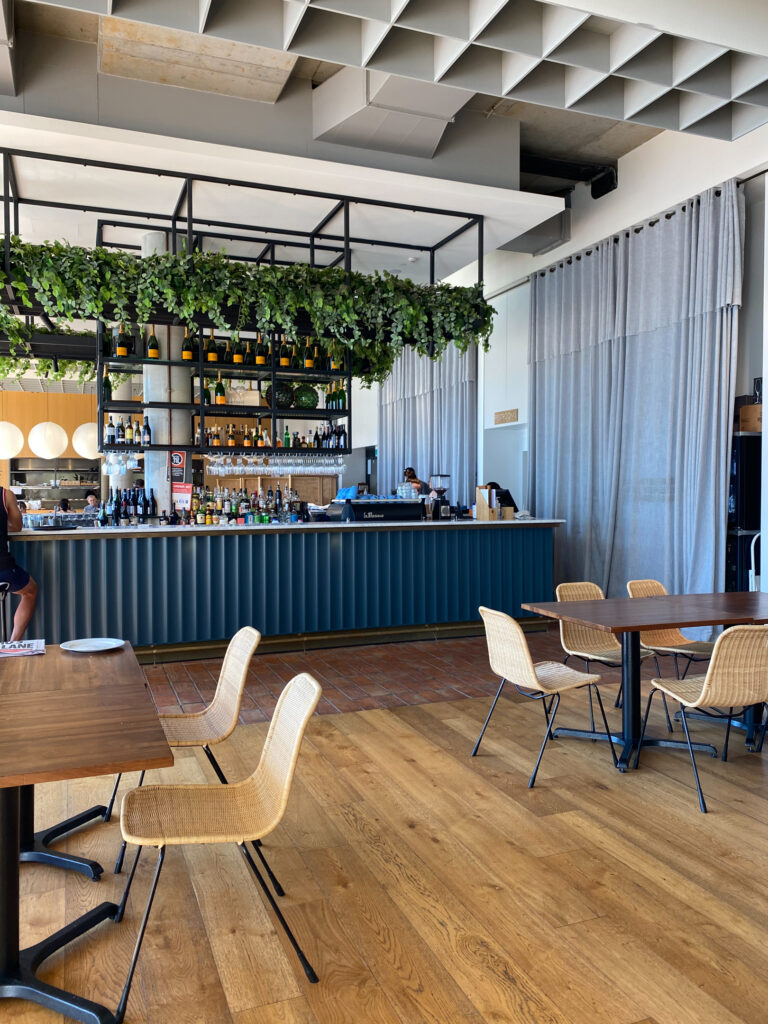 It's included in most bookings if you book direct, but check your conditions if using a third-party service. We booked through Qantas Hotels, which meant no included breakfast as a result.
Breakfast is hosted at Rick Steins from 7am through to 10am. There's no buffet, but an a la carte menu with a few options. 
There's the continental which is enough for two people or there is one eggs option or an avocado option. You can order one, two or all. We had the continental all three nights we were here. 
It was nice for me because I'd just come off a Ketogenic diet and was desperately trying to put some distance between myself and bacon and eggs. But I can imagine for some, the continental might be a bit overwhelmingly sweet: yoghurt and berry compote, croissants, fruit salad, banana bread and quiches. 
While they may ordinarily offer a buffet but can't anymore due to COVID-19. I would have preferred a buffet, but this was the next best thing. There was a bit of everything on offer.
We were told that the continental was $50 for two people, but one tray was $25 and it easily fed the two of us with leftovers. I thought the pricing to be extremely reasonable.
Our take
All in all, I really do have to give this hotel a five out of five. 
I can't really find anything to criticise. 
Maybe, if I'm being really picky, they could have more parking in the upper level. We always had to park our car at the bottom. And the Terrace Bar closes for food at 8:30pm – but even then, they let us order outside that time anyway. They were extremely accommodating.
I love the thoughtful design, I love the vibe and the facilities are all there. This was a really wonderful way to spend a weekend.
Read more
If you're looking for more weekend away tips, why not try our guide of the best Hunter Valley wineries?